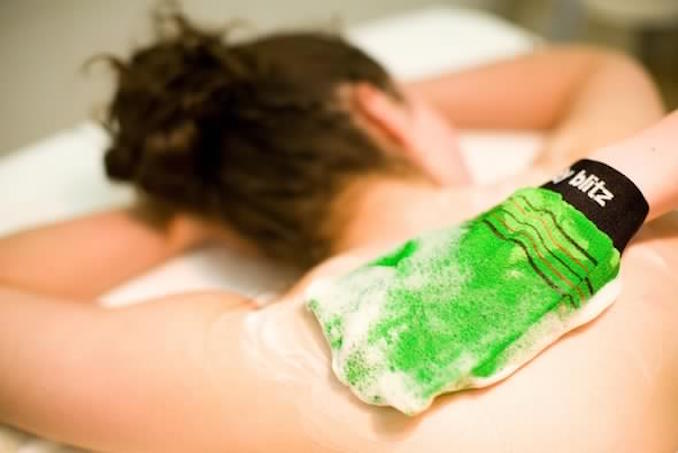 I love how multicultural Toronto is. We don't even have to venture outside the city to experience a women's bathhouse similar to those in Europe and Asia. Last week, Toronto welcomed the opening of a second body blitz spa location in the city's east end. Along with a wonderfully relaxing water therapy circuit (more on that later), body blitz also offers body muds, scrubs, massages and facials.
I was given a private tour of the facility by spa director, Sara de Ruiter, but words really cannot express how grand and elegant it is. It was my first time to any body blitz location so I wasn't sure what to expect. Basically take your idea of a beautiful serene spa and that's body blitz. The front reception is open and welcoming complete with a juice bar, product displays and front desk for check-in. The water circuit is warm and rustic with brick walls and a stone waterfall centre piece. The treatment rooms are even equipped with heated floors! This new location is certainly one you must see for yourself.
On my second visit to body blitz I was treated to the water circuit. After ordering my protein shake, which was even timed for delivery to me while in the circuit (they also offer juices, Ayurvedic teas, iced teas and even chocolate), I was given a key to my own locker and a pair of flip flops. The locker had two towels and a robe. Making my way up to the showers I took a longer than usual shower because I couldn't tear myself away from the delicious mint lime body wash! Once I finally finished, I made my way to the Dead Sea salt pool. It was the perfect temperature to start the circuit. Next I went to the Eucalyptus aromatherapy steam room. I lingered here for a good 15 minutes just breathing in the cooling scent while I felt my body completely relax. I probably lingered longer because I knew what was coming up next…the cold plunge pool. It's a necessary evil to keep your heart rate and body temperature at safe levels but nothing can prepare you for that first plunge. You must go all the way up to your neck (they recommend thyroid) for it to truly work. One full minute of this and I quickly hopped out to the infrared sauna. It felt like a regular sauna but something Sara said to me kept popping into my head. The infrared waves can reach deeper into your body to release more toxins through your sweat. Allowing myself to sweat out those impurities, I fell asleep for a few minutes and realized my shake was probably ready. Sure enough, there it was sitting pretty on top of the cubbies provided for your robe and towels. After a quick shower I prepared myself for another cold plunge. This time it wasn't as bad but I was relieved when those sixty seconds were up. The hot Epsom salt pool is just that; hot. My toes tingled as I stepped in but it was a welcome feeling after the cold plunge. This was my favourite part of the circuit, with smoothie in hand and alternating between having the water up to my neck and keeping my upper body out. I felt my shoulders relax and some of those aches and pains melt away. I have to admit, after leaving this pool and doing the final cold plunge, I came back for another quick dip before ending my water circuit back at the beginning in the Dead Sea salt pool. It was a busy afternoon and I saw groups of women as well as single women enjoy the waters. I would recommend the water circuit to anybody and everybody. It's not just for aches and pains, it's for rejuvenating your body, it's for creating a calm and peaceful mind and it's for bonding with friends and family. The staff is marvelous and I must thank Sara for the great experience. I also had the opportunity to talk to Laura and Rena Polley, (sisters) and co-owners of body blitz spa – see below.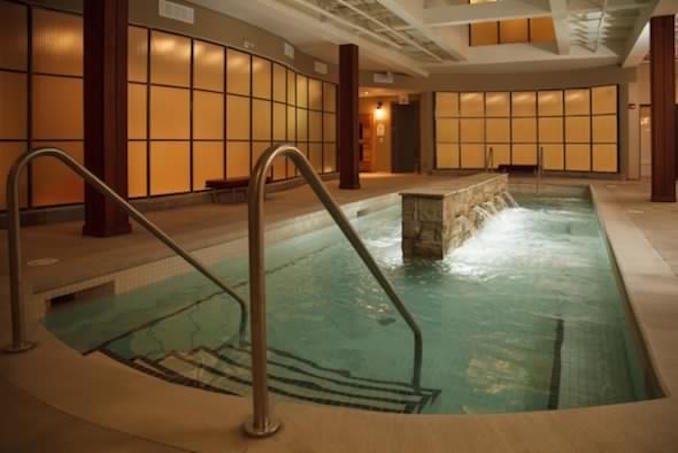 Tell us the biggest differences between this new location and the original body blitz spa?
Even though both spas have the same architectural elements, the buildings themselves are quite different. body blitz west (471 Adelaide St. West) is housed in an 11,000 sq ft century old warehouse space and is rumoured to have been the old horse barn for Fort York. body blitz east (497 King St. East) is housed in 22,000 square feet of industrial space, with a retro 1970s feel in four split-levels. Women visiting both our locations can expect a very similar experience. Both spas have our curved wall, boardwalk, stone waterfall, retail area, juice bar and, of course, our water circuit – Dead Sea salt pool, cold plunge pool, hot Epsom salt pool, infrared sauna and aromatherapy steam room. As well as 20 treatment rooms offering body scrubs, muds, body glows and massage.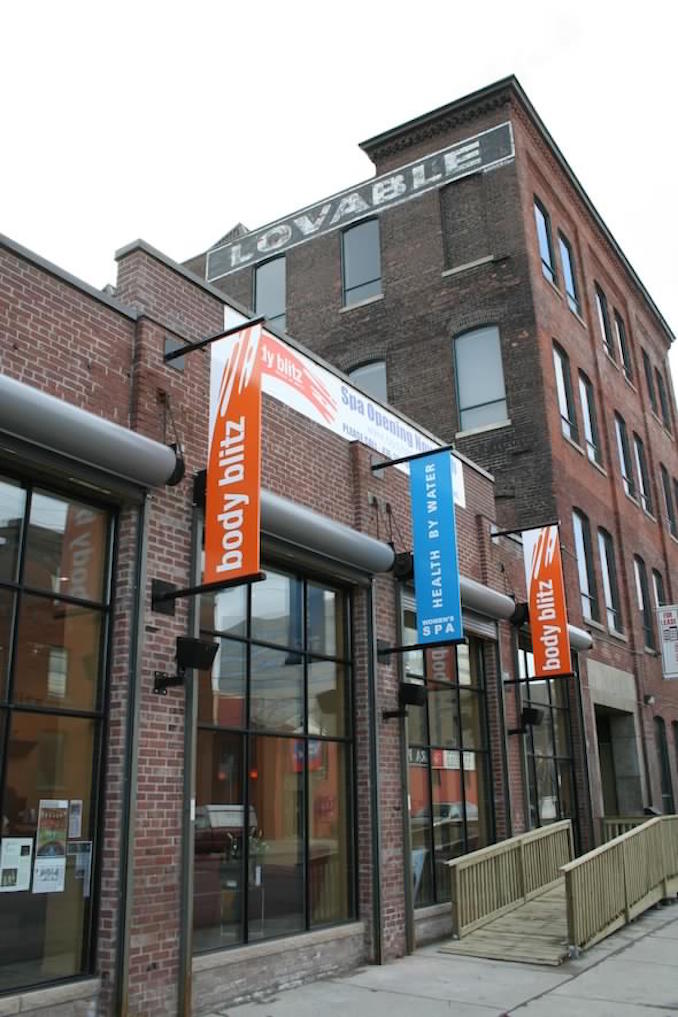 What was it about the thermal waters and bathhouses from different countries that inspired you to open a therapeutic water spa in Toronto?
Having visited bathhouses and thermal waters around the world, we realized there wasn't one facility in Canada that offered this centuries-old tradition of taking the waters. We wanted to introduce it to women in an urban environment, so we took the best qualities from our experiences and fused them into one place.
How can your services add to the health and well being of Torontonians?
body blitz is not a traditional 'spa' experience where you go to treat yourself once a year. body blitz is ultimately about relaxation, detoxification and replenishing, so it is best to incorporate it into a healthy routine. Our skin is the largest passageway for eliminating toxins and absorbing moisture and nutrients. Our therapeutic waters and treatments allow the body to expel toxins through the skin while absorbing healthy nutrients and minerals. Being proactive helps protect you from disease and infection and helps renew your ability to maintain optimum health.
With a membership available, how often do you recommend therapeutic water baths to your clients?
Taking time to relax, unwind and detoxify in our therapeutic waters is always a good thing. There is no downside to coming on a regular basis. Some of our clients with arthritis, fibromyalgia or other chronic health issues visit the spa on a daily basis and find that it helps them enormously. Again being proactive is the best medicine.
When did you launch body blitz products? What types of products do you carry? Tell us about the environmentally friendly and sustainable aspects of your products.
body blitz products are an extension of the body blitz spa experience and our philosophy of beauty through health. We use ingredients that have been part of the female beauty ritual for thousands of years. We have created our own line of eco-friendly face and body products highlighting the phenomenal anti-aging and skin revitalizing properties of Moroccan argan oil. body blitz products are free of parabens, artificial fragrance and colours, we do not use detergents or sodium lauryl sulfates, we use only 100% essential oils and all our packaging is kept to a minimum and is recyclable. We launched our blitz-on-the-go line in 2010 and you can see more of our products online here.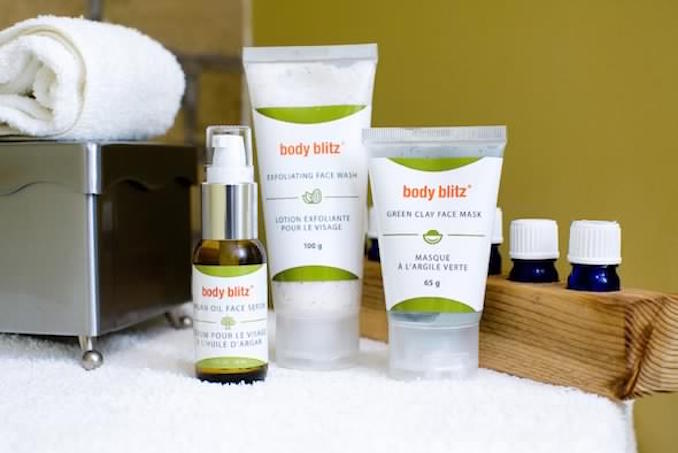 What are some of your favourite ways to unwind and relax (besides using the services at body blitz)?
Exercising, traveling, hanging with family and friends, eating healthy food, drinking nice wine and maintaining a sense of humour.
What is most popular at body blitz?
Women love to come to body blitz to unwind and many do it by themselves. But the majority of women come with their mothers, sisters, daughters, grandmothers or best friends. They love that we have introduced the age-old tradition of communal bathing where women can socialize while absorbing the benefits of the waters. To enter the spa and see so many women of different age and background coming together to fill the place with humanity has been very rewarding.
Tell us more about your juice bar?
Our juice bar is a natural extension of the body blitz spa experience. Our teas, smoothies and dark chocolate are rich sources of vitamins, minerals and antioxidants. They also help boost the immune system as well as detoxifying the body. It is important to replenish the body and stay hydrated while taking the waters. Oh and they taste great too!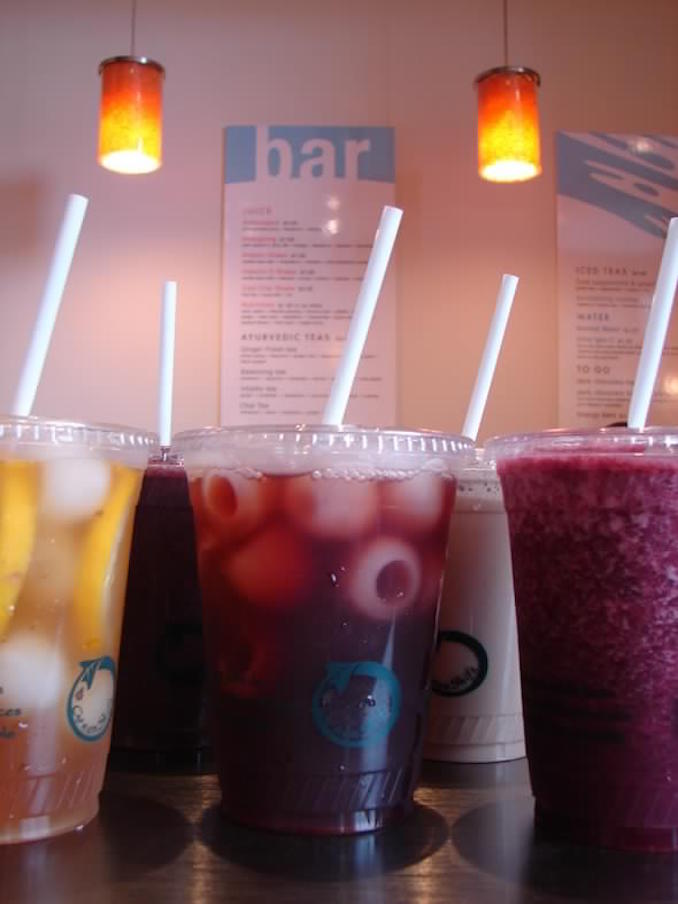 What is the best part about owning a business with your sister?
We trust each other, we can be brutally honest and we know that we have each other's back.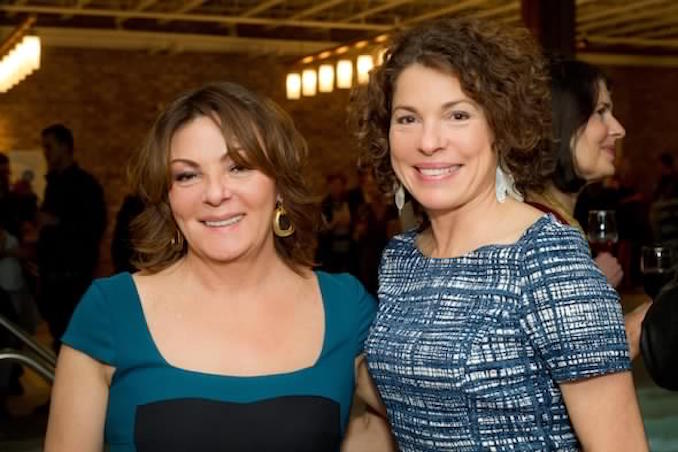 Photo by Tara Noelle: Laura Polley and Rena Polley, co-owners of body blitz spa
For up to date info check their website.