JUNE RECORDS caught my eye one day when I was walking along College Street in Toronto's little Italy. It's a record shop store that has tapped into a niche market of vinyl. It's the only music format they carry. That means no CD's, no magazines, and no concert tickets. Vinyl isn't just a fad, it may be the way to go according to co-owner Ian Cheung. Along with his partner Dennis Reynolds the two are using their strengths and great musical taste to bring something fresh to the table. I had a chance to chat with Ian at June Records and here is what he had to say: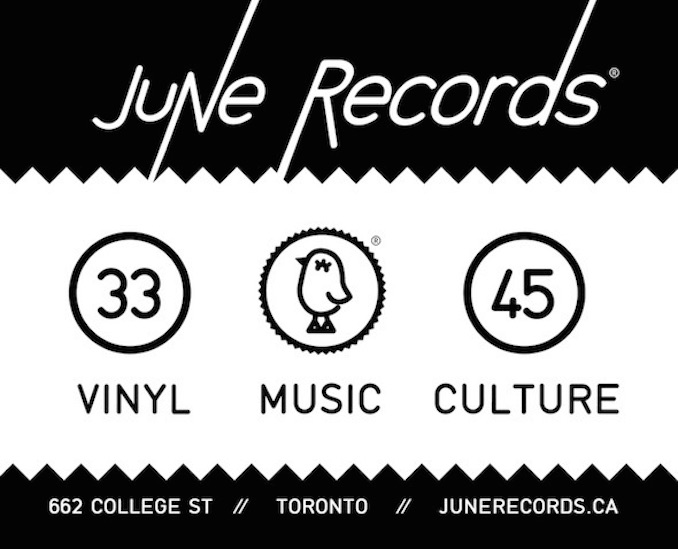 Where does your store name come from?
When I decided to open a shop my target to open the doors was no later than June and it's also my late Grandmother's name.
You tapped into a purely vinyl market as it's a popular market right now. Where do you see the future of physical form of music heading in the next 5-10 years?
I don't know about the future, but from looking back at the past vinyl has out lasted all other formats since inception.  If a new analog standard emerges, it will likely have to have superior longevity and portability.  That hasn't happened yet to my knowledge.
How do you decide what vinyls you carry in the store? Personal faves or popular items etc?
On vinyl we generally decide on titles based on a few criteria.  Firstly we carry "seminal" and "evergreen" titles, namely reissues and vintage, for all the genres of music we curate.  These are titles that have stood the test of time and are proven to be important for the continuing evolution of that particular style of music.  With new releases we try to listen to them first and decide if the music has strong originality, lasting potential, visceral aspects and or current artistic relevance.  We try to avoid judging from our personal tastes, even though that's challenging.
We tend to avoid hype bands that are popular because of marketing over the quality of the music.  That being said, there's still democratic influence on our purchasing based on popular demand.  If there's interest for a certain title we don't stock we'll consider carrying it or at the very least offer to order it in in for a customer.  We will never deny someone a record we can order, it just depends if the customer can wait.  There's also customers' taste that we trust and will consider stocking items they introduce to us.  This is where the relationship with our store and some avid music listeners becomes a two-way, mutually beneficial relationship.
I noticed you don't sell magazines or concert tickets at your store. Is this a conscious decision? And do you plan to keep it this way?
This is a very conscious decision.  As long as Soundscapes is down the block from us, we don't plan on selling tickets or many items that clash with what their core offerings.  We really like that store and believe that having both stores co-exist is a good thing for the area.
What advantage do you see in purely selling vinyl? Disadvantages?
Advantage? It sounds great (high resolution), it's collectable, there's the potential for nice artwork and liner notes, it's recyclable (in terms of passing it down and around) and it's sometimes hard to find which makes having some sweet rare gems satisfying and fun to share with other vinyl/music/pop culture enthusiasts.  It's also a great way to discover music through exploring titles, utilizing listening stations and knowledgeable staff.
Disadvantages would be you can never find enough nice copies of the inexpensive popular titles (like: Born To Run, Rumours, Deja Vu, etc.) that are out of print because they sell so quickly.  Speaking of titles being out of print, that's another disadvantage for the old "impulse" of need, you can't just get what you want.  You have to "hunt" but that's also part of the joy of records, but not for impatient or entitled people, they hate that. Building a great collection is something that takes time and care.  But really having 10 records you love is more important than 1000 you don't really listen to.  But what about having 1000 records you really love and listen to, huh?  Ever think of that?  Haha…
How do you set yourself apart from other stores that sell vinyl?
For a start we have Dennis and myself.  The only "real" difference is people Freddie, people are what set man made "things" apart.
However, to elaborate on activities and philosophies that make us different I'll delve further.  We don't mind going out of our way to support the music and DIY community.  We curate and put on shows and community based activities (magazine launches, etc.).  We try to be critical on the condition of used vinyl and discount heavily for anything less than VG+ (condition based on the Goldmine standard).  All of our staff is actually into music, own records and have record players, etc.  We try to only sell things that aren't good enough for us to use (like our record sleeves, electronics, etc.).  We offer budget and higher end choices for pressings for the same titles, for those who have the gear or inclination to hear the difference.  We take a mostly utilitarian approach to social media (i.e. we try to post things that are informative or useful over chatter).  We don't like to solicit, we try to use passive marketing (i.e. having a weekly update blog post rather than a mail out).  We don't discourage going to or recommending other record stores, especially for things we don't have available.
Also my sense of principal is uncompromising, I don't care if some choices make more money, or "business sense".  If it don't feel "right" about something we ain't doing it, but the reverse is also true.  If I wanted to make a lot money, I wouldn't have started a record store.  I have a background in software development, computer networking and marketing.  I have many options for what I could be doing.  This is not an endeavour for wealth (of the money kind), it's one that comes from realizing a lifestyle, being passionate about something, and building a hub for a community with specific beliefs and values.  That being said, I think I have enough entrepreneurial experience to avoid making decisions that would hurt the business or lessen its chance for success.
How did you two meet? How long have you known each other?
We met 2010 in the late fall, so less than a year through playing music in a project.
Are your backgrounds in business or something totally unrelated?
I used to design and implement computer networks for large corporations.  I've also been involved in a few technology start up ventures.  For the three years prior to starting June Records I co-managed another record store.  Dennis used to work in a bank.
New businesses take a lot of work. I can see you are both passionate. How has it been so far..the experience, sales, College st rent, etc?
It's going well, we're growing by the month.  It's hard to say exactly where we're at until we do our year end.  But all in all, I'm very happy with how things are coming along and how much support we've had from the community.  We both feel fortunate and are grateful, which inspires us to keep working hard and not complain.
Have either of you been involved in something like this before?
This is my first retail venture, but not my first company.  Dennis has never done his own business prior to this.
What are some of your favourite records both in June Records and in your personal collection?
I like every record in my collection and most records in the store.  This isn't a realistic question for me to answer, I like a lot of records for a lot of different reasons.
Are you both from Toronto? Why did you pick Toronto as the city to open your store?
I'm from Alberta, I moved here 4 years ago.  Dennis is from Etobicoke.  Toronto has the population and location needed to do something like this
Favourite part of being located on College st?
It's close to home (for me), and both Dennis and I like the neighbourhood and its conveniences.
What are your favourite local musicians in Toronto
Some of Ian's favorites: Metz, CCMC, Absolutely Free, Isla Craig.
Some of Dennis' favorites: Sandro Perri, Muskox, The Wilderness of Manitoba, Black Walls
Do you do consignment for local musicians that want their vinyl in your store?
Yes
Live performances ever?
All the time, you should come down and support (junerecords.ca).
What's next? Any big plans for June Records?
There's many plans.  Plans within plans.  Seriously check our store monthly to see "physical" changes, and our website weekly for "activities" and to get select inventory updates.
————————————————————————————————————-
NEW BALCONIES VIDEO
The Balconies have a new video for their "Do It In The Dark." It originally premiered on Much Music, but is now available on YouTube for your viewing pleasure. It's really a revamp of an old favourite. The band worked with Arnold Lanni (Our Lady Peace, Finger Eleven) on the new track, and recorded it at the Coalition Music Studios in September.