When life gives you lemons…. juice 'em.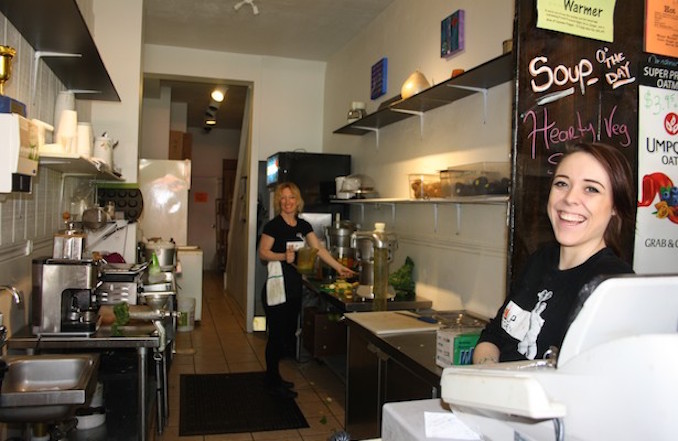 It's the new kid in town, juicing that is. The fact that the world is making the leap from high-carb and sugary drinks to having nature's flesh liquefied before our very eyes, is surely something to celebrate.
If you're frightened by the notion of squeezed kale in a cup, don't be, for I have found the mother of all juicer's, with one beauty of a name (if I may add), Pulp Kitchen.
Stepping off of the streetcar at Queen and Broadview, I continued walking east towards my destination. Midst-hustle, a scent that filled my nose determined my whereabouts. Pulp Kitchen's sweet aroma of freshly pressed fruits and vegetables seeped into the street, fencing their wee shop with an atmosphere of pure vitality.
"Our mission is to make healthy foods more available to everyone, and to help educate on the benefits of healthy eating," their website states. And it's hard not to believe it considering the depth of their menu and how welcoming they were. A mere two minutes in and I was handed a sample form Marie Crawford, owner and personal trainer, who said she's been juicing for roughly 18 years. "I hear of new juice places opening up around here, but I don't focus on them, because we have a good vibe," she said.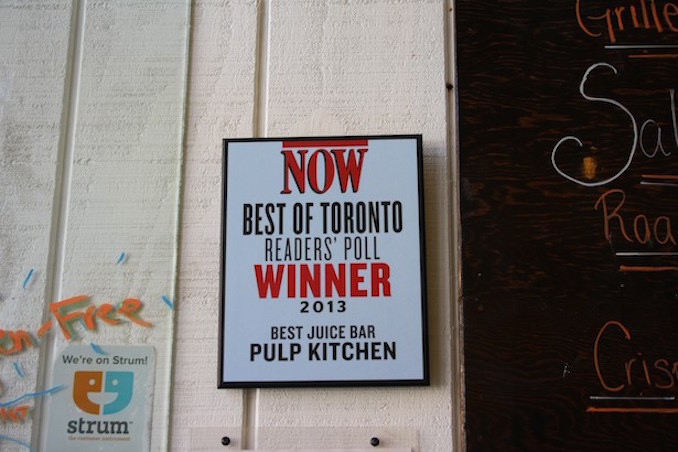 Voted best juice bar in Toronto, I decided to get the detox darling, their most popular drink on the menu. This premium juice is just one of their many freshly squeezed options: pressed apple, kale, lemon, wheatgrass and milk thistle (a liver protector and detoxifier). Tangy and sweet, I kid you not, I felt like I could have jogged home after drinking it. If those ingredients sound foreign to you, then all the more reason to head over. "Education is a big part of our space," says Crawford. Fresh salads, wraps, and goodies from local bakeries are also for sale, along with super shakes and hot beverages to go.
Lest we not forget, however, the escalating popularity of juice cleanses. "We go through the noises of why people are doing the juice cleanse," Crawford states. She also raises a valid point in saying that juice cleanses are not just for the elite, but for all, and considering Pulp Kitchen's affordable prices, she's made it a fact. Their constant flow of foot traffic is just proof of how caring and welcoming Marie and her staff truly is. Their menu is not only delicious, but life changing (literally).  Check them out.