Armstrong Cheese shared with us this tasty recipe for Pantry Nacho Dip, a quick and easy recipe that transforms pantry staples into a crowd-pleasing appetizer. With just a can of Old El Paso™ Refried Beans, some flavorful seasoning, and a handful of simple ingredients, you can whip up a creamy, cheesy dip that's perfect for any gathering. Baked to bubbly perfection and garnished with fresh cilantro, this dip pairs beautifully with nacho chips, sour cream, and zesty lime wedges, making it the ideal choice for a delicious and hassle-free snack or party treat.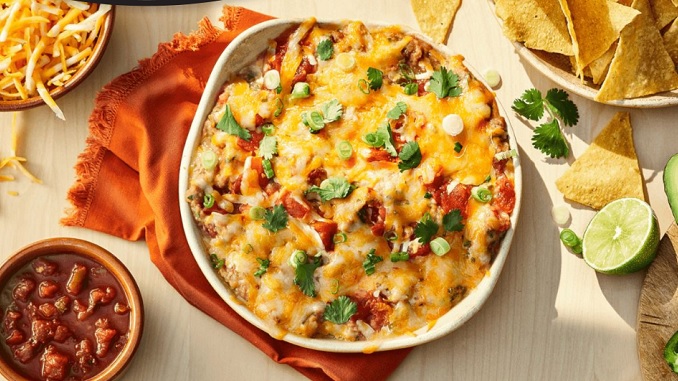 Pantry Nacho Dip
Prep Time: 20 min
Total Time: 25 min
Serving: 4
Ingredients:
A can of 398 ml (14 oz) Old El Paso™ Refried Beans
2 cloves of garlic, minced
15 ml (1 tbsp) fresh cilantro, chopped
15 ml (1 tbsp) taco seasoning
Salt and pepper to taste
250 ml (1 cup) canned diced tomatoes
375 ml (1 ½ cup) Armstrong Tex Mex Shredded Cheese
2 green onions, chopped
1 jalapeño, seeded and minced (optional)
Directions:
1. Preheat the oven to 180 °C (350 °F)
2. In a bowl, mix together the canned beans, the garlic, the cilantro, the taco seasoning, the salt and pepper, the tomatoes, the minced jalapeño (optional) and half the Armstrong Tex Mex shredded cheese.
3. Pour into a pre-oiled baking dish. Sprinkle the rest of the cheese on top and cook in the oven for 20 minutes.
4. Serve with nacho chips, sour cream, fresh cilantro and lime wedges.