The 35th annual Toronto Fringe Festival will take over the city's indoor and outdoor spaces. Over 100 shows are slated in this treasured summer festival from July 5 to 16, 2023. The Festival features contemporary and experimental theatre, dance, comedy, musicals, and solo shows – all chosen by lottery. Ticketed and free shows will be offered by both local and visiting artists.
Here's what has caught our attention…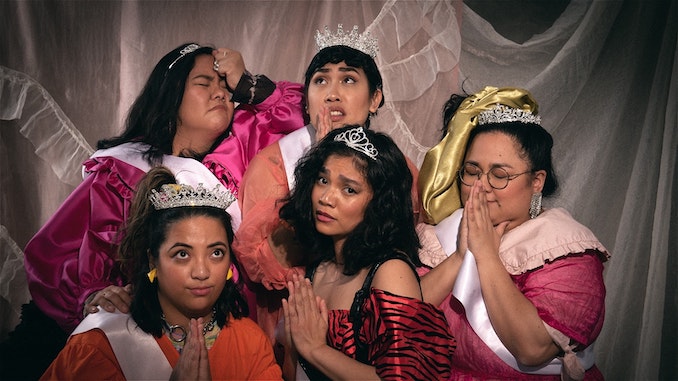 MS TITAVERSE: by the Tita Collective. Theatre Passe Muraille
The multi-award winning all-Filipina artistic company returns with their new musical comedy, Ms. Titaverse. The storyline was inspired by the pageant culture that is celebrated in the Philippine community. Growing up, most young
Filipinas often have a complicated relationship with it; on the
one hand it was a means to see representation on a global
scale, on the other hand it can be an oppressive standard to be
compared against. Featuring all new songs and stories that draw on their respective experiences as members of the Filipin* diaspora and will feature how each Tita Collective member continues to navigate the world as millennials, also now coming into their own as elders within the community. Ms. Titaverse is a 60-minute musical comedy revue that weaves in aspects all of the cultures and lived experiences represented within the collective. They take the traditional sketch comedy revue and make it Filipina.
WHITE COLLARS: by Arun Kirupananthan, Braeden Banks, and Maya Cieszynska. Factory Theatre Studio.
Directed by Ken Hall of Netflix's Umbrella Academy, White Collars is a satirical take on the day-to-day experiences of working in a corporate 9-to-5 job complete with a mock tech conference setup. White Collars is a satirical take on their own day-to-day experiences of working in the real world of the 9-to-5 tech marketing industry. The show is set in a fictional tech conference with a mix of sketch comedy, improv and audience participation. White Collars will tackle typical themes such as executive decisionmaking, role redundancy, job vs. identity, layoffs and corporate mission statements.
INSERT CLOWN HERE: by Jacob Willis & Kendelle Parks, Parlour Theatre. Tank House Theatre
Part Chekovian masterpiece, part oblivious clown-turn, INSERT CLOWN HERE is a new comedy about a fully-rehearsed, 19th-century melodrama that is upended when the lead actor
goes missing and is replaced by a random, completely unrehearsed, Clown. While the Clown attempts to improvise lines and blocking from a script they haven't read, the remaining cast will try to keep the story on track, resulting in a comedy-of-errors newly created every performance. What could go wrong? Only everything. By the way, a new local Clown performer will be added in every show, INSERT CLOWN HERE will never be the
same show twice!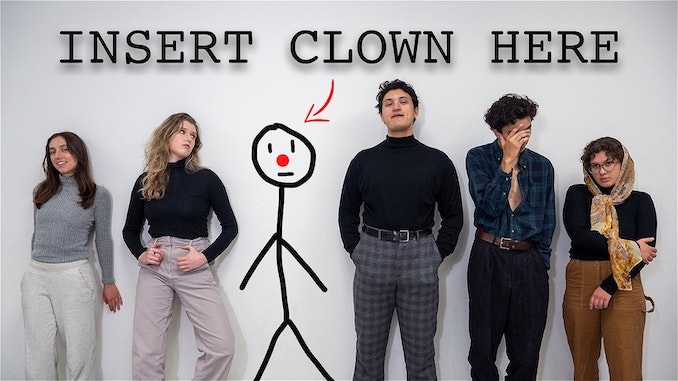 ALL OF OUR PARENTS ARE ASIAN: by Shawn Hunter and Alfred Chow. Native Earth's AKI Studio
Part improvised comedy and part life stories collected anonymously from the audience this night is fueled with the stories and all about the secrets we keep hidden away from our Asian parents. Yes, they will spill the green tea.
EMO MAJOK: AFRICAN AUSSIE: by Emo Majok. Tarragon Theatre, Solo Room.
Award-winning Sudanese comedian, Emo Majok, who debuted at Edinburgh Fringe and earned the coveted golden buzzer on Australia's Got Talent 2022 (going all the way to the finals), is set to bring his razor-sharp wit to Toronto Fringe. In his show, African Aussie, Emo delves into the humour and heartache of culture clashes, weaving hilarious tales of his journey, from a refugee camp in East Africa to stages around the world.
A LITTLE BIT PREGNANT: by Kate Lavut and Rana Liu. Tarragon Theatre, PaperDog Press
Sex, drugs, rock'n'roll… and a baby? A slice-of-life dramedy written by Kate Lavut and directed by Rana Liu gives you an all-access pass to the emotional rollercoaster of getting pregnant.
Where it moves from a traditional artistic practice, is not in its delivery, but within its subject matter. In a climate where reproductive rights are in question and people's bodies are policed, A Little Bit Pregnant gives space for these conversations. At the center of it all is an unplanned pregnancy in an unhealthy relationship. Tasha and Shane have been together for 3 years and fight all the time. They still have a lot of love for each other, but do they still like each other?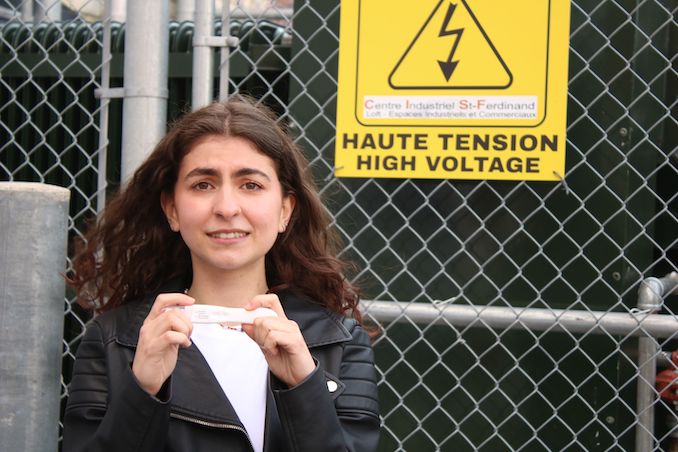 SADEC 1965: A LOVE STORY: by Flora Lee. Tarragon Theatre, Main Stage
In 2013, Flora rode a motorcycle across Vietnam for six weeks, solo, in an attempt to make sense of her difficult relationship with her estranged Vietnamese father. Flora was on a quest to understand why her father, who left Vietnam with a scholarship to study in Canada in the mid-1960s, never spoke about Vietnam. Since the answers she was looking for would never come from him, Flora decided to go on a road trip across the country, riding a total of 3500 km in six weeks, from the Chinese border in the North to the village of Sadec, her father's hometown in the Mekong Delta, to reclaim the story of her origins and make sense of the difficult man that her father was.
Flora has been wanting to tell this story on a stage ever since she completed her motorcycle journey in 2014. But one piece was missing: her father's old love letters. After her father passed away, Flora found the love correspondence he exchanged with his high school sweetheart, a woman named Hien, whom he left behind in Vietnam during the war. This woman turned out to be an important piece of the mystery her father was, and reading their correspondence promised to provide many answers.
JUNE: Passion, friendship, love and betrayal: written and directed by Gillian R. Edwards, presented by Uriah's Granddaughter. Theatre Passe Muraille
June, is a multi-layered drama that revolves around the tragic consequences of domestic violence, exploring how class and sexual inequality contribute to a vibrant young woman's fate. It's 1958, June is a prisoner in Danfield Women's Prison in the Midwest United States. Her small cell is the locus for an evolving friendship with a prison guard and revealing disclosures about their lives. The women develop a deep bond in a hard, brutal environment, while June remembers the two key men in her life and the traumatic circumstances that led to her incarceration.
Punctuated with hits of well-placed humour, June deftly explores gender inequality, the complexities of domestic violence and the search for justice.
THE WILL OF A WOMAN: written by Steven Scott Jackson, Spadina Museum
This immersive theatre experience with very limited tickets is a thought-provoking play written by award winning playwright Steven Elliott Jackson ("The Seat Next To The King", "The Garden Of Alla", "Three Ordinary Men") and directed by Shan Fernando ("Flowers For Alex"), tells the true story of Elizabeth Bethune Campbell who in the 1920s discovered that her mother's trust had fallen victim to money fraud. Elizabeth must face the challenge of standing up for her rights, becoming the first woman to defend herself before the Privy Council in England.
ANCIENT DYING CHINESE DIALECT: by Chantal Lim directed by Ken Hall. Factory Theatre Studio Space
With honesty and a healthy dose of comedy, Chantal Lim performs true personal stories about growing up Filipina-Chinese in Toronto, and how a lifelong fascination with languages led her back to her ancestral roots. Accompanying the stories are live music performances by Vonne Aguda and Kavya Rajith, featuring classic OPM (Original Pinoy Music) ballads with lyrics thoughtfully translated from Tagalog into English. Join Chantal and her friends on this uplifting journey of language & love in the name of celebrating where we come from and embracing who we are.  Ancient Dying Chinese Dialect was featured as an Official Selection in the 2023 Toronto International Storytelling Festival. It marks the solo show debut of Toronto storyteller & improviser Chantal Lim and is directed by Canadian Comedy Award Winner Ken Hall (Netflix's The Umbrella Academy, Canadian Stage's adaptation of As You Like It, 2-MAN NO-SHOW).
RETROGRADE: THE CONCERT EXPERIENCE: written by Jackson Doner. Supermarket (Kensington Market)
A run down concert venue in Toronto becomes a sanctuary for four of Kensington Market's weirdest young musicians. Starved for community, they gather for a weekly jam session that transcends into an exercise on how a generation with access to all information ever chooses a belief system by which to live. A hilarious story filled with quirky and iconic Kensington-esque characters.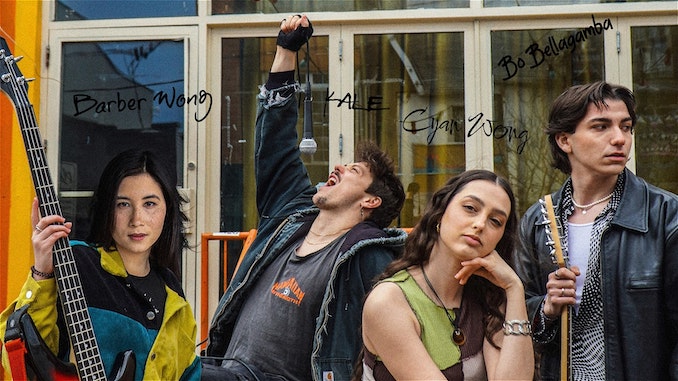 OUR LITTLE SECRET:  The 23&Me Musical: by Nam Tomaschoff. Alumnae Theatre Mainspace
What does an only child do when a DNA test reveals that his biological parents aren't quite who he thought they were? Write a musical, of course! In this hilarious, moving, and true story, acclaimed performer Noam Tomaschoff grapples with questions of family, identity, and just how many brothers and sisters he really has.
THE WOMAN WHO ATE FALAFEL: by Fatma Naguib. Theatre Passe Muraille, Main Stage.
She's fierce, she's bold, and since coming to Canada, she is very cold. Writer and performer Fatma Naguib explores themes of identity, belonging, and social justice in her debut one-woman show. This comedic affair is an uplifting look at a Middle Eastern woman's journey towards self-discovery and empowerment, including a literal journey from Egypt to Canada. Combining real-life experience and comedy, Fatma tells her own story about pursuing her passion and overcoming obstacles.
MAGGIE CHUN'S FIRST LOVE AND LAST WEDDING: by Helen Ho. Factory Theatre Mainspace
After committing to spending the rest of her life in the small town of Windser, Ontario (yes, with an E), the sudden arrival of Maggie's middle school crush on her wedding day forces her into an abrupt awakening. Maggie Chun's First Love and Last Wedding by Helen Ho was the 2023 New Play Contest Winner, sponsored by The Aubrey and Marla Dan Foundation.
The Toronto Fringe Festival runs July 5 to 16, 2023. Complete show listing can be found here.