On the occasion of Celiac Awareness Month, Gluten Free Garage celebrates its 10th anniversary on May 28th and Robyn Harrison of Robyn's Gluten-free Baking Courses shared with us this delicious recipe for Gluten Free Toffee Pecan Banana Bread. After her celiac diagnosis, she tried to make a gluten-free version of one of her baking staples and created a super flavourful, moist, and versatile gluten-free banana bread recipe. This gluten-free banana bread is perfectly moist, buttery, and scrumptious—and the delicious Skor toffee layer and crunchy pecans add a drool-worthy twist to a baking classic.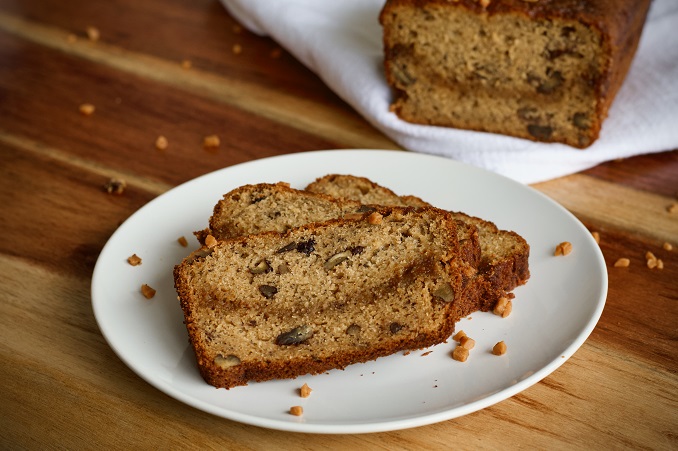 Gluten Free Toffee Pecan Banana Bread
Ingredients:
1/2 cup brown rice flour
1/2 cup gluten-free oat flour
1/2 cup almond flour
1/3 cup tapioca starch
1/2 teaspoon xanthan gum
1 teaspoon baking powder
1/2 teaspoon baking soda
1/2 teaspoon salt
1 cup mashed banana (about 2 large bananas)
1/3 cup melted unsalted butter
1/3 cup brown sugar
2 eggs, room temperature
1 teaspoon vanilla
2 tablespoons maple syrup
1/2 cup chopped pecans, plus more for topping
1/2 cup Skor toffee bits, plus more for topping
Directions:
1. Preheat oven to 325°F (165°C). Grease an 8.5×4.5″ pan.
2. In a large bowl, whisk together all of the dry ingredients (brown rice flour, oat flour, almond flour, tapioca starch, xanthan gum, baking powder, baking soda, and salt) until well combined.
3. In another bowl, mash the bananas. Add the melted butter, brown sugar, eggs, vanilla, and maple syrup. Whisk until smooth.
4. Pour the wet ingredients into the dry, and mix with a spatula. Make sure to fold from the bottom of the bowl and scrape down the sides to ensure all the flour is incorporated. Fold in the chopped pecans.
5. Scrape half of the batter into the prepared pan. Sprinkle on the Skor toffee bits in one even layer. Scrape the remaining half of the batter on top. Smooth the top with a spatula and top with a few more pecans and Skor bits.
6. Bake for 45-50 minutes, until the center looks and feels firm. If the top is browning too much, cover loosely with a piece of aluminum foil (after about 20-25 minutes).
7. Remove from the pan and let cool on a cooling rack. Let cool completely before serving.
Note: for the full instructional video, printable PDFs, notes, substitutions, and more, visit Gluten-free Baking Courses.