Joyce Leung runs virtual and in-person Asian cooking classes in Ontario through Joyce of Cooking and is hosting a FREE Lunar New Year dumpling workshop in Toronto on February 3rd in partnership with Food Basics. She shared with us her recipe for Homemade Asian Dumplings so our readers can try them before her event. If you are interested in attending the event, sign up here.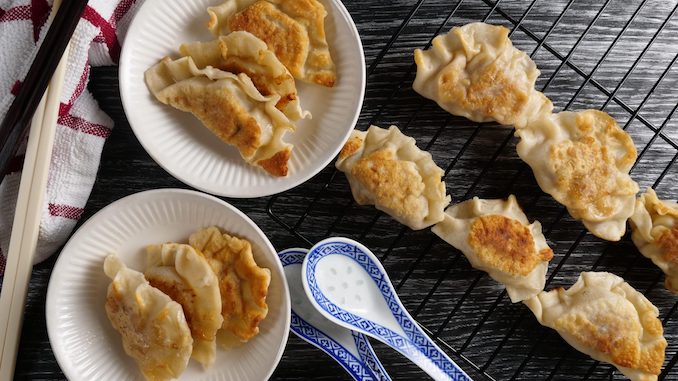 Easy Homemade Asian Dumplings Recipe
Makes 30 dumplings
Ingredients
• 1 pound ground pork
• ½ cup low sodium soy sauce
• ½ tsp sesame oil
• 2 garlic clove peeled and finely chopped
• ½ inch of ginger peeled and grated
• 1 tsp of hot sauce (Your fav kind – optional)
• 1 large egg
• Dumpling wrappers (Make your own or use wonton wrappers from store)
• Ghee for pan frying (or use your fav oil)
• Small bowl of water
Directions
1. Mix pork, soy sauce, sesame oil, garlic,ginger, hot sauce (if using), and egg to combine
2. Put approx. 1 tablespoon of pork filling in the middle of each dumpling wrapper
3. Fold dumpling wrappers in half and using water to seal the edges (you can simply seal the edges together or create crimps for a fancier design)
4. Heat a pan with ghee to medium heat
5. Pan fry each side of the dumplings for about 2 minutes until the dough turns golden brown
Dumpling Wrappers
Ingredients
• 1 ½ cup of all purpose flour
• 1 pinch of salt
• 400 ml of water (you may need more or less water depending on the temperature of your kitchen and weather in general) – Add water in 100mL at a time until the right consistency
Directions
1. Add flour, salt and water together and combine to form into a dough ball
2. Knead for 3 minutes and let rest covered in bowl for 1 hour
3. Divide into 30 pieces small balls and roll into dumpling wrappers
4. Flour each wrapper on both side so they don't stick to each other
If you have extra wrappers, you can put into an airtight bag and freeze them. (make sure you flour both sides of the wrappers generously with flour to prevent from sticking)I personally like to make all the dumplings in one sitting and then put them on a baking sheet to freeze. This way you have dumplings for days and who doesn't love that?
Do you love dumplings but have always been too scared to make them? Give this recipe a try and let me know what you think in the comments below!!