This creamy authentic Indian curry butter chicken recipe is courtesy of Punit Sehgal, Chef at Love Chix. It's the perfect dish for those looking to throw together a quick and delicious meal for one, or to make in big batches, for friends and family to dig into.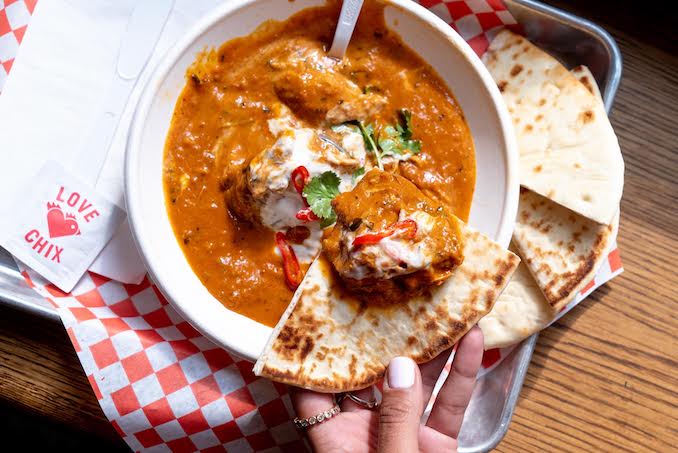 Love Chix's Butter Chicken Recipe
SERVES 4
Ingredients
-2 tablespoons canola oil
-1 lb. chicken breasts or tenders
-2 red onions, roughly chopped
-2 tablespoons chopped ginger
-3 red finger chilies
-6 garlic cloves, crushed
-1 x 28-ounce can of crushed or diced tomatoes
-1 bunch cilantro
-1/4 cup cream
-2 tablespoons butter
-2-4 tablespoons sugar
-Kosher salt to taste
-1 tablespoon garam masala
-1 teaspoon ground coriander
-1 teaspoon ground cumin
-¼ to 1 teaspoon chili powder
-4 green cardamom pods (whole)
-1 cinnamon sticks (whole)
-1 bay leaf (whole)
-2 teaspoon dried fenugreek leaves
Directions
1. Heat 1 tablespoon of the butter in a medium-sized frying pan over medium-high heat.
2. Add the whole spices (cardamon seeds, bay leaf, cinnamon sticks), cook until they release the fragrance and take them out. Add the chicken breasts or tenders and cook, stirring frequently, until they are cooked through and no longer pink, about 12-15 minutes.
3. Remove them from the pan and cut them into 1-inch chunks. While the chicken is cooking begin preparing the sauce. Add the remaining tablespoon of butter and canola oil to a large skillet over medium-high heat. Add the ginger, garlic, red chilies and cook until it's light brown then add the onions and keep cooking until they are golden brown.
4. While the onions are cooking, place all the spices together in a small bowl. Add the spices to the pan with the onions. Let the spices cook for about one minute, or until they are quite fragrant. Add the tomatoes to the pan and scrape up any stuck on brown bits. Add half a cup of water and bring the pot to a boil. Lower the heat to medium and let the sauce simmer for 20 minutes. Carefully add the sauce to your blender and blend on high until it is very smooth. Pass it through a fine mesh and then add the sauce back to the pan. Stir in the cream, sugar and finish it with 1 tablespoon of butter, 1/2 bunch of chopped cilantro and 1/2 freshly squeezed lemon juice.
5. Take a saute pan, toast the dried fenugreek leaves and crush it in between your palms on top of the butter chicken. Stir and season with salt as needed. Pour in a nice bowl and garnish with fresh cilantro leaves and chilies and serve with naan bread or rice.