Therapists are very expensive. But writing songs is free. That's why Daniel Busheikin started No Frills, a bedroom-pop project brought to life by a band of familiar faces in the Toronto independent music scene, including members of Hooded Fang, Twist, Rapport, and his own previous band Grounders.
With songs about life, love, death and depression, the premise is bleak. But when imbued with Busheikin's sardonic humour and wry self-awareness, the music is playful and inviting, tracing the whimsical desperation of someone trying to eke out a drip of optimism.
No Frills' forthcoming debut LP Downward Dog (out April 2022) is a "pandemic record." When Toronto shut down, Busheikin channelled his newly-acquired free time into writing songs and recording them piecemeal. Drums and bass were tracked to tape at Gavin Gardiner's (The Wooden Sky) garage-turned-studio, and the rest in Busheikin's basement where, in lieu of a proper engineer or high-end gear, Busheikin was creatively DIY. To get his ideal vocal tones, for example, he sang through a KN95 mask with a toilet paper tube around the microphone.
The result is a memorable collection of lo-fi pop, ranging from angular indie rock to intimate ballads, woven together by warm analog production reminiscent of 50s crooners and early 60s pop.
No Frills has supported acclaimed US indie acts Chris Cohen and Jerry Paper, as well as local favourites like Kiwi Jr., Nyssa, and Ice Cream. They showcased at Pop Montreal 2019 and were slated to perform at (the cancelled) Sled Island 2020.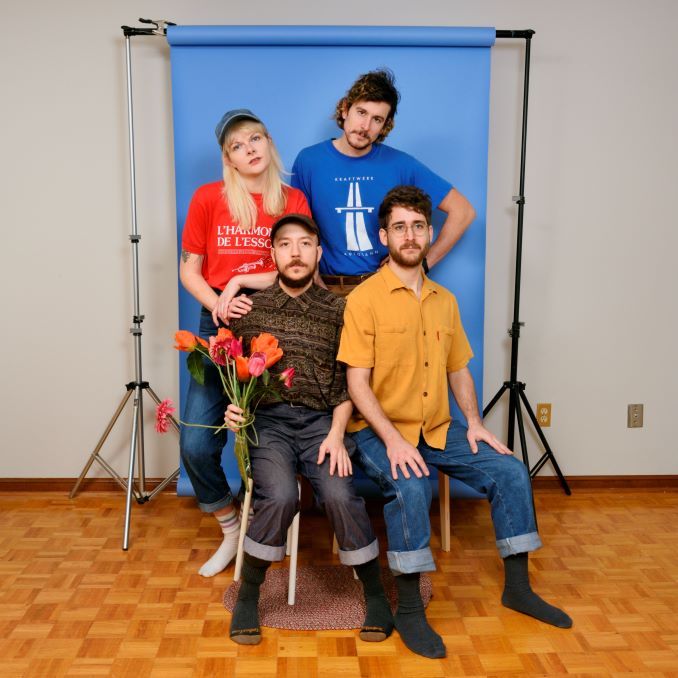 Name:
No Frills — members: Matt Buckberrough (guitar), Jon Pappo (drums), Daniel Busheikin (guitar, vocals), Maddy Wilde (vocals, synth)
Genre:
Indie-Rock, Bummer Pop
Founded:
2016
# of Albums:
1
Latest Album:
Downward Dog – Out April 1, 2022
Latest Single:
"Darkhorse" – Out March 2, 2022
Latest Video:
Favourite musician growing up:
I pretended I liked Led Zeppelin but didn't really like them, and I wish someone would have just told me, it's OK not to like Led Zeppelin
Favourite musician now:
Been listening to a lot of R.D. Burman instrumentals lately and that's been great
Guilty pleasure song:
"This is What It Feels Like" by Armin van Buuren and Trevor Gutherie of soulDecision, whose song "Faded" would be my second choice
Live show ritual:
One time I went to the chiropractor first but nothing really
Favourite local musician:
Slash Need or Lee Paradise
EP or LP?
I have absolutely no opinion on this, but we have an LP coming, so… LP?
Early bird or night owl?
Early, gotta get my oats asap
Road or studio?
Studio
Where can we follow you?
Website | Facebook | Twitter | Instagram | SoundCloud | Bandcamp
***
Rapid Fire Toronto Qs
Favourite local restaurant:
House of Indian Roti, which slings a delectable mango lassi. It's very close to my house.
Favourite street in your city:
Palmerston, the part with all the nice street lamps. It's magical!
Favourite park in your city:
Bellevue Square Park because I have lots of nostalgia.
Favourite music venue in your city:
Baby G because there's a little backstage nook to hide in when you're feeling overwhelmed
Favourite music store in your city:
Sonic Boom