Chef Hansen over at The Carbon Bar has been busy creating some great menu items for their guests. From their daily Lunch Box items to new seasonal entries, there is a lot going on at The Carbon Bar. We wanted to share one of the recipes that we thought would be perfect for the colder months ahead.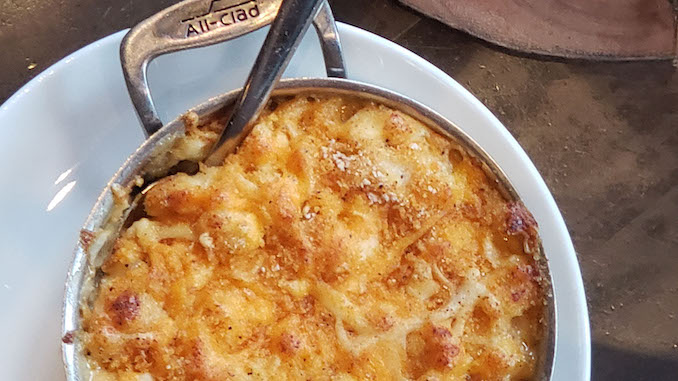 Return of the Mac (and cheese)
Makes 8-10 portions for holiday parties!
Ingredients
-0.5 white onion, fine dice
-4pc garlic clove, minced
-3Tbsp Butter
-2Tbsp Flour
-1L 3.25% Milk
-0.5L 35% Cream
-2tbsp chipotle puree
-2.5lbs macaroni pasta, cooked 3 minutes.
-1L mozzarella cheese, grated
-0.5L white cheddar, grated
-0.5L orange cheddar, grated
-0.5 bunch parsley, chopped
-4tbsp bread crumb or panko
Directions
1. Fill pot with water for pasta. Add salt. Bring to boil.
2. Add macaroni, cook 3 minutes.
3. Drain, cool with a bit of cold water.
4. In a separate pot melt butter and add flour. Cook medium low for 4 minutes.
5. SLOWLY add milk and mix well. Bring up heat until sauce thickens. Add cream
6. Add chipotle, mix well.
7. Add cheese off the heat and melt down.
8. Add pasta and parsley.
9. Put into casserole dish. Add more cheese on top (optional)
10. Add bread crumb or panko
11. Bake in oven at 350F for 10minutes
12. Cool for 5 minutes and enjoy!