I saw the original Royal Court Theatre production of Nick Payne's Constellations four years ago in London, England. I remember loving the production, filled with endless opportunities and loaded with subtext. I had totally forgotten how devastating it is, though!
Payne's text focuses on cosmology and the theory that we are living life in many parallel universes that are determined on various decisions we have made throughout our lives. With this in mind, we meet Roland and Marianne, played by Graham Cuthbertson and Cara Ricketts.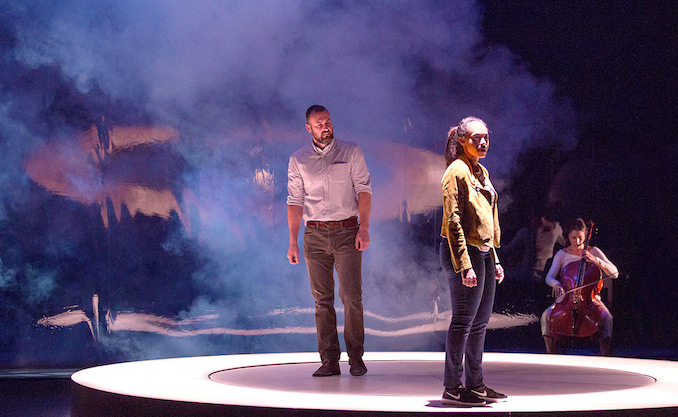 Cuthbertson and Ricketts adeptly navigated a loaded 75 minute piece, filled with love, loss, longing, hope and despair; a heart rendering evaluation of the human condition. All the while, the action was punctuated by an onstage Cellist.
Michael Gianfrancesco's set with Andrea Lundy's lighting reflected many Roland and Marianne's across the stage with use of a giant mirror. While I feel this could have been developed further,  this helped visualise the plays' meaning nicely as the audience felt privy to many plains.  I am not entirely sure what the giant balloon was about, but…y'know…art? Perhaps it was a callback to Tom Scutt's original Royal Court design of many helium style balloons, evocative of parties, synapses and sperm.
It is weird, as a British girl, seeing a play so specifically set in South England in the text, performed in Canada without altered dialogue. As the pair discussed Cambridge University (located in my hometown) in their Canadian accents, I couldn't have felt further away from home. That said, it got me thinking that, if parallel lives do exist, there is probably a Rebecca back there right now, living a different life on a different path. Thus is the thought provoking nature of Payne's undeniably fantastic text.
So, more on that thought provocation; this is exactly the reason you need to see the show, running until November 27th at Toronto's Bluma Appel Theatre. Theatre that engages you and makes you think, makes you re-evaluate, is very worthwhile indeed.