There's a fabulous display of hand-painted murals that were just unveiled at the Scarborough Town Centre. 60 hand-painted works of art were created by young Canadian artists from every province and territory. Organized by VIBE Arts, a charitable arts education organization in partnership with the shopping centre, the exhibition expresses the story of Canada through the eyes of our youth. Drawing from online submissions of reasons "why we love Canada" by young artists between the ages 9 to 29, the murals were selected from over thirty community organizations including youth agencies, shelters, Aboriginal agencies, public housing and under resourced schools. Over 500 youth participated in bringing together this arts initiative that will be enjoyed in public spaces across Canada this summer for the country's 150th celebration. Each piece tells the story of diversity, culture, character and strength of our nation.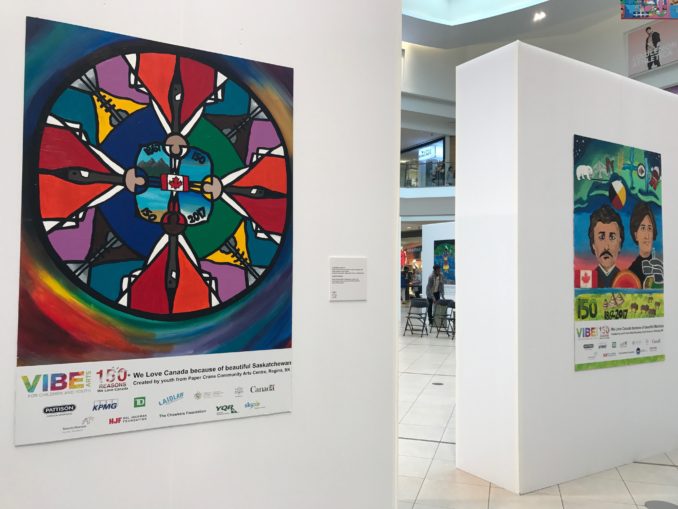 Why Scarborough for the launch of this exhibition? "Scarborough is a community that comes together. People come from all over the world," says Honourable Mitzie Hunter, MPP Scarborough-Guildwood . "This is a place that welcomes newcomers to Canada. I am so proud of this being chosen as the launching pad for this extraordinary exhibit and celebration of Canada's 150th birthday. The murals are inspiring. I know how hard they [the artists] have worked and how much passion our young people have put into their creative expression. I want everyone to know that our young people are leaders now. They can teach us so many things."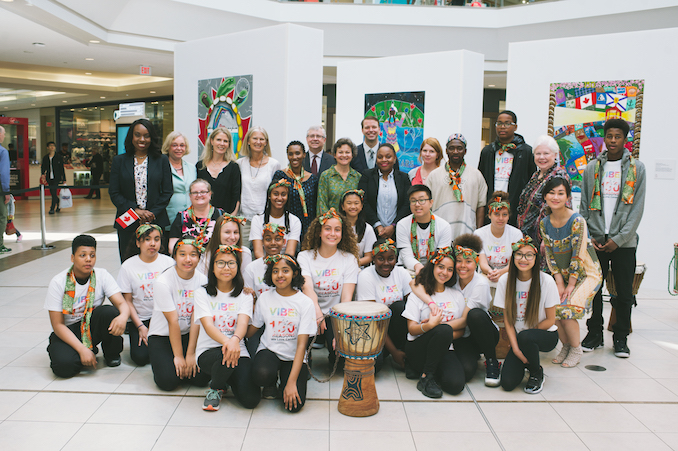 In addition to the display at Scarborough Town Centre, the murals by the young artists will be available for viewing at various locations across the country. While the original murals were unveiled at the launch event, there will be opportunities to view large scale reproductions until July 3, 2017. The originals will then be on display in Toronto subway stations throughout the summer months as well as digital displays in 15 airports and more than 300 billboards across Canada thanks to Pattison Outdoor. For the month of June, the public is invited to share their love for Canada to spread the awareness online with #150Reasons  at the Scarborough Town Centre website.
VIBE Arts is an award-winning organization committed to providing children and youth in under-resourced communities with community and school based arts education programming.
Take a look at just a few of the murals….