Name: Night Vision
Founded: 2012
Number of Albums: No full albums—yet!
Latest Release: "Fulkart" on Bad Pony Records
Short Bio:
Toronto's interwoven, artistic community is known to fuse talents in peculiar ways as seen in Pavel and TJ of the duo Night Vision. This is why the question, "How did you first meet?" goes without a clear answer.
Conceived in 2012, the pair quickly established themselves as a strong team among the thriving dance music culture in their city, where they make regular appearances at venues including CODA, Parlour, Cabal, and the Electric Island concert series.
Night Vision's energetic style pairs warm, atmospheric melodies with hypnotic, driving rhythms that fire up dance floors. It is this sound that has recently taken them beyond their hometown, performing in Montreal, Vancouver, The BPM Festival, and the SXM Music Festival in St. Martin.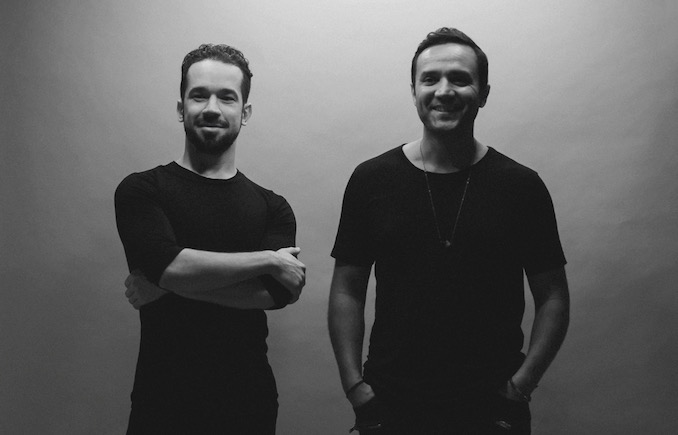 Latest Single: "Fulkart" on Bad Pony Records
Favourite Restaurant:
Pavel: County General
TJ: Joverse
Favourite Bands As Teenagers:
P: Nirvana, Radiohead, Pink Floyd
T: The Strokes, Interpol, Black Rebel Motorcycle Club
Favourite Band Now:
P: Caribou
T:  Joseph of Mercury
Guilty Pleasure Song:
P: RAF – Self Control
T: Wham!  – Everything She Wants
Live Show Ritual:
P: Take a shower and a have a drink
T: Listen to the exact opposite genre of music that's about to be played
Favorite Local Artist:
P: Gera
T: Moscow Noir
Sneaky Dees Nachos, Hey Meatball's Spaghetti, or A Superfood Salad from Fresh?
P: Fresh
T: Sneaky Dees
Queen Street or College Street?
P: Queen Street
T: Queen Street
Trinity Bellwoods or High Park?
P: Trinity
T: Trinity
EP or LP?
P: LP
T: LP
Early Bird or Night Owl?
P: Night Owl
T: Early Bird (immediately following being a night owl)
Road or Studio?
P: Road
T: Studio
Swiss Chalet or Roti?
P: Roti
T: Roti
Follow us on Facebook
Soundcloud: