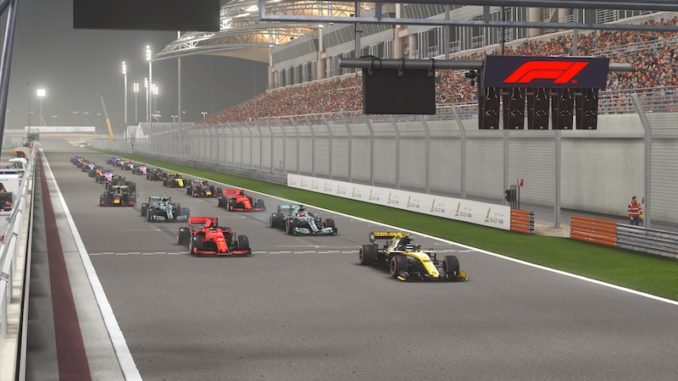 Our review of F1 2019, developed by Codemasters. Released on June 28, 2019 for PS4 (reviewed), Windows, Xbox One.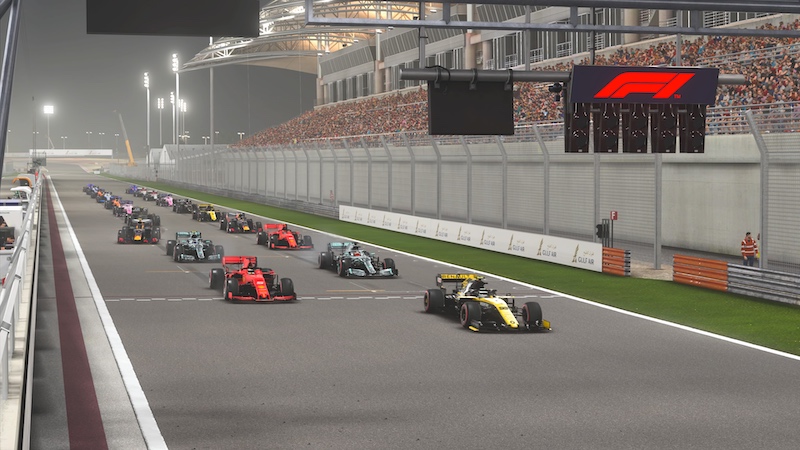 WHAT IS IT?
The 11th instalment of Codemasters simulation racing video game based on Formula One and Formula 2 Championships.
IS IT GOOD?
Very well done. Great to play all the famous courses against the world's best teams and drivers.
WHO SHOULD PLAY IT?
Formula One fans and racing game fans. Those who prefer more simulation racing over arcade.
F1 2019 is the officially licensed game for Formula One and Formula 2.
Codemasters, who also made DIRT 2.0, are the best in the business when it comes to video game racing simulations. The latest addition to the racing car series has further improved on their already very good game.
In terms of UI and the format of the game, there has not been too much change which will make it easy to navigate for return players. Each year the game improves on what it has built and this year was no different. It has fixed some small errors like not showing the price of R & D upgrades if you have insufficient funds.
The racers and the teams have also been updated to match this year's roster. That means fan favourite Charles Leclerc is on Ferrari, Daniel Ricciardo is on Renault and Fernando Alonso Díaz is no longer racing.
With the addition of Formula 2, players can now race with the drivers from that division. At release of the game, the F2 drivers were from the 2018 season with the 2019 roster set to be added in September 2019 in an update.
Let's go over some of the game modes and ways to play.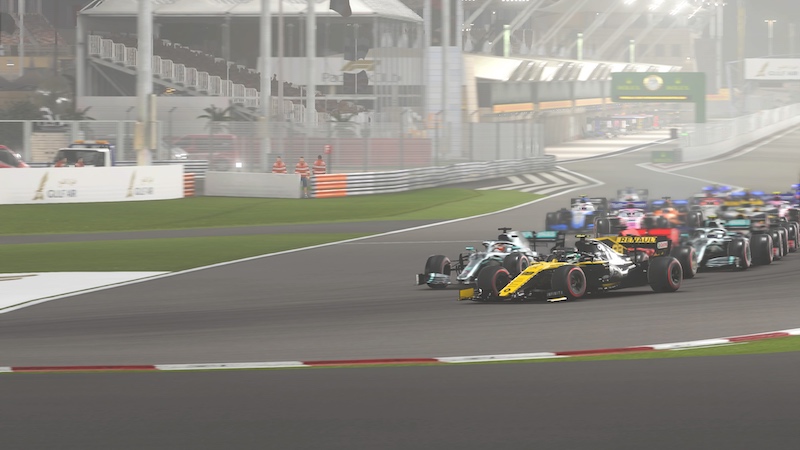 SOLO
Wanting to put more of a storyline into the Career Mode, F1 2019 has added a few things.
First, there is a whole new Formula 2 addition. You start your career in F2 and play a series of races that will lead you to your F1 season. Make friends and rivals as you move up to the highest level of racing.
Second, during the season, AI drivers can now switch teams and contracts mid-season or at the end of the season. This allows for some more variation in the game making it feel less stale.
There is also an option to do a FIA Formula 2 Championship season. The season is not as elaborate as the regular F1 career mode but fun none the less. The F2 Season for 2019 will be released through an update in September 2019.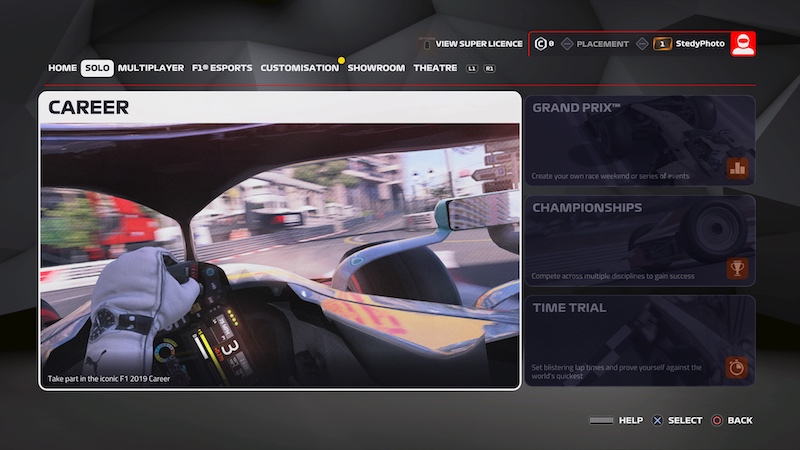 Solo options in F1 2019 include:
Career – Play as a driver in the main mode of the game. Make your way through F2 and F1 to be the best driver in the world.
Grand Prix – Using F1, F2 or Classic F1, make your own race weekend or series of races.
Championships – Compete in various Grand Prix weekends and calendars from across time and place.Asia-Pacific courses, Classic cars and Legendary tracks are some of the challenges in this category. Invitational events are single events like pursuit, time trial, overtake challenges and checkpoint challenges. Legends offers races between rivals Prost and Senna with events similar to the Invitational events.
Time Trials – set record times on tracks with various cars.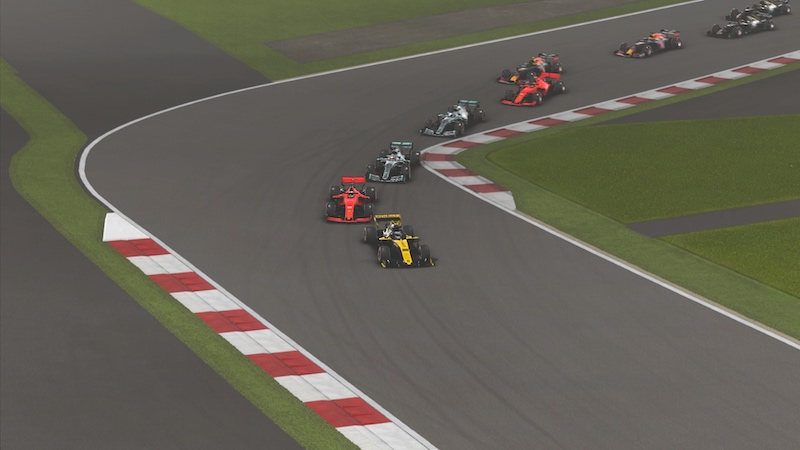 MULTIPLAYER
Looking to put your own paint jobs on a ride? Design your own car liveries and sponsor logos for use in Multiplayer.
You can change the colour way of your car, use game credits to buy more, or go to the PlayStation store for premium liveries. You can also do this with your driver. Change the look of your driver and change his helmet, gloves and suit. You can once again buy with credits or buy Premium on the PlayStation store.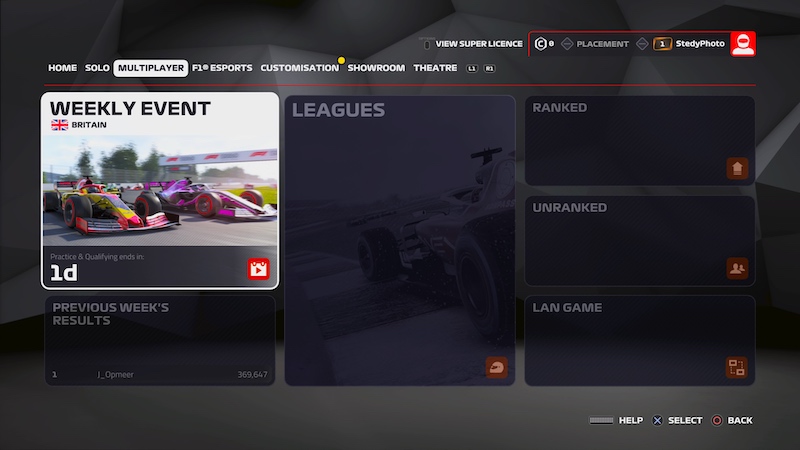 Multiplayer options in 2019 include:
Weekly Event – Race a weekly event online with players around the world. Race 3 practice races and a single qualifier before the weekly online race.
Leagues – Create or join a league where you can race seasons amongst yourselves. Vote to kick members or change race days and times.
Ranked Multiplayer – Online races where outcome affects your global rankings
Unranked Multiplayer – Online races where outcome does not affect your global ranking.
LAN Game – Connect on a local network to play with friends.
OTHERS
Showroom
With over a dozen cars at launch from the 1972-2010 seasons, the F1 2019 showroom is a great place to get up close to these classic cars. Zoom in and out, rotate around the vehicle to get a good look at them.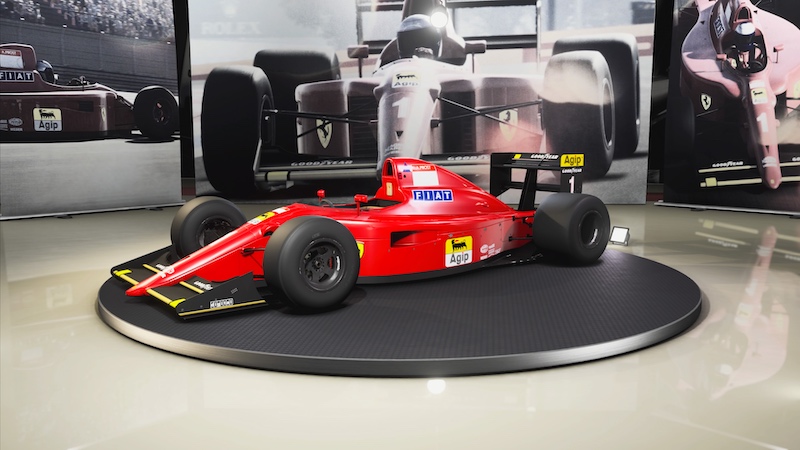 The new Formula 2 cars are also great to look at. They are added to the list of F1 cars and classic cars giving the player a large selection to take a peek at.
Theatre
Watch video replays of recent highlights from your races. The latest three will be shown with the ability to save them for future viewing.
F1 Esports
Watch f1 esports and check the standings.
The game has to open a browser to watch the videos and check standings which is not ideal. Would be cool to have it all built into the game.
Fun to watch none the less.
Learn more about F1 2019 on their website.