I'm always curious about the latest technology and how it fits into our daily lives. Honestly, my friends and family consider me their guinea pig of sorts since I approach experiences like any other average person. When GoGo Muscle Training asked if I would be interested in checking them out, I was interested, but a little intimidated at first,  but the outcome was a surprise.
GoGo Muscle Training studio is located at 70 Yorkville Avenue. I did a bit of research and thought that this is where I'd find super jocks, socialites and members of The Real Housewives of Toronto given its Tony address. I was deeply concerned that this advanced technology fitness regime would also be reserved for serious athletes if, the results stood up to the claims. Admittedly I'm not an elite athlete nor am I a socialite. I'm actually someone who loathes working out unless it's fun and/or interesting and efficient. I  am, however, interested in learning something new. On the flip side, I also thought it would be a good idea to bring a friend who is a fitness enthusiast to get her thoughts.
So, what is this? GoGo Training uses full-body Electric Muscle Stimulation (EMS) that's already touted by the medical, rehabilitation and sports industries as an effective and efficient form of exercise to help with muscle strength. It can be used by adult men and women of all ages. You find find the full details explained on their site here.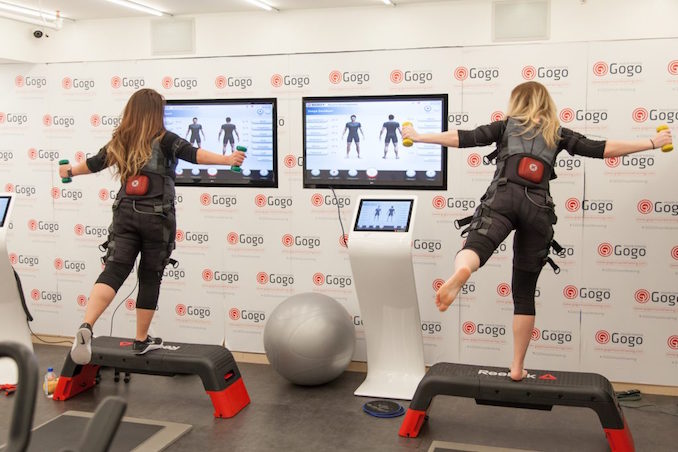 We've found out that EMS is popular amongst elite athletes who are using this technology to help improve strength and work outs more efficient. It's also very safe and easy on the joints to minimize pressure on the body. A 20 minute session with a trainer twice each week here is the minimum commitment and according to their trainers, two sessions per week replaces more than 10 hours you would have to spend at the gym otherwise, nearly every day.
What to wear? I had brought out my usual exercise gear but it turns out you don't need anything at all. They actually provide you with their clothing made of technical fabric that works with the training suit that you need to wear.  No need for  any special training shoes either so literally you could walk in without any gym stuff. Private change rooms are complete with showers and all the amenities you need too. When you get strapped into the wireless muscle training suit, you'll already feel like a badass. Seriously, channelled my inner Wonder Woman. That suit is TIGHT.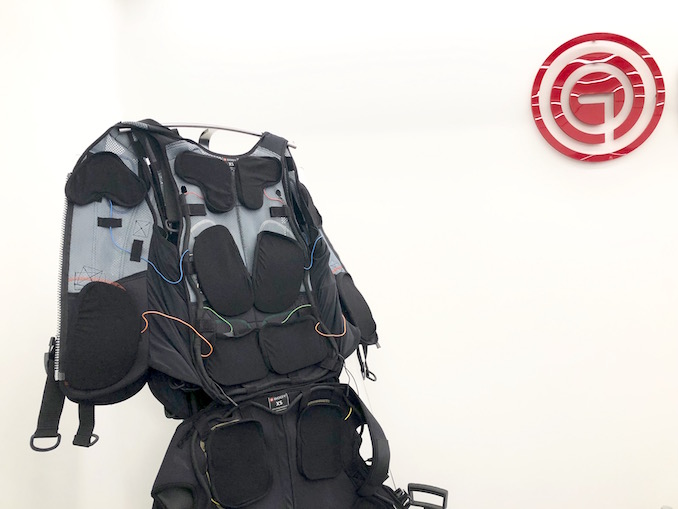 What to expect? At the first visit, an assessment done in the studio that helps understand your body's current state. The quick analysis tells explains what is the healthy ideal when it comes to weight, fat ratio, muscle components, water retention etc. This helps you, and the trainer, work together to work towards your personal goals. The information will exist on their internal computer system so that each time you go in for a session, it's already calibrated to maximize your training session. It's also an intimate work out studio that's equipped with two stations and several stationery bikes. They try to not schedule others in if possible but if they do, you probably will only find one other person but possible up to five. Which is great for someone like me who gets distracted by others being around way too easily.
The Session: My HIIT training session was one that I'm familiar with only I've got this suit that feels like it's at least 10 lbs. strapped onto me. Actually, found it comfortable as it gave me support along the lower back where I have the most discomfort. Within the suits are pads that send small pulses to stimulate the muscle contractions while you work out. The intensity of the pulses are entirely at your comfort level and can be adjusted if desired. Through the rounds of working on core, glutes, arms, legs, butt and back, I had to focus on the computer guiding me through the exercises. The trainer was there to make sure my form was correct and act as my personal sideline cheerleader. About three quarters through the session, he had to re-adjust the straps on my upper legs as they were starting to slip. Apparently, it's not uncommon for people to find up to an inch lost immediately after a session (yes, insert shocked face). And those planks seemed easier too as a result from the suit giving that added support.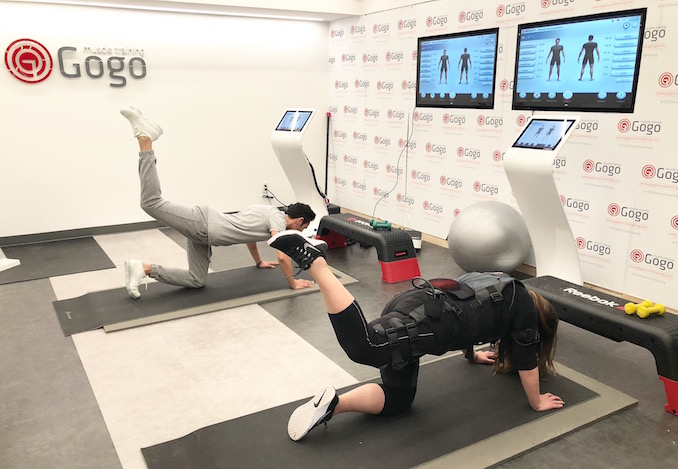 So???? The session went by pretty quickly and my trainer mentioned I will probably hate him in a couple of days as the reality of how much work my muscles actually did really sets in. The ideal is to go back twice a week as like anything else, to see actual results means investing the time and the commitment. He also showed me a few stretches that I needed to do since my body wasn't sending any signals out begging for stretches.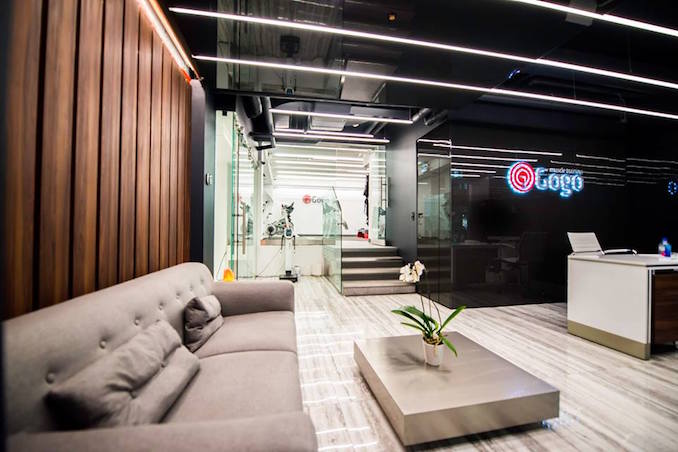 We both left feeling super hungry and not wanting to be counter productive we had a healthy lunch and compared notes. We both absorbed the information, and GoGo Muscle Trainers were very  knowledgable about the technology, the first of it's kind in North America for fitness training, and answered all our questions. True, we didn't feel any different when we left other than fitting into our clothes that did feel slightly looser. I noted this for next time I need to squeeze myself into a party dress. I felt like I had more energy that lasted late into the evening, but I didn't "think" I worked out as hard.
Indeed the next day, I felt the muscle soreness kick in as though I had gone through a barre class that would have had me sweating up a storm and wishing it was over before it had begun. This is very different from any other exercise I've done When they said it was fast and efficient, they were right.  Now I'll have more time to press my nose against the windows at Holts.
GoGo Muscle Training isn't as intimidating as I thought it would be. So, I'll be back.
You can find out more gogomuscletraining.com