Anastasia The New Broadway Musical is a beautiful fairy tale that was inspired part by history as well as the 1950s movie starring Ingrid Bergman and Yul Brenner and the popular animated film by Twentieth Century Fox from 1997. Its suspenseful adventure and romantic storyline offer a glimmer of hope even in the darkest of times.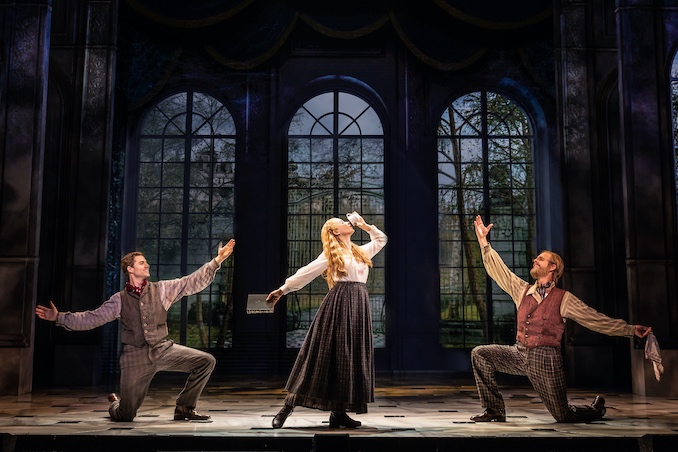 The story focuses on the youngest daughter of the last Russian royal Czar, who's family members all died during the Russian Revolution. Anastasia was the only member of the family rumoured to have survived but stricken with amnesia. Her grandmother, the Dowager Empress Marie (Joy Franz), who escaped to Paris before the Revolution, held onto the hope that Anastasia could possibly still be alive and offered a large sum for her safe return. As time went on, and after numerous impersonators presented themselves, the Dowager grew tired of hoping and concluded that she would no longer keep faith for her granddaughter's return.
Anastasia lived under her new identity as Anya (played by Taylor Quick at the night of our performance) – a name that was given to her by the orphanage that took her in. It was possible the nurses at the orphanage knew her true identity as a hidden secret reveals a likelihood. But life as a commoner on the streets as a cleaner was all Anya knew. Then, one day she met with two con men, an older Vlad (Edward Staudenmayer) and a young and handsome Dmitry (Jake Levy). They persuaded her to go along with their scheme to get them all out of poverty. The idea? To present her as the missing Anastasia to the Dowager.
It wasn't too far fetched of an idea. Vlad recalled the splendor of riches that the Russian Romanovs once had. Dmitry, when he was a young child, could vividly remember the lavish lifestyle and parties too. Based on their recollection of the royal family they believed it was possible to groom this young woman and be paid handsomely for their "find". Anya was their best hope and the transformation from street cleaner to aristocracy began.
Once they all felt she was convincing enough, the three decide to dangerously sneak out of Russia in hopes to reach the Dowager in Paris. With one final goodbye, Stay, I Pray You – a beautiful and heartfelt farewell to their homeland, they manage to just barely slip by guards as they made the trek.
It was 1927, a new beginning for Anya as she commits herself to the scheme and begins wondering if she really could be the rumoured lost granddaughter.  But arranging a meeting with the Dowager proved to be difficult. Luckily Vlad, who was once a smooth-talking ladies' man, remembered Countess Lily (Tari Kelly) who was also Dowager's Lady in Waiting, and convinced her to set up the meeting. The fate of the Anya, Vlad and Dmitry would be either successful or a complete gamble of everything they owned.
There's something magical about fairy tales that has us still hopeful for happy endings. Anastasia takes a more traditional approach to a musical storyline and it's a pretty rich presentation all packaged up for an entertaining evening out with the family. We originally assumed it was intended for families with young girls who adore princess stories. However, the script does have adult appeal leaning on the side of cheeky-ness particularly between Vlad and Countess Lily, in the second act that brings a level of unexpected humour.
We learned that some of the songs from the animated film were reworked for the musical, and they are beautiful.  Journey to the Past is unforgettable and central to telling Anya's story. Here's a fun fact, Aaliyah was casted to record the song for the animated film and with a bit of research we've discovered it was recorded here in Toronto.
Of course, it wouldn't be a princess story without glorious costumes. Anastasia dazzles in that department from the moment the curtains rise thanks to the talented costume designer, Linda Cho. Crystals glisten as far as the eye can see as elaborate gowns float across the stage giving us a glimpse of lavish history.
The set by Scenic Designer Alexander Dodge is a key component in helping to tell the story. It's truly spectacular not only in imagery but with transitioning time and place seamlessly for audiences of all ages. Projected backgrounds that gave a wonder of depth. The most awe-inspiring is the scene on the train as the trio were on the move to Paris. Breathtaking is the detailed bird's eye view through spring blossoms so crisp you could almost reach out and touch them.
Anastasia will no doubt be a popular one to see over the holiday season particularly with fans of the animated film and history buffs. What they'll be delighted to see is how it all comes to life on stage and what makes this production so special. It also brings us back to the thoughts of who we are and how following one's heart can bring us back home.
Anastasia The New Broadway Musical with original book by Terrence McNally, music by Stephen Faherty and lyrics by Lynn Ahrens, is on stage now at the Ed Mirvish Theatre until January 12, 2020. More info at www.mirvish.com
*Also just announced are a limited number of $39 rush seats made available on the day of each performance. See the site for details.