In 2017, brand-new Edmonton-based cannabis startup BRNT Designs created quite the "buzz" – and generated impressive crowd-sourced dollars in the process – with the introduction of its artisanal bong concept, the "Hexagon." Essentially it's the Tom Ford of the bong world – and it's become a coveted accessory for Canada's refined set of cannabis cravers. The team of early twenty-somethings behind it knew they were on to something when the dollars started to flow into their crowdfunding site, said Simon Grigenas, CEO of BRNT Group; cannabis users had been waiting for this.
The idea behind the sleek, geometric ceramic-glass bongs – which are available in a variety of colours – is to disrupt traditional cannabis culture with weed accessories that essentially double as home décor (yes, seriously). After raising $24,000, the BRNT team – a group of University of Alberta students – brought the first product to market in October 2017. It had 35,000 preorders in its first month of sale.
The resulting growth has been exponential for the young team of entrepreneurs. Earlier this past fall, the most recent round of financing generated a cool $3-million.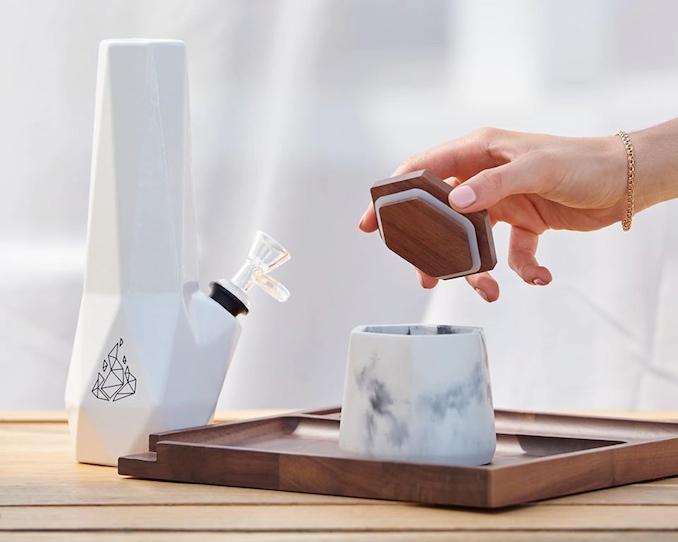 Making headlines as of late, BRNT Group partnered with British Columbia-based Valens GroWorks Corp. to bring Made By vaporizers to Canadian cannabis users. The easy-on-the-eyes single-source cannabis extract vaporizers will be complete with artfully designed hardware – a result of artistic collaborations with local and international artists. The deal sees BRNT heavily involved in Made By, leading everything from the hardware design and development of the vaporizer's aesthetics, to all marketing and sales efforts nationally. The extract formulations will be developed, crafted and tested by Valens, a licensed producer.
The partnership means more than talking point-filled weed accessories; it shakes up the industry. The first deal of its kind in Canada, the partnership allows BRNT – a cannabis company without Health Canada licensing – to sell cannabis products by leveraging Valens' license. "BRNT and Valens are setting a new industry standard by creating meaningful brands and products through a focused, profitable approach, as opposed to the traditional vertical integration seen today," said Grigenas. "The partnership enables us to focus on what we're best at – brand and hardware – and to leverage Valens for sourcing the biomass and making sure quality cannabis flower is going into the vapes."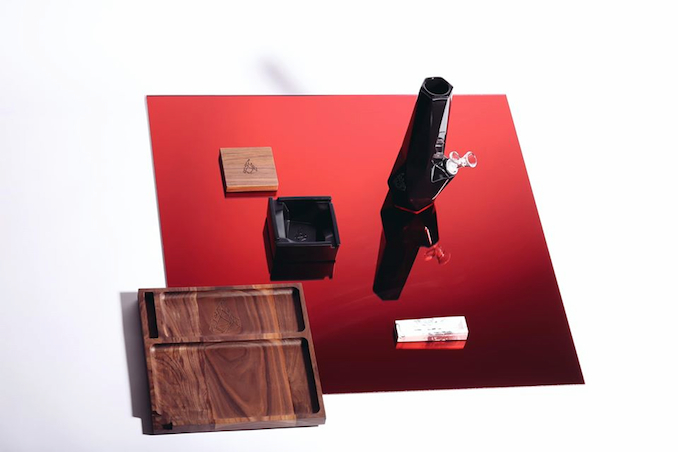 Under the terms of the deal, Valens will produce 2.2 million vape pens for BRNT over a two and a half year period. The high-end vapes will be available exclusively through BRNT's introductory vaporizer line, Made By. The rollout will begin early 2020, starting with Alberta, followed by the rest of Western Canada after. Once available countrywide, the vapes will feature art and design by a local yet-to-be-announced artist (largely sourced via Instagram suggestions), offering a different look for each province.
"Our big focus wasn't going after the biggest artists. We really want to support local in every market that we're in," said Grigenas. "There's so many different styles of design – from typography, to stage design and sculptural work. And that's something that affects how to decide who to work with. Who has a different visual signature than anyone we are already working with, and what field do they specialize in? Each province will have something unique to their provinces."
As for the buzz, you can expect a quality west coast experience. "We want to make sure the flavour profile is true to the quality B.C. bud," said Grigenas.
BRNT's vaporizer brand Made By will launch under the umbrella of BRNT Group, a cannabis design house. Also under this umbrella is BRNT Designs, a line of cannabis products like the beloved Hexagon bong. BRNT Designs participates in the ancillary products sector providing premium, high-quality cannabis accessories that are currently available in over 170 stores across Canada with international expansion underway.
Made By vaporizers will be available in select markets starting in Q1 2020 and will roll out across Canada thereafter.