What was shaping up to be an interesting but fairly standard Friday evening presentation by the Minister of Immigration, Refugees, and Citizenship, Ahmed Hussen, took a turn for the overtly political as numerous protesters from No One Is Illegal – Toronto  disrupted proceedings, repeatedly shouting questions at the Minister about his refusal to grant amnesty to a migrant worker and refugee living in Montreal who had been misled about her rights by CBSA officers and as a result was facing deportation.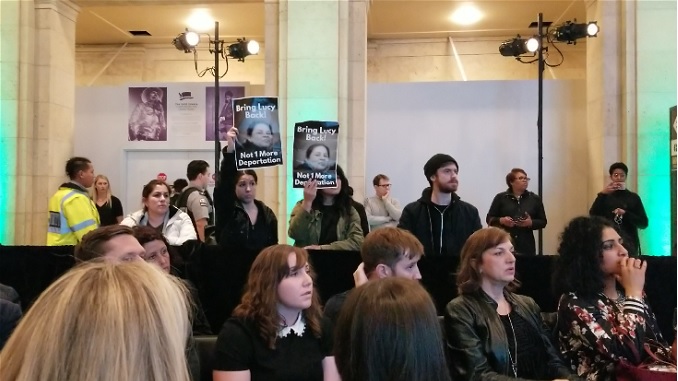 The worker – Lucy Francineth Granados – was arrested in her home on March 20th and imprisoned. She had sought status as a permanent resident on humanitarian grounds based on her past, fleeing her native Guatemala amid threats from local gangs. She has lived in Montreal for 9 years.
The Minister refused to comment on the case, saying that he was not allowed to do so. Minister Hussen has the power to approve her application on humanitarian grounds.
Ironically, the Minister would go on to talk about how Canada benefits from immigration and, in particular, how the recent changes in the United States were leading to more immigration to Canada as people sought to avoid the hostile atmosphere south of the border – an atmosphere driven in large part by high-profile deportation efforts similar to that being protested by No One Is Illegal.
In further discussion, Minister Hussen noted that currently, there are 4 working adults for every retired Canadian; that's expected to halve, to just two workers per retiree, by 2036. Canada is aiming to fill the resulting gap with an array of visa and residency programs. He repeatedly cited data showing the positive economic impact of immigration and pointed out, in an apparent rebuke to the Donald Trumps of the world, that "fear has never created a job… you'll never create prosperity with fear."
The event concluded with a question and answer period, and I took the opportunity to ask the Minister what it would take for Canada to suspend the "Safe Third Country Agreement", which treats the United States as a safe country for refugees and migrants and has been viewed as a factor in driving illegal immigration into Canada by those who fear recent US anti-immigration attitudes – the agreement prevents them from claiming asylum at official border crossings, because they're supposed to claim it in the "safe" United States. He responded by leaving that decision up to the United Nations High Commission on Refugees, and their judgment regarding the domestic asylum processes of the nation in question. It is unclear when the UNHCR last reviewed United States domestic asylum practices.
The Minister's speech and one-on-one session with Farah Nasser of Global News was presented as part of an ongoing lecture series called Union Speaks, which brings speakers of interest to Union Station's freshly renovated west wing in the heart of Toronto.