So much of what we are hearing about Syria is from the daily news –it's devastating and heartbreaking. But beyond the headlines, lays a rich history that should not be forgotten. The Aga Khan Museum recently opened their Syria exhibition entitled Syria: A Living History, and it's worth the time to go and explore.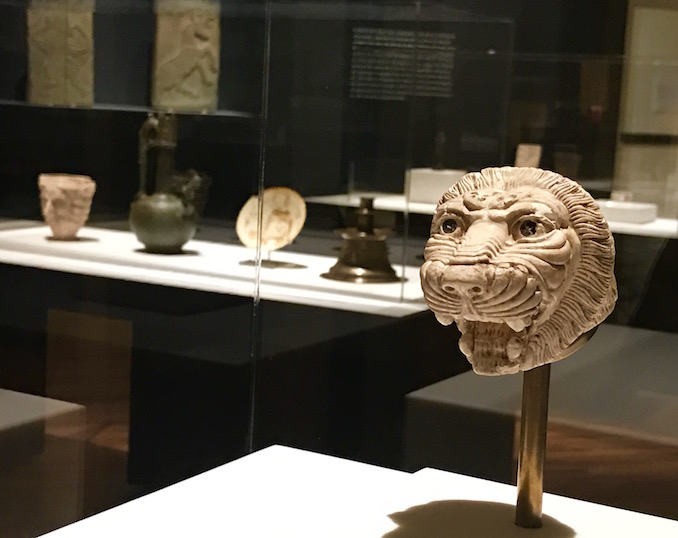 Over 5,000 years of artifacts and works of art contributed by world-renowned museums and private collectors are featured in this incredible exhibition.  There are 48 priceless pieces on display as a result of an unprecedented partnership between The Louvre (Paris), The Royal Ontario Museum (Toronto), the Vorderasiatisches Museum (Berlin) Metropolitan Museum of Art (New York) and many others to highlight the multicultural fabric of Syria. The exhibit also includes contemporary works of art of today's Syria.
We had a chance to visit the exhibition to view the pieces in depth as well as taste the flavours of Syria at the Museum's signature restaurant Diwan that made for an insightful outing that we highly recommend.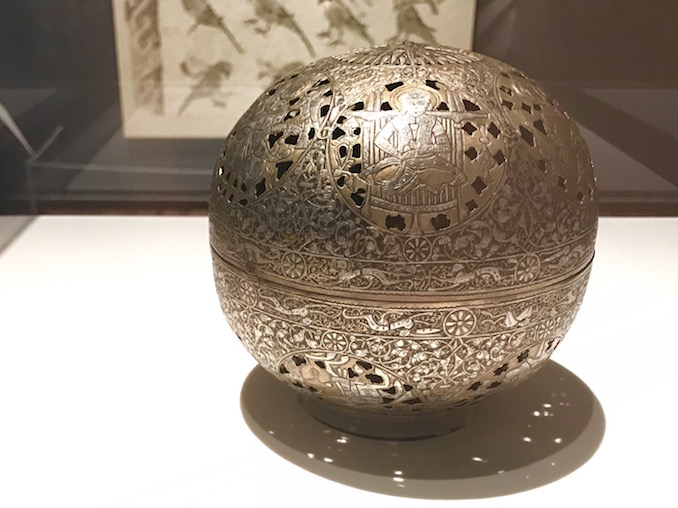 Our tour guide pointed out the significance of many pieces in this exhibition including The Seal of Yakhdun-Lim (The Louvre Museum), the famous Mariote King of Mari that dates back to 1800 BCE from the Ancient Mesopotamian period, is a incredibly rare cuneiform in terracotta. Cuneiform is known as one of the earliest forms of writing.
Ivory was a significant material in artwork and this carved Lion's Head (Royal Ontario Museum) dates back to historic Syria (9th-8th centuries BCE). Lions symbolized kingship and power in ancient civilizations from Anatolia to Syria and Egypt.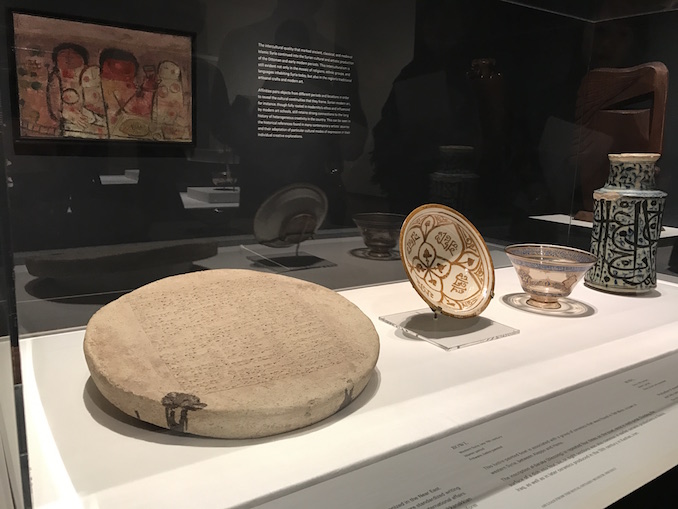 An beautiful Incense Burner in a stand alone case caught our attention for the detailing of etchings. Made of copper alloy, silver and gold from Syria, 13th century (Staatliche Museen zu Berlin, Museum fur Islamische Kunst) is considered one of finest in the world from the early Mamluk period. It's inscribed with many figures that depicts activities of a regal life.
Contemporary artwork in the exhibition included a familiar setting in The Last Supper by Fateh Moudarres (1964) (The Atassi Foundation). It's a dynamic, expressive and colourful example  of the artist's work who is considered a leader of the modern art movement in Syria who also studied in Rome and Paris. His work often incorporated ancient and legendary figures with present everyday people.
While the exhibition is definitely worth taking the time to explore, we rounded out our visit by trying a few new menu items featured during the Syrian exhibition at Diwan Restaurant (located at at the entrance of the Aga Khan Museum). It's a beautifully designed space that includes 19th century wall panels from Damascus with floor to ceiling glass windows providing a sweeping view of the park and adjacent Ismaili Centre Toronto. Any time of day is gorgeous here as light plays an important part in the architecture and design.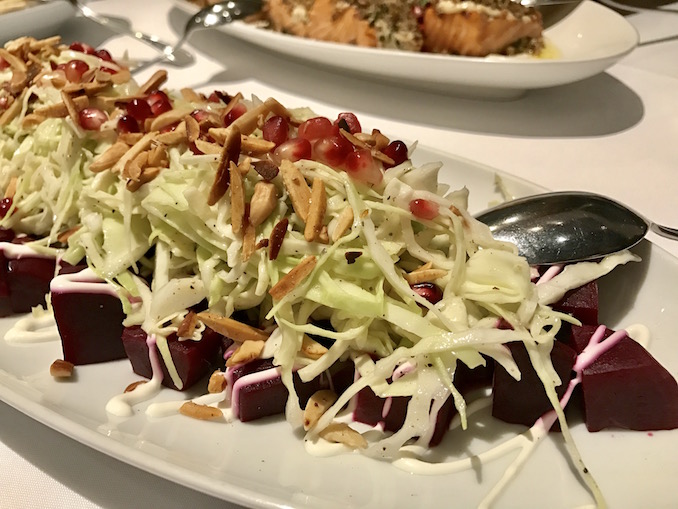 Dishes were created in house by the Master Chef Mark McEwan and Chef de Cuisine John Kovac with a Canadian Syrian friend who gave personal insight into the traditional yet uncomplicated recipes and ingredients commonly found in a Syrian home. Chef Kovac explains that Syrian dishes are quite simple and have found traditional flavours of dishes to be sour yet fresh tasting as they love ingredients like lemons and sour cherries. In a Syrian kitchen you'll also find they love the use of cinnamon, allspice, and all kinds of nuts. Favourite dishes also use lentils and lamb.
Kebab Karaz is a minced lamb meatball recipe that is popular in Aleppo  that is outstanding. Karaz means cherries and the lamb meatballs are cooked in a sour cherry sauce. Chef Kovac explains that Wishna is a sour black cherry that comes from the outskirts of Aleppo and is an ingredient that is hard to find here outside of Middle Eastern grocery stores. Included in this incredible dish they've included pomegranate and lemon juices.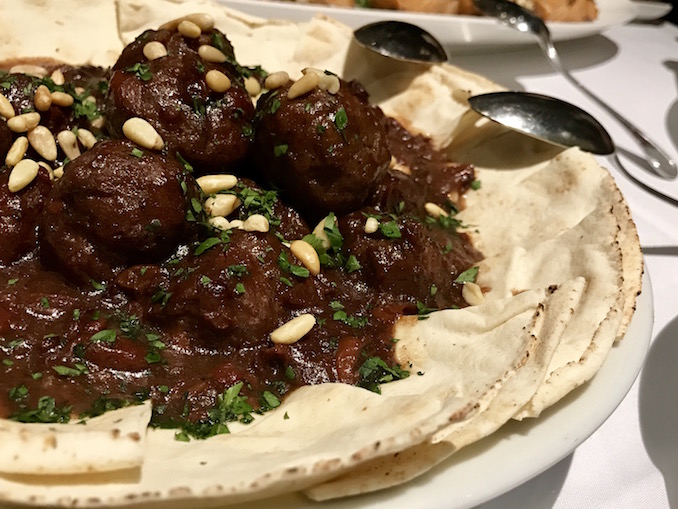 We also had a chance to try the traditional Shurbat Addes – a red lentil soup made with garlic, coriander, cumin and a touch of olive oil. We were surprised to find such a simple soup to be very hearty and satisfying. You bet I'm trying to recreate the recipe at home now.
The "Tarator" style walnut crusted grilled salmon has a sauce that Chef Kovac explained is prevalent in the Middle East as well as many other nearby regions. Not to be confused with tartare sauce, he tells us that tarator is often similar to  tzaziki sauce that's made of yogurt, cucumber, lemon juice, and garlic. In Syrian dishes  it's more of tahini type of sauce with the yogurt and it's traditionally served with seafood and fried vegetables.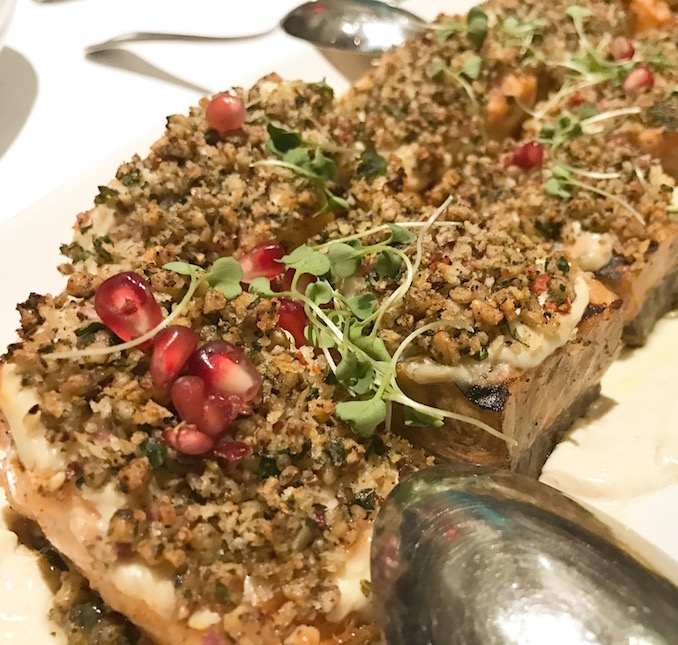 We sampled the Ouzi – a filled phyllo pastry with rice, lentils, mushrooms, almonds — a traditional dish that is made with meat however here the chefs offered it as a vegetarian option and it's delicious!
The Syrian inspired dishes are available for lunch during the run of  Syria:A Living History exhibition. We suggest making a day out of it.