We recently spoke with with Christie Gray who is the Executive Director of Sistema Toronto to find out more about the organization that provides musical and intellectual opportunities to children in vulnerable communities.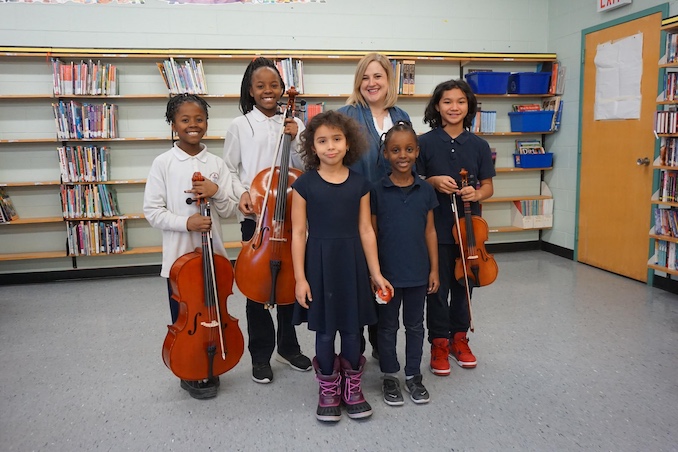 Describe your charity/non-profit in a few sentences.
Sistema Toronto provides musical and intellectual opportunities to children in vulnerable communities, with the goal of transformative social change. We build stronger communities by enabling at-risk children to overcome poverty, grow, and thrive as engaged citizens and future leaders.
What problem does it aim to solve?
There are over 84,000 kids living in the City of Toronto without access to affordable after-school care, including arts and recreation activities.
We know that kids who learn to play a musical instrument get better grades and are more likely to graduate from high school, regardless of their socioeconomic background. Sistema Toronto's program is offered in some of Toronto's poorest neighbourhoods where up to 56% of children live below the poverty line. We are first and foremost a social development program. We help level the playing field for at-risk kids from marginalized backgrounds, and enable them to improve socially and academically through 10 hours of weekly ensemble-based music education They learn strings (violin, viola, cello, or double bass), percussion, choir and Music & Movement while developing important life skills like problem solving, empathy, and self-advocacy.
When did you start/join it?
I began working with Sistema Toronto in 2015, and took over as Executive Director in 2016.
What made you want to get involved?
I have been working in music education for most of my career, including 12 years with the Royal Conservatory of Music. I have witnessed first-hand how music education can transform and improve children's social and intellectual abilities. Working with Sistema Toronto is an opportunity to bring that transformation to less-privileged kids and families and a chance for me to give back and make real difference in priority communities.
What was the situation like when you started?
When I started at Sistema Toronto we were serving 150 students and struggling to find a sustainable funding model. The community need was immense and we simply did not have the financial resources to meet community demands.
How has it changed since?
We have increased our annual revenue from $644K to just over $1 million, and that has allowed us to double our program capacity to 300 students, create a specialized curriculum that helps our students achieve their fullest potential, and start a high school program for students who graduate from Sistema.
What more needs to be done?
As previously mentioned, there are 84,000 kids living in poverty in Toronto, and all of them need support, reliable sources for daily nutrition and access to programs like ours. Every year we work to build our capacity and admit more students, but our waiting lists are still long. More funding means we can help more kids!
How can our readers help?
Spread the word! For readers who can't afford to donate, here's how to help charities like ours for zero dollars and zero cents:
Like, follow, comment and share social media posts. Sistema Toronto is on Instagram, Facebook and Twitter at @SistemaToronto.
Send funding opportunities that fit. Know a person or corporation who can make a contribution? Make an introduction and contact us at info@sistema-toronto.ca.
Direct donations from birthdays, office parties, holiday celebrations and other events. The next time you celebrate, you can also give back!
Find out more HERE.
Do you have any events coming up?
Yes! Our annual Sistema Spirit Gala is coming up on Sunday, April 5 at Stackt Market. Find out more at HERE.
Where can we follow you?
We are on all social media channels at @SistemaToronto, and you can visit us on our website.
What is an awesome local charity that you love?
Regent Park School of Music, Dixon Hall Music and Unity Charity are all organizations, like ours, who are doing amazing work creating social change through arts education. Check them out!