One of our favourite outdoor events in the city is the Toronto Light Festival. It's considered one of the largest open-air galleries in North America. Artists from Canada and around the world install their creative pieces that brighten up the dark nights. It sure is a great way to beat the winter blues!  As soon as the sun goes down, bundle up and head to the Distillery District. Best of all, the public art exhibition is family friendly and it's free. The Festival runs from January 19 to March 4, 2018.
We had a chance to tour TO LIGHT FEST as artists were putting their finishing touches the night before officially opening. With over 20 installations we grabbed our hot chocolate and explored to discover some interesting stories behind a few of the works. Here are a few highlights and interesting facts about our favourites (so, you can wow your friends and family).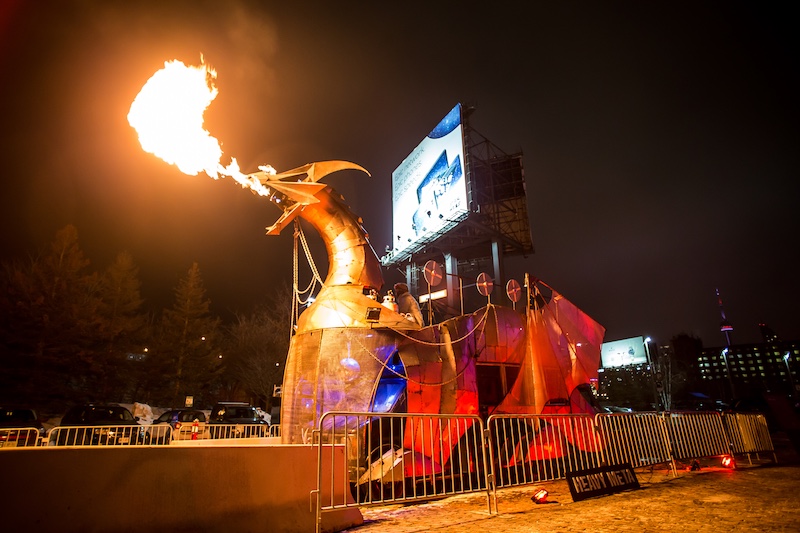 FIRE BREATHING DRAGON: Heavy Meta is Canada's largest sound system art car, a 30 foot-long, 19 foot-high, metal fire-breathing dragon. Since May, the beast that's built atop a GMC 3500 micro bird, has toured North America and played host to music legends like Diplo and Jazzy Jeff from New York to Burning Man at 15 events. Created by a Toronto-based group of artists, tradespeople and Djs lead by Kevin Bracken, Marie Poliak, Matt Von Wilde, and Stacy Campbell. This is their second mutant vehicle. Their Prodigal Swan is permanently installed on Fremont Street in Las Vegas.
GUMMY BEAR PYRAMID: From afar you'd catch your eye on a colourful 14-ft pyramid against the dark sky, but upon closer inspection it's actually over 200,000 hand-casted glowing and colourful gummy bears the size similar to the candy bears. Each bear is placed individually to form patterns on all sides of the pyramid. Artist Peruvian/American artist Dicapria explains that the gummy bear mold was created and then 3D printed in resin to create this happy work. "Follow your imaginary sweet tooth to a land of rainbow hue constructed nostalgia. The Gummy Bear Pyramid is designed to awaken the imagination and encourage creative expression." says the light artist on her site. This art installation was an Honorarium Recipient that premiered at Burning Man 2017 and is travelling the world making a stop here at the Festival.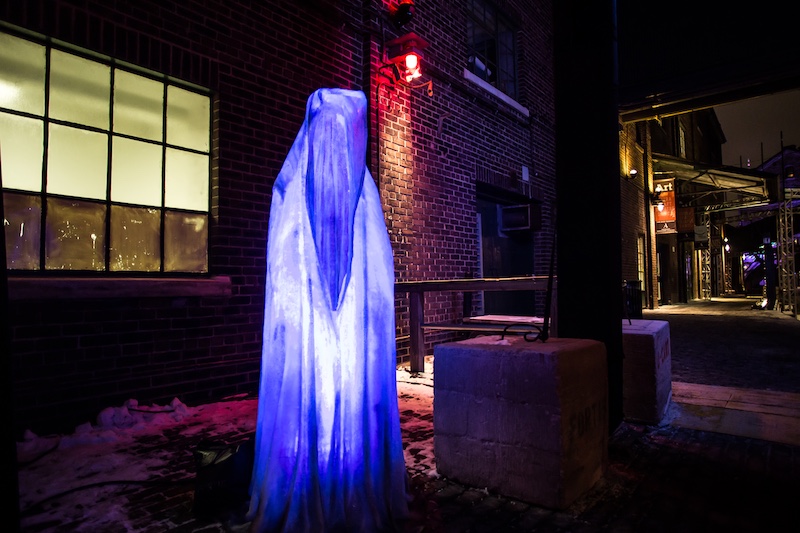 GUARDIANS OF TIME: Inspired by religion and supernatural phenomena, Austrian sculptor Manfred Kielnhofer's cloaked and hooded sculptures that appear to be moving in some kind of ritual. They can be found alone or sometimes in groups. The artists places his work in public spaces. Guardians of Time sculptures have been installed in various places around the world. Eerie and mysterious and we can't seem to take our eyes off them. Look around there are several here.
SYMBOLIC PEACE: Is a stunning laser cut, cold rolled steel sculpture inspired by the strength of diversity in the city. It represents the individuals and communities living together in harmony despite their differences. The standing peace sign lights up various peace symbols from within. It reminds us that peace comes from the goodness of one's heart. Created by Matthew Rosenblatt (Canada), who doesn't call himself an artist, but we know he's the Creative and Executive Director of the TO Light Festival — and clearly has great vision. His other works include the LOVE LOCKS, The Distillery's HEART and PINK TREES.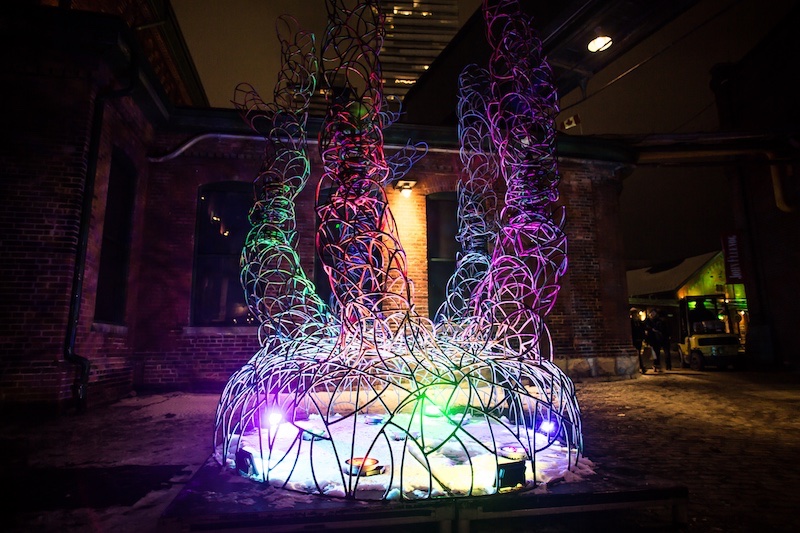 REACHING THROUGH: This steel kinetic sculpture consists of 5 tubelike structures that flow up toward the sky in forms resembling coral. Made with suspension springs found half way up each of the tubes (salvaged from retired trucks) it allows the top of the forms to sway and move as the wind catches it. The piece by artist Jessica Levine (South Lake Tahoe, California) is about the organized functionality of living organisms, in contrast with the disorganization and sometimes chaotic physical world that is considered to be reality. This sculpture was originally created for Burning Man 2017 as an honorarium piece.
RULES: Cheeky organizers of the TO Light Fest have also posted up various rules with to respect while enjoying the festival. Rules that include  "No over analyzing this poster" and "No pretentious gazing" and "No foam or bubble parties". Definitely worth looking for.
Look around! There's lots to see. If you're looking for light snacks and hot chocolate, be sure to visit the "Red Light District". The Waffle Bar is amazing! More details available at torontolighfest.com
The Toronto Light Festival runs January 19 to March 4
Sunday to Wednesday, sundown to 9:00 pm
Thursday to Saturday, sundown to 10:oo pm