Here for another festival review and this time it's Camp Wavelength (Camp WL), back for a second year to rock the Artscape Gibraltar Point of the beautiful Toronto Islands. Wavelength is a non-profit arts organization with a community focus, so I knew this was going to be a bit different from any festival that I had ever experienced before.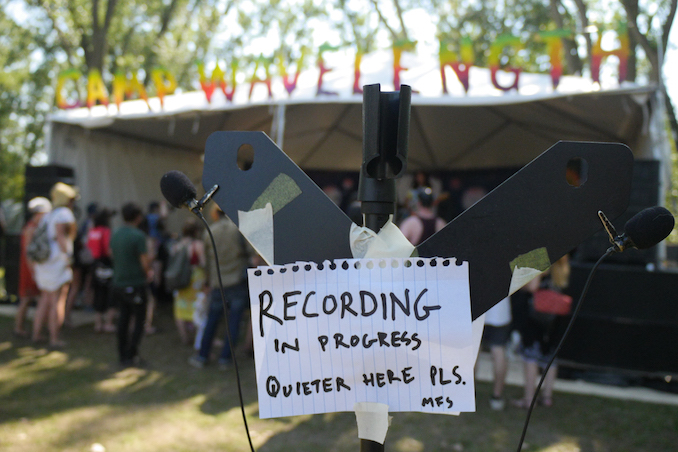 The first thing to understand, is that Camp WL isn't all about the music; it's about the overall experience. One minute you're down on your haunches driving a tent peg into the rich Earth, the next you rise up to overlook the stage in all its tree surrounded glory, only a matter of meters away. From there, you can wander nonchalantly through the festival site and up a sandy path through fun installations and onto an open sandy beach… yes this is reality.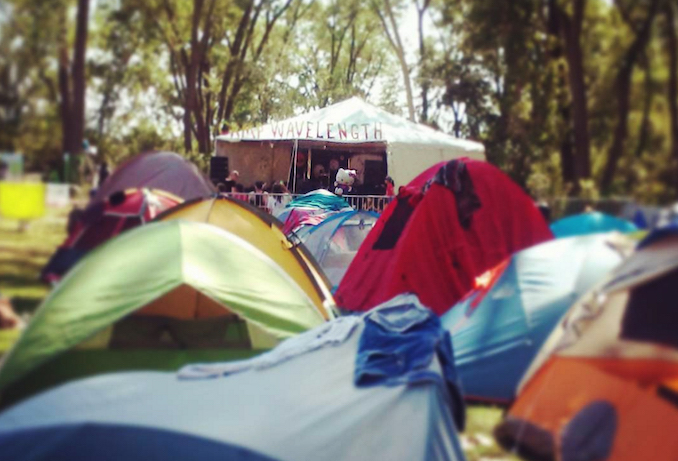 The festival kicked off at 5pm, but unfortunately we were unable to catch the first few acts despite bounding down to catch the ferry as quickly as we could following the end of a working day. In spite of that, I still had the same sense of excitement as a 14 year old on their final day of school before the summer holidays.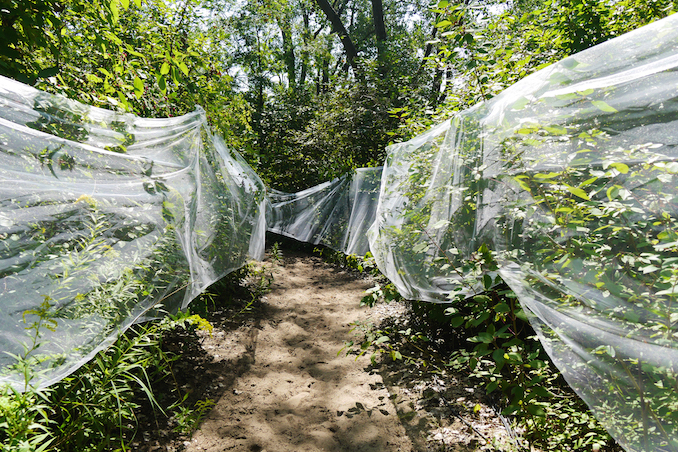 Operators, a Montreal band featuring Dan Boeckner of Wolf Parade brought their blend of jaunty indie pop to the stage as the sun set on the first festival evening. A packed audience crowded around, with revelers throwing their sparklers in the air like they just didn't care… but obviously holding onto them tightly in the name of health and safety.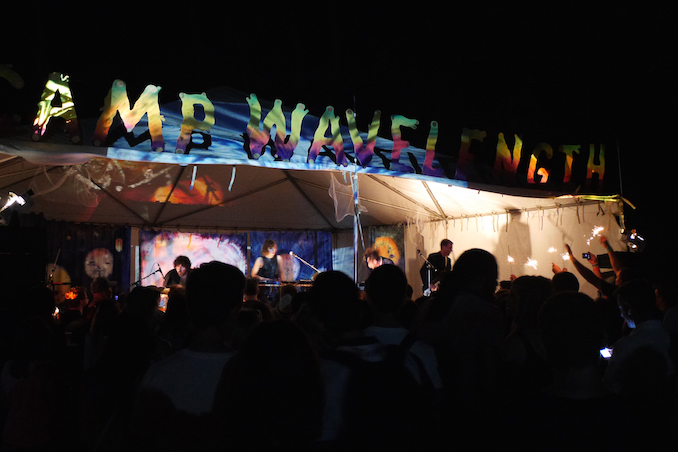 Latasha Alcindor (aka LA) brought her energetic and expressive style to the party, in what felt like a very personal performance. Latasha paused between songs to talk about all matter of things, like being thrust into the limelight and the affects that had on her. With such a friendly and compact audience in attendance, it made the whole thing feel even more special.
As the sun rose on Saturday morning, we took a quick dip in the little ocean that is Lake Ontario. What a novelty and what a view, surrounded by quirky festival goers having a fantastic time. It was these moments that really cemented Camp WL as a special weekend for me, and I was ready for an action packed Saturday of music.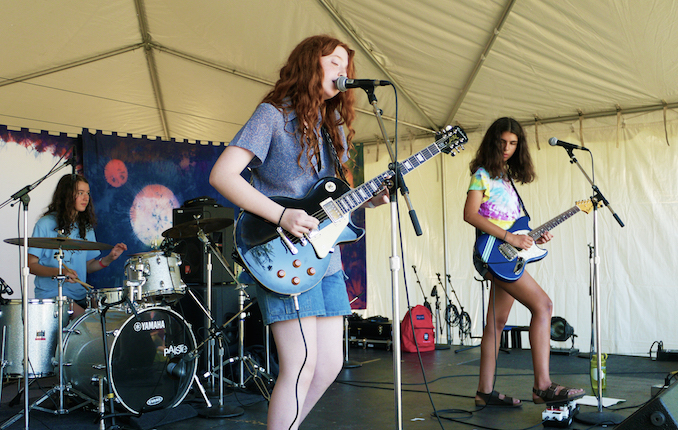 It started with Hex, three young alternative rock females from Toronto. Their shy rock escapade was an entertaining start to the day and there was an immaturity conveyed in the music that was strangely appealing. You definitely felt like you were watching just the beginning of a journey.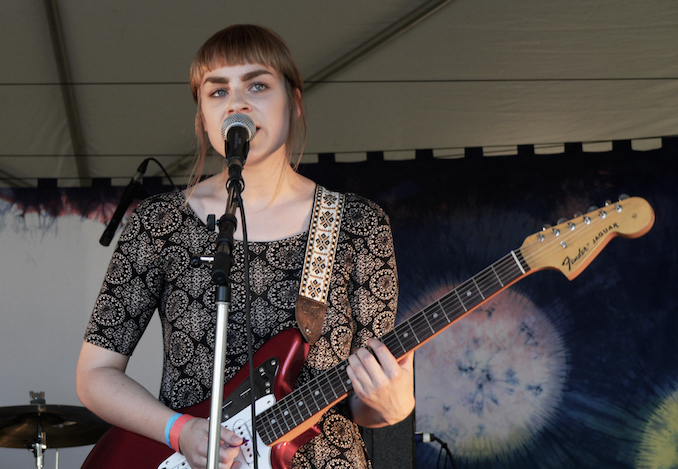 Casper Skulls graced the stage next – they're a more polished, grunge-indie outfit, channeling elements of Sonic Youth. The guitars are big and they switch up the vocals between the lead male and female nicely to create an entertaining balance.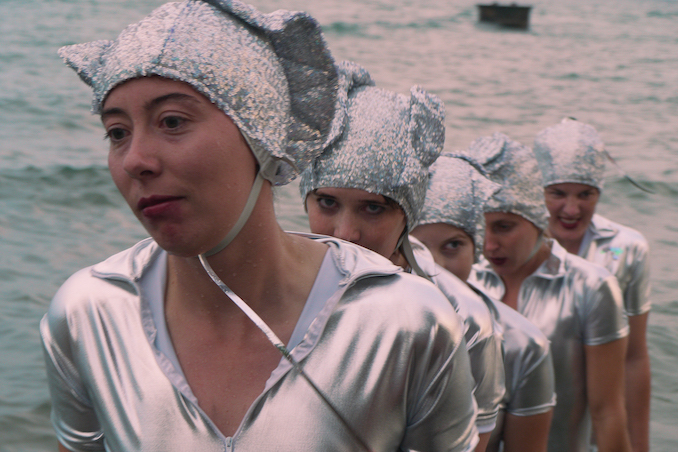 It's not long before we find ourselves on the beach watching a synchronized swimming performance… and why the hell not? As a bearded man plays a double bass, a shimmering silver stranger taps a long metal pole with a spoon and four silver fishes fling themselves around in the water. As yachts drift by, onlookers stare in disbelief at what must look like a strange sparkly swimming cult.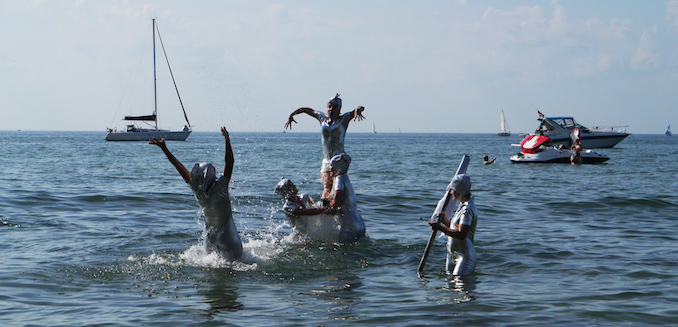 At a festival where in just a single hour you can see a grungy rock bank and a synchronized swimming performance, Spek Won then arrived on the scene to switch up the vibes once again. Backed by a soulful band of classy musicians, this hip-hop whiz supplied some laid back tunes for what was turning into a beautiful summer's day.
At points it felt like the audience, grazing around the stage on picnic blankets supping their obligatory Steam Whistles, zoned out altogether. Spek Won had to grab everyone's notice mid set – "I ask for only one thing – your attention". He didn't need to worry though, because I'm pretty sure everyone was enjoying it.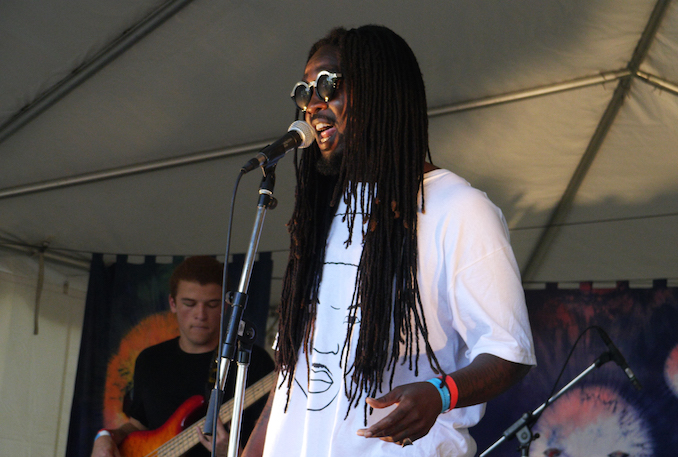 "Should we go lie on the beach for a bit?" No, because LAL were next, a band formed in the late 90s but still going strong, built on subtle Kraftwerk inspired dance beats… though I guess who isn't inspired by the German electronic maestros? The soulful vocals on 'Rules Were Meant to be Broken' ripped through the festival site like the lightning that had haunted us the previous night. Fifteen minutes in and I could feel the dance atmosphere tickling down my spinal cord to my feet.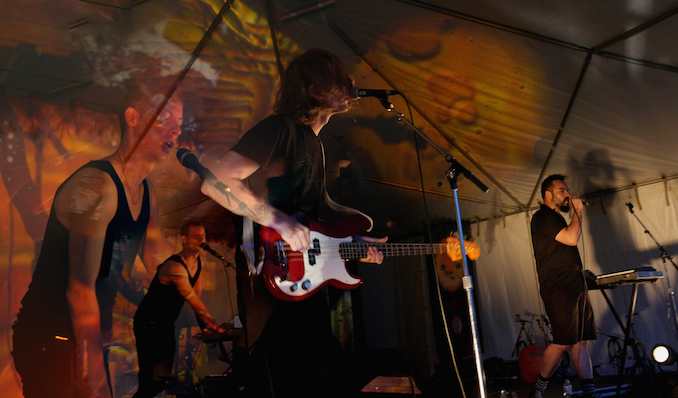 Odonis Odonis have really changed up their style recently. The trio has gone pretty hardcore with the new record, which is built around aggressive arpeggiating synth lines and haunting repeating vocals.
I caught their 'Post Plague' record release party earlier this year, but here at Camp WL they seemed a lot more relaxed… or maybe that was just me riding the festival buzz? Either way they took us on an eerie journey that I was more than willing to get on board with.
As we disembarked the Odonis Odonis train, we scurried back down to the beach to catch Atlantic. Now, I'm not sure that I am really qualified to assess Atlantis's performance, writhing around in the sand naked and angrily shouting, "This is our island". Instead, I'll simply let this picture do the talking.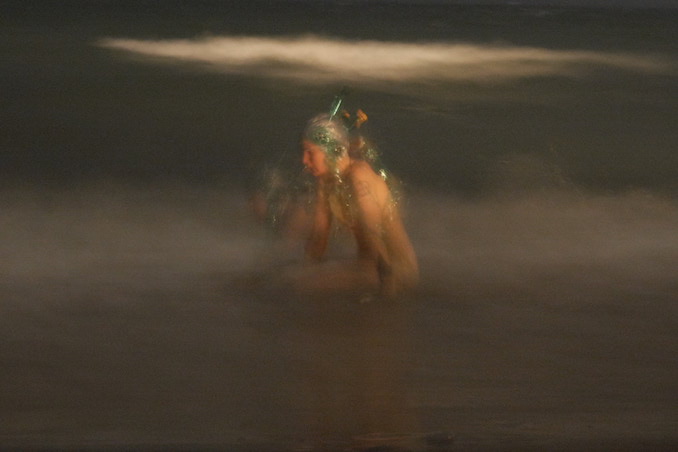 Still on Saturday, though into the early hours now, it was Scott Hardware's time to shine. I saw him play earlier this year at the Smiling Buddha when we were treated to some live sax, but this was a more simplified setup with synths, drum machines, a classic keyboard and the vocals. It's the sort of synth driven music that floats my boat, overlaid with dulcet vocal lines and laid back electronic grooves.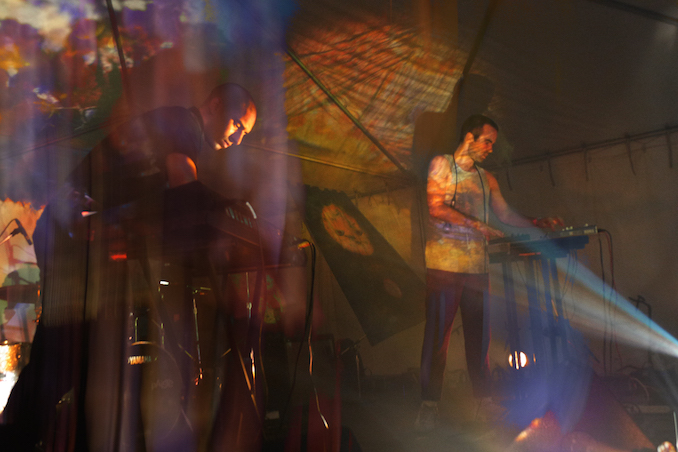 At one point Scott Hardware inadvertently threw half of his synthesizers off the stand, declaring "who cares" before occasionally glancing back worriedly as people tried to repair the damage. We care, Scott – check out his new EP, 'Mutate Repeat Infinity' now.
Petra Glynt and Guerilla Toss closed the night, but by that point the beer was getting to me. I challenge anyone to experience Camp WL and remember everything… there's so much going on and so much fun to be had. What I can confirm is that a lot of dancing took place on Saturday night before again, a small storm came.
Everything felt a little damp in the morning, apart from our spirits, because that's what camping is all about and I was so very happy to be able to wake up on the beautiful Toronto islands. The Sunday program was to be little more chilled than Saturday.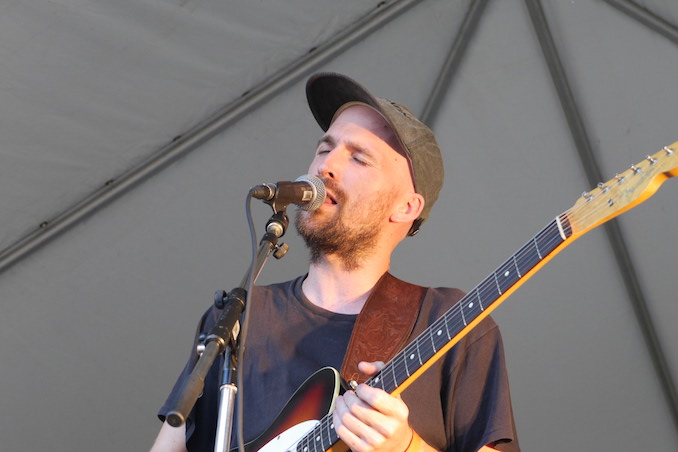 Cue Bart, best described as a psychedelic prog rock band that has the feel of Tama Impala but with a really unusual edge. I'm a huge fan of prog rock but it's not for everyone, however Bart manage to take the good bits (like interesting time changes and unusual compositions) and package them into 3-4 minute pop songs. Think Hocus Pocus by the band Focus, but way cooler. Anyway, they were a real treat and one to watch for the future.
Bruce Peninsula followed, featuring a choir/backing vocalist section that created some very dense sounds. In case you're thinking that this day doesn't sound arty enough, don't panic because shortly after we were diverted to the beach to watch people wrapped in foil and fairy lights writhing around on the warm wet sand.
Young Galaxy was the final band of the festival, packing a synth pop punch that had the audience jiving. They have plenty of interesting dance moves to boot, during a set consisting of their 2015 record, Falsework.
Vocalist Catherine McCandless has a strong voice that I could quite happy listen to over and over. That feeling was only heightened when the generator cut out half way through the set, plunging the festival into darkness. She dealt with the situation like a true professional, choosing to sing a song unaccompanied and I for one was glad that we lost power for that moment. Bravo.
Camp WL is squarely focused on promoting and supporting local artists, a benefit of which means that the admission fee is a fraction of the price compared to the larger festivals. You're not going to see Arcade Fire, but there is more than enough entertainment on offer and if you're into the experimental arts, you'll gobble it up.
One thing that they could definitely improve on for next year is the food offering, with campers told not to bring their own supplies to the site, but then vendors either closing early in the day or running out of food completely; a small gripe.
Put simply, Camp Wavelength is little hidden gem for music and art lovers alike. There's no stress, the audience is super cool and you're not bombarded with advertising. Plus people, they have a beach. Come for the experience, the performance, the bravado and to share an awesome weekend with a group of people that should all be your best friends.
Check out their website for more info about them.