Bread for weekend brunch, anyone? Traditional soda bread is given a jolt with Muskoka Brewery's Shinnicked Stout, an oatmeal beer infused with coffee from Muskoka Roastery. Try serving it with smoked salmon or a thick slice of aged cheddar and take things to the next level by pairing with a velvety Shinnicked Stout. Check out the Shinnicked Stout Soda Bread Recipe from Ace Bakery & Muskoka Brewery below.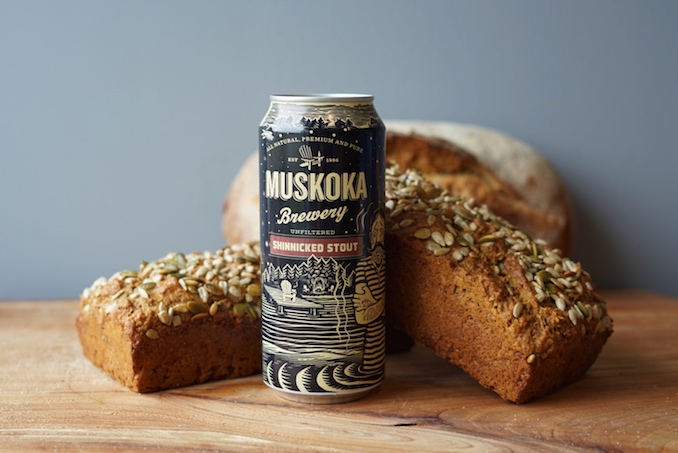 Shinnicked Stout Soda Bread Recipe
Ingredients
-White flour: 160g (1 ¼ cups)
-Whole wheat flour: 270g (2 ¼ cups)
-Rolled oats: 53g (1/2 cup)
-Baking powder: 20g (1 ½ tablespoon) – round up to 1.5 tablespoon?
-Baking soda: 8g (1 ½ teaspoons)
-Salt: 7g (1 ¼ teaspoons)
-Butter: 47g (1/4 cup)
-Buttermilk: 240g (1 cup)
-Muskoka Brewery Shinnicked Stout: 160g (3/4 cup)
-Molasses: 40g (1 ¾ tablespoons)
Directions
Preheat oven to 390°F or 200°C. Mix all the dry ingredients together in a mixing bowl, then use fingertips to quickly and lightly rub the butter into dry ingredients until it is thoroughly mixed or feels like fine breadcrumbs.
Add buttermilk, Muskoka Brewery Shinnicked Stout and molasses. Mix together for five minutes until all the ingredients are incorporated (the dough will feel wet, like mud). Rub some butter on the inside of two 1 lb. loaf pans (to prevent sticking) and split the dough evenly between both.
Bake for 25-40 minutes at 390°F or 200°C or poke with a toothpick and see if it comes out clean. Remove and let cool. Happy brunching!
Serves 8