The Invictus Games have taken over the city and there are plenty of ways to take in all the action in and out of the sports arenas. We're excited over the many opportunities to take in the games that will  happen across the city at venues including Air Canada Centre, Ryerson's Mattamy Athletic Centre, Distillery District, Toronto Pan Am Sports Centre, Nathan Phillips Square, Fort York, High Park and St. George's Golf and Country Club. Tickets range from FREE to $150. Schedule and ticket instructions available at invictusgames2017.com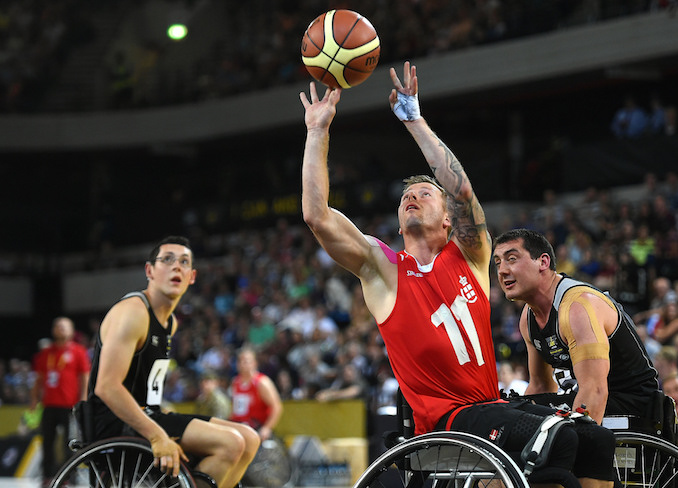 So, what else is happening? Here are a few events surrounding the thrill of the games and everyone is welcome to join.
Official Flag Raising Ceremony: Let the games begin! The official Flag of the Invictus Games will arrive at Nathan Phillips Square on September 22 where it will be raised in the spirit of the games. 150 Flag bearers have taken the official flag from coast-to-coast visiting 22 military bases, 15 Legions and over 50 communities during its tour.
Opening Ceremony: This 2-hour event will include the Parade of Nations. Over 550 athletes will be in attendance along side numerous celebrities and dignitaries at the ceremony. The event will be filled with live performances from stars including Alessia Cara, Sarah McLachlan, Laura Wright, The Tenors, and La Bottine Souriante. September 23 at the Air Canada Centre, 7:30 pm.
Closing Ceremony: Wrapping up the exhilarating days of competition, the Closing Ceremony already has a strong line up of international artist including Bryan Adams, Bruce Springsteen, Bachman & Turner, Kelly Clarkson and Coeur de Pirate. Witness the hand off of the games to the next host city Sydney, Australia.
Invictus Day in Stratford will host several events across the area on September 23. The Stratford Perth Museum will feature special exhibitions along side numbers commemoration presentations scheduled in the town.
Military Band Spectacular: Featuring the best military bands from across the country UNCONQUERED: an evening of military band music celebrates the Invictus Games with this not to be missed performance. September 24 at Roy Thompson Hall.
ROM SPEAKS: Voices of Canada Lecture Series. Aim to shed light on what it means to be Canadian and exploring the country's multi-faceted identity. Lt.-Col. (ret'd) David Quick will share his experiences, both as an active duty and veteran servicemember , and how he transitioned out of uniform. Mr. Quick has spent most of his adult life serving our country. He was injured by a roadside bomb in Afghanistan in 2007 while commanding in combat. He is only one of 20 people to have ever been awarded the Star of Military Valour; Canada's second highest decoration for Valour, second only to the Victoria Cross. Lecture takes place on September 26 at the Royal Ontario Museum.
CONTACT! Unload: a creative initiative where counsellors and artists collaborate with military veterans to produce theatre and visual art. Veterans reinterpret their struggles and experiences of transitioning form active service to civilian life showing ways to build resilience. Accompany the play are the lestweforgetCANADA mural and the SERIOUS SHiT exhibit created by artist Foster Eastman. September 26 to 28. Event is FREE but tickets are first come, first serve. Register online 
September 26 at 5 pm Moss Park Armoury
September 27 at 7 pm Moss Park Armoury
September 28 at 7 pm and 9 pm Sheraton Centre
Canadian Opera Company: presents a concert to commemorate the spirit of the  competitors at the Invictus Games. Sung by artists of the COC Ensemble Studio, the program will feature songs centred on the themes of war, loss and overcoming adversity. September 27 at the Four Seasons for the Performing Arts (145 Queen St. West). Free admission first come first serve. Doors open at 11:30 am. More information here: coc.ca 
WE Day: in partnership with the Invictus Games, the games will be featured in a two-minute segment and will pay tribute to the stories of this country's wounded warriors and families. This segment will bring awareness and hopes to inspire youth to take action and give back to military communities. WE Day will be held on September 28. Thousands of students earn their ticket entry into this annual event through their volunteer efforts within their communities and beyond.
Accessibility Innovation Showcase: in association with the Ministry of Research, Innovation and Science, over 40 of Ontario's leading innovators of assistive technology will exhibit the latest advancements. Visitors will experience and learn through interactive demonstrations and displays. The free event also features motivational speakers, artists and athletes sharing their experiences and demonstrating how technological advancements can improve the lives of people living with disabilities. September 24-26 at the Sheraton Centre. Visit www.ontario.ca for details.