Man Eater will make its premiere at this year's ReelWorld Film Festival this October. Man Eater tells the story of a privileged young woman who matches with an eligible bachelor on a dating app. Thinking that she's met her match, she abruptly discovers that her dream guy isn't at all who she hoped he was. The film stars Toronto-born Risa Stone as the lead.
Risa found her passion for acting at a young age. She began attending film and acting camp at Harbourfront Centre as a child but she decided to pursue a career in acting when she was 17. After graduating form York University, she went further by training with some of the most highly respected people in the industry including Lewis Baumander, David Rotenberg and Angela Besharah.
We had a chance to chat with Risa about Man Eater and yes, we had to ask about the dating scene in Toronto.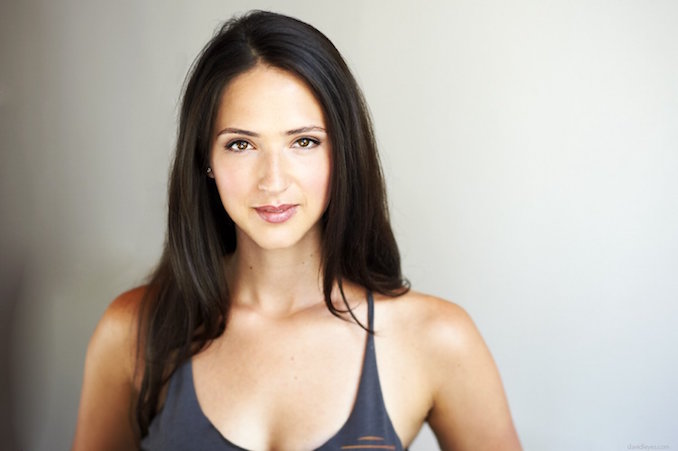 There are many stories about online dating but this is the one you've chosen to focus on. What drew you to this particular story line?
Yes, there are a lot of dating app disaster stories out there but I felt compelled to write this particular story because it took online dating past the realm of superficiality and triviality and focused on the real risks that are involved with meeting strangers under false pretenses.
Are our expectations of finding Mr. Right (or Mrs. Right) too high? What have you learned in your research for this film?
Someone once told; "the grass is green where you water it" I have tried to live by that proverb, in all aspects of my life, with work, relationships and love. I think that social apps easily distract people from what's in front of them and provide the idea that there is an endless supply of opportunity in the dating world. People can expect anything, as long as they are willing to work for it!
This will be screening at the upcoming ReelWorld Film Festival in the Shorts programming. How did your film get selected or what does that mean to you? Could you see it becoming a longer film or even a series?
After writing the project as a short story I decided to submit it to the 2017 ACTRA YEAA Residency and was glad to find out I was accepted into the program! It's been an amazing six-months process – from converting my idea into a story and then a screenplay and finally bringing it to life as a film. I really must thank my Executive producers (JoBro, Matt Novak and The Lengyel family) and my support team, AFBS, William F Whites International and ACTRA for all their support in helping me make my vision come to life.
Right now the film has a few great options that I am working on with my Producers Andrew Bronfman and Nicole Segal.
For your character, what is she looking for ideally?
My character, is looking for belonging and excitement. She's young, so her expectations and behaviour is reflective of that. She's not the frantic online dater, hunting to meet mister forever, she's looking for that man who will sweep her off her feet.
Okay, let's have some fun! So, in Toronto, where are some of the best places for a first date/meet? 
Best first date anywhere is a movie or a concert, it helps to alleviate the pressure of the situation and gives people something to do. If the date goes well you can grab a drink after at a casual fun spot like Northwood or Saving GiGi. Second and third dates is when you can pull out all the stops and really get creative 😉
Got any first time dating tips?
Go into the date with the objective to have an authentic, genuine meeting. Maybe you'll connect maybe you won't but all and all have it be a positive experience. Just be yourself and always be punctual.
What apps do you love?
I think most of the apps are pretty much on par but I like the notion of the more specified apps because it helps save time (ideally) in allowing people to connect with others who are looking for similar things to them. Friends of mine met on the app coffee meets bagel and overall had a positive experience with the whole process (but maybe that's just because they fell in love and sailed off into the sunset).
Risa Stone can also be seen in a leading role in the feature film Space & Time produced by Cameron Maclaren and directed by Shawn Gerrard. The film also stars Amy Jo Johnson, Alex Paxton Beesley and Andy McQueen.
The ReelWorld Film Festival (October 11 to 15, 2017)  showcases Canadian and International films that explore current social issues.  The short film Man Eater will make its premiere at this year's Festival as part of the ACTRA Shorts Program on October 15 at 1:00 pm. Famous Players Canada Square Cinemas (2190 Yonge Street) in Toronto. For more information on this film and the festival, visit there website.