The Canadian radio business, much like Canadian comedy (and actually there's a lot of overlap between the two) is a small village. And it's an incestuous one. Like most of the clogged little tributaries that make up this fledgling river of content and talent we call 'Canadian Showbiz', radio in Hollywood North is an industry where careers can change on a dime and the main players resurface on the airwaves in any given market like Whack-a-Mole. Or for the sake of keeping it Canada, Whack-a-Moose.
A bridge burned in Canadian radio is one that's nearly impossible to rebuild. Relationships stick. Rumours travel. The notoriously impossible to work with are remembered and reviled at water coolers across the land. And friendships tend to be lifelong.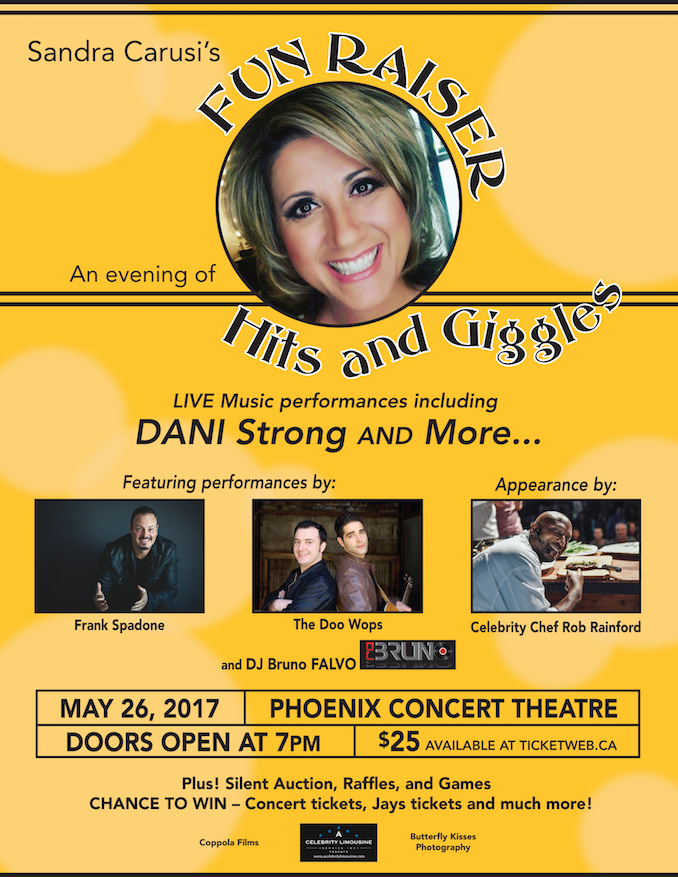 Which brings me to Sandra Carusi. I've been working with Sandra for just shy of a decade. I first encountered her in the summer of 2008, when my own budding radio "career" landed me in southern Ontario, after an education in Ottawa. And a 2-year run working for a local radio and TV affiliate back in my hometown. I was then just a novice in this racket, only a few years fresh from college and not yet embittered or emboldened by the brutality and mayhem of this snake oil trade I love so dearly.
I was a full-time copywriter, still finding my voice. Sandra was a radio sales rep. And a notorious one at that. Carusi made bank. She represented the big dogs – from luxury car dealers to top tier restaurant chains, popular night clubs helmed by shifty characters and eccentric entrepreneurs with wads of cash – and just about every advertising venture in between. She was bold and blunt, and didn't take much shit lying down. That was my very first impression of Sandra, aka "The Cruiser". And a decade later, not much has changed.
I spent 3 years writing for Sandra and her clients, at a cluster of Rock, Talk, News and Country stations on the AM and FM dials, in Hamilton and Toronto. They were ratings behemoths, and Carusi was on the front lines spreading the good word to anyone with an advertising budget.
Cruiser wasn't one to pull many punches in the boardroom, or out on the street. If a client or a colleague was off the mark, she wasn't hesitant to step in. If I was late on a deadline or blew it entirely on a brief (although I rarely did, by the way) I was guaranteed to hear about it. "What the f*ck, you didn't even include XYZ about the new Lexus? That's gotta be in there! Can you get on that? They're gonna be pissed!"
But Cruiser always had something I have often found rare in radio, especially on the business side of things – a true, unwavering passion. She wasn't just in it for the almighty dollar (although, she's not shy about mentioning that bottom line. She knows the way the business works) And she's got a sense for money that many in the sales pit always tended to envy. But she was and is someone who truly, madly, deeply loves and understands radio – and on this, we had an immediate connection. A common ground, between a real sales shark (I use that as a term of endearment) and a weird kid with a way with words. This was our bond. We both live, breathe and instinctually understand the dog eat dog world of Canadian radio.
During those early days, I was also embarking on another new career path – standup comedy. By day, I was writing 30 second spots for car dealers, fast food chains and craft breweries across the GTA. By night, I was opening up my veins and exposing my fragile ego to mixed reviews in dive bars, comedy clubs and coffee shops scattered all over Toronto. What I didn't know at the time was that Sandra Carusi had once had her own beginnings in comedy – cutting her teeth on stage years earlier before embarking on her decorated career in the die-hard boiler room that is radio sales.
Eventually, I made the move to the Toronto radio dial under a different corporate umbrella. So for the time being, Sandra and I parted ways in the 9 to 5 world. But standup would become the other shared love that brought me and the Cruiser back together just a few years later. She had kept track of my trajectory in comedy, and reached out one day to book me on a fundraiser show on the Toronto waterfront. I was a few years in, still a little green behind the years – but I had 15 polished minutes and an old connection.
We became fast friends and colleagues again. And a new collaboration was underway.
It's true beyond a shadow of a doubt that great radio, like great comedy, can often be born out of life's biggest hardships. So when Sandra found herself faced with a Cancer diagnosis, she faced the news like a true comic voice – she spun it into material. She took to the stage again, revisiting the world of standup she had drifted in and out of over the years. Writing and performing again. When she found herself spending long days in a hospital room, enduring the barrage of treatments her Cancer had brought on, she passed the time by watching clips and specials from her own favourite standups. And exploring new voices in Canadian comedy. And she found living proof that the old adage that "laughter is the best medicine" had some serious truth to it. For Sandra, comedy was a saving grace.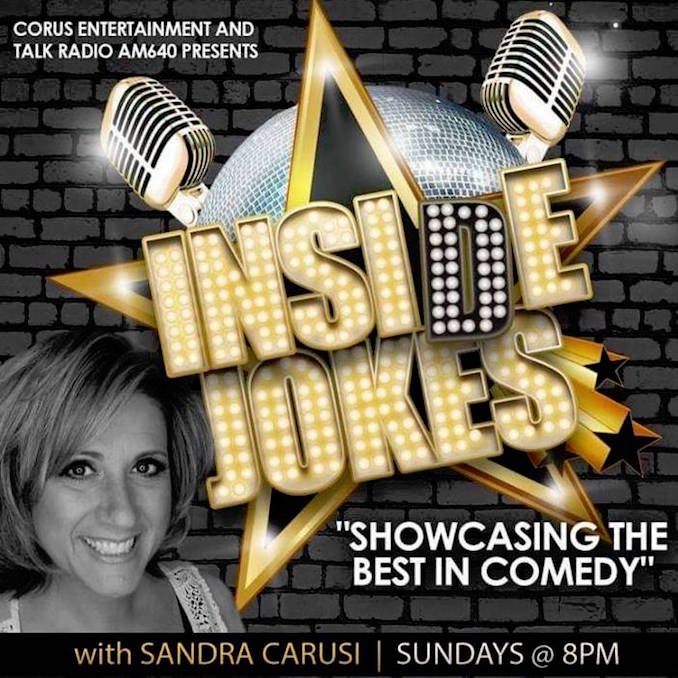 So she launched a podcast, taking listeners into the green room – interviewing the best and brightest in upcoming Canadian comedy talent, and delving into Toronto's thriving standup scene. "Inside Jokes" is the evolution of Sandra's rekindled love of comedy. The podcast became a radio show, picked up by the network brass at Corus (our old alma mater) and airing weekly on AM640 (Toronto's Talk Radio). Sandra Carusi, against all odds, was back in the game – making the transition from the boardroom to the broadcasting booth. Her illness propelled her to become a personality – and fight back against her illness, one punchline at a time.
When I left the 9 to 5 world a little over a year ago, to embark full time on my own standup career (after 6 years of grinding it out night after night) – Sandra invited me into the studio. And there we were, on the mic again. I became Sandra's on-air sidekick and a producer to help her pull the strings. I took on a new roll as the Roz to Sandra's Frasier, if you will. Working with co-producer Vince Tedesco and a crew of radio interns and engineers every week – back in our old stomping grounds. With our shared history in radio and our own ventures as podcast producers, and my permanent residency in the Canadian comedy landscape, we teamed up to hit the air and promote Canadian comedy every Sunday on the air. Sandra turned her ongoing battle against Cancer into a whole new stream of content. A war which she's tackling with all the grit and determination (and stubborn determination) that I have always come to love and admire about this dynamo.
Cancer isn't an easy enemy to conquer. Like just about anyone, I've seen family members and friends succumb to this ruthless disease. Last year alone, the comedy community lost two brilliant young voices to the rigours of Cancer. I published my own eulogy to comedian Josh Haddon right here in the Toronto Guardian.
But Sandra's on an upswing. And if I know her as well as I think, she'll ultimately have the last laugh. Even Cancer was kind of an idiot to pick a fight with the Cruiser. Trust me, I've pissed her off myself and she's no pushover.
To aid in her fight against the diagnosis, and help cover the costs (and a laundry list of life changes) brought on by the illness, a ragtag band of friends and peers have put together a special fundraiser event in Sandra's honour this Friday night at Toronto's famous Phoenix Concert Theatre. Featuring a star-studded cast of comedians, live performers and a few famous faces for radio. With the help of Toronto jocks Dean Blundell and Todd Shapiro (Siriux XM), and featuring live comedy from Frank Spadone (Just for Laughs) and The Doo Wops (with John Catucci of You Gotta Eat Here) and performances from Country recording artist Dani Strong and Simone Deni of Love Inc.
Tickets are available right here and through the Pheonix Concert Theatre.