Fashion designers around the world are constantly looking for ways to get some attention to their collections and with hopes of translating the exposure into sales. It's a tough industry and if you had a chance to check out the recent documentary 'House of Z' the story of Zac Posen during the HotDocs Film Festival, you'll understand the fashion business is more than pretty clothing.  "It's not all runways, lipstick and fishtail gowns," said Posen in the film.
While fashion lovers in this city support designers, attend their runway shows and sip prosecco at their parties, it's a costly undertaking for them even with sponsorships. Trusting people who understand how to bring some attention to them effectively is important not only on home turf but also globally. It's not only about supporting local…but supporting talented artists on a larger playing field.
Julie West recently created an innovative event to grab the attention of the fashion media, stylists, and fashion lovers alike. Escape The Runway event with well over 600 guests in attendance. The event featured Canadian fashion designers Christopher Paunil, Travis Taddeo, Paul Hardy, and Peggy Sue Collection, in a non-traditional format.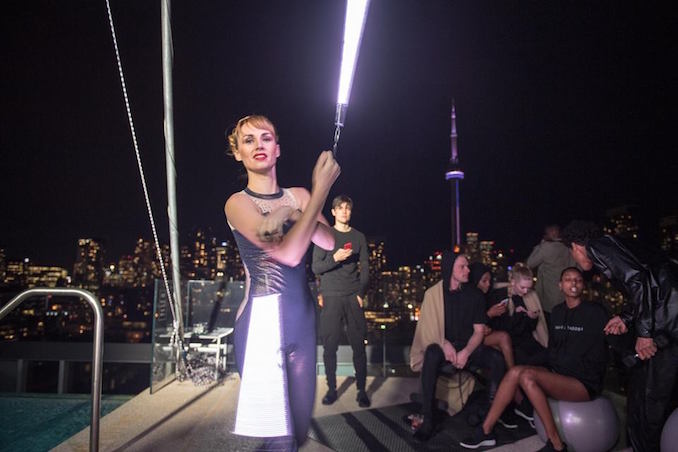 Julie West's Toronto-based event company specializes in creating unique celebrity and fashion events as well as industry conferences. The company works with many companies and brands to create high profile experiences from awards galas to trade show conferences and in-store parties for the likes of Hello Canada, Flare, Chatelaine and the Rogers Cup.
McInnes's company Magnet Creative Management has been beneficial in bringing media attention to many designers.  Her sibling business 'Stylist Box' is a go-to for stars and their stylists for red carpet events from TIFF to the Emmy's to Cannes. The company also receives many styling  requests from the stylists for television productions as well as "pulls" for magazine editorial needs. Her team has dressed the likes of Mary Kate & Ashley Olsen, Kim Cattrall, Sarah Gadon, Lisa Ray, Lyric Bent, Mischa Barton, and many more.
McInnes explains that each independent fashion brand is so unique. "With so many options to present to media, industry, and consumers, it allows a brand to focus on what works best for them, rather than feeling the pressure to do what they think the industry expects," said McInnes. "Some brands make great runway shows, others do great visual marketing – but sometimes they don't result in sales. Being innovative and creative with presentations and getting press is what will push Canadian fashion forward. We don't fit into a mold. There is no one Canadian style. And that is our strength. Canadian fashion is the future."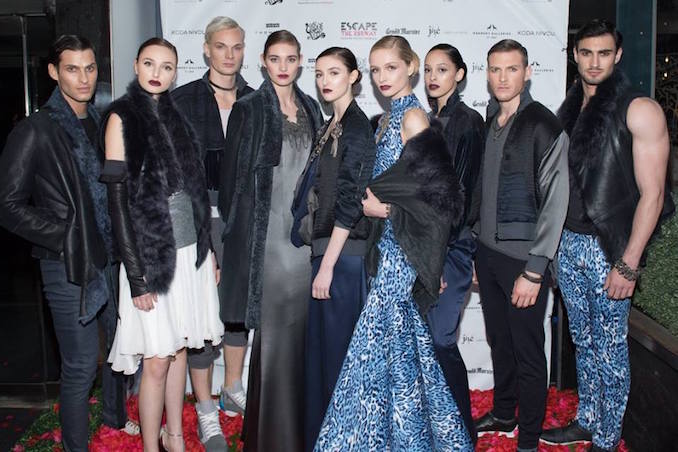 One of the main goals of this event was to bring awareness and educate the public on why supporting 'Made in Canada' is so so important. "The timing couldn't be better, with the state of politics right now the world's eyes are kindly on Canada, if we continue to present our best the world will respond," said West.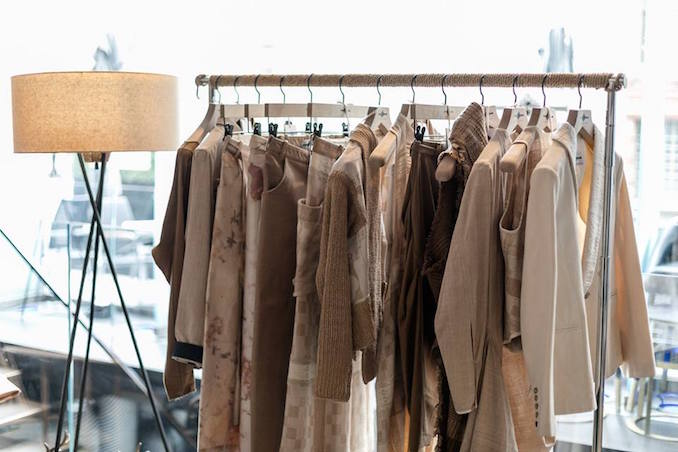 Why this different approach to showcasing designers?  West tells us that although she doesn't have a background in fashion, she was intrigued about why the city didn't host Toronto Fashion Week for a couple of seasons. "To be honest, coming from outside the fashion world I had no knowledge of Canadian Brands," said West. "The two questions I am asked constantly in putting together Escape are – why are made in Canada brands expensive and where can you find made in Canada brands. I did some research, talked to some in the industry, but mostly talked to designers and began to see a different format that would bring designers a higher return on investment. I  chose a few designers and interviewed them over and over as I fine tuned a plan to get them the right audience for an extended amount of time."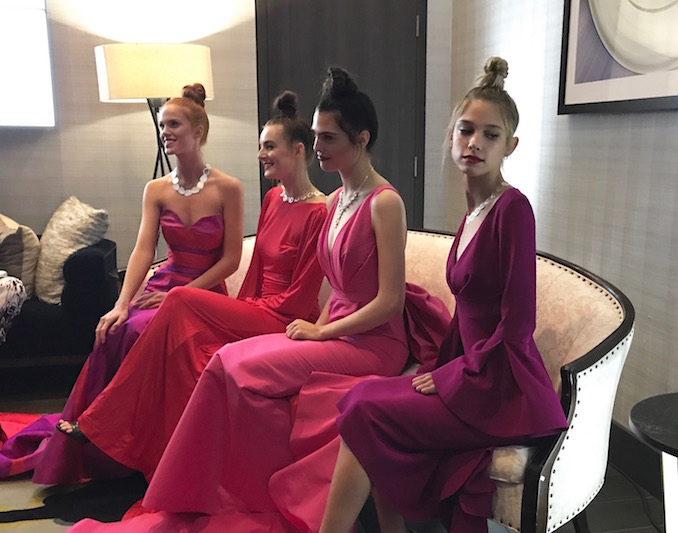 Guests at the event were encouraged to wander through several spaces at a downtown hotel from a sprawling lobby bar to roof top terrace and pool. Designers offered more time for people to take a good look at their designs in a less formal party-like setting. Christopher Paunil's ladies in various shades of pink formal gowns were sitting elegantly while the designer himself was accessible to guests and media. Travis Taddeo's presentation on the rooftop included aerial artists and floaty swans in the pool. Paul Hardy's glamorous models posed with guests on the rooftop for impromptu photo shoots in from too the city's famous skyline.  Peggy Sue Collection, an ethical, sustainable, and climate beneficial line, gave guests an up close look and touch of the line.
"We're in such an exciting transition time in Canadian fashion with events like Escape the Runway, TFI New Labels, RE/Set, CAFA Awards, and Toronto Fashion Week returning in a new format in the Fall this year. It reminds me of the time when the Matinee Fashion Foundation shuttered and Robin Kay started Toronto Fashion Week around the turn of the century," said McInnes.
As we mingled throughout the night we spotted actress Kristen Booth, Norm Kelly, model Yasmin Warsame, several of the Real Housewives of Toronto (not Kara), Susan Langdon, Robin Kay, Laura Vandervoort, and many more.
So, what's next? "Escape's next step is to create an educational campaign as we take our designers across the country, and to begin taking our designers international, bringing Canada to the world," said West. "My hope is we can also lend our support to all of the other amazing fashion events happening across Canada so as a united front we show the world that Canada loves fashion."