Whenever we plan an easy getaway that's not too far from home we are always charmed and delighted with what we discover. Sand & Pearl Fish Shack and Oyster Bar is one of the places that gives off easy summer livin' vibes right in our own backyard in the ever popular Prince Edward County
Sand & Pearl is known for its laid back charm and impressive seafood menu. When I mentioned it to friends I wasn't surprised to learn several had visited and raved. Word travels fast when something is THIS honest and good.
The cottage-like feel is immediate as you turn into their lot. It reminded me of our trips in Maine. The rustic seafood shack look brings me back to easy summer road trips along the coast with kids in tow when they were younger. Okay, we're not exactly at the ocean but Sandbanks National Park is mere minutes away.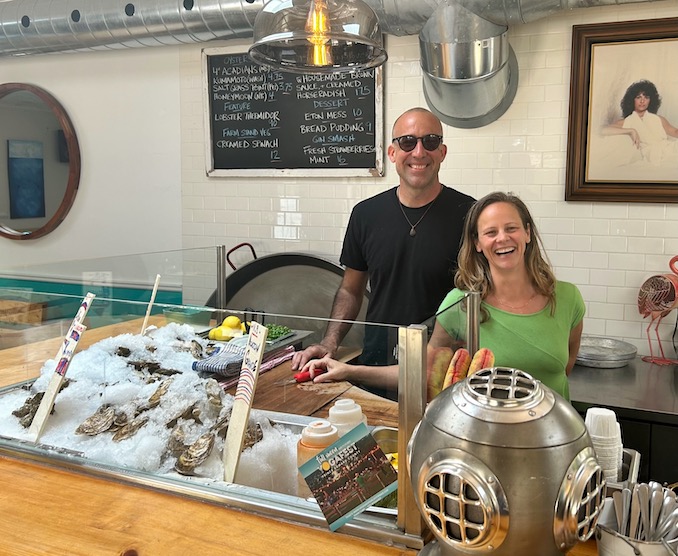 Owners Nicole  and Nathan Hynes invited us in like they've known us forever.  That casual, warm, unpretentious and unhurried hospitality is rare to find these days and that's part of the charm here that makes this a popular spot.  There are casual indoor dining room spaces, a covered patio, and a great outdoor patio with several picnic tables to enjoy your meals. The property has a grassed area where you can kick off your shoes and do cartwheels if you like. A stage located on the grounds offers opportunity for intimate events and live music. A casual wedding or anniversary party would be pretty special here.
"Glad you're here!" Nicole says to us with a warm smile as we entered. "I'm just about to light the fire pit!" She explains that people bring their family and friends here and they love to see that. Sand and Pearl has quickly become a tradition for many who venture out this way.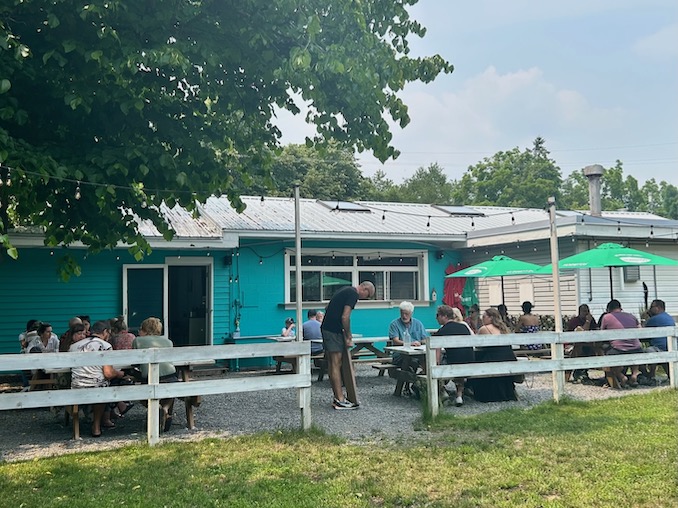 The summer season brings people together from near and far. Fresh seafood here is the main draw. Perhaps one of the few places in the area that triggers happen endorphins just thinking about their fresh lobster rolls. Obviously sourced from the coast but they do work with local farmers and purveyors on as much as possible. The brioche bread she sources is from a nearby PECish Bakery. She tells us she goes and picks them up each morning. Then Nathan arrived with a dish of freshly picked sugar snap peas. "You gotta try these! They were literally picked this morning," he excitedly stated. The enthusiasm of something so simple yet so satisfying was so heartwarming. For the next few months you can be sure that the season's bounty will land on the menu daily.
The Hynes are no strangers to the restaurant business. Having previously owned The Auld Spot Pub — a popular spot on the Danforth in Toronto for many years, they sold that off and decided to give life a try out in Prince Edward County. Like other chefs from the city, the appeal of small town was calling them. They were introduced to the area when they helped friends harvest grapes at a local vineyard. Enchanted with what they saw, they rented a place and eventually decided to make the move. And the timing was right. They've been at this location for seven years now and are open for in-person from spring to late fall.
The restaurant actually closes after the bulk of tourist season around the end of October. "We originally were opened from Mother's Day weekend to Thanksgiving weekend but we added on this Oyster Shucking Tournament and Festival that is amazing. About 250 come here. Shuckers coming from Toronto, Hamilton, Markham, Kingston and the County of course and it's a lot of fun."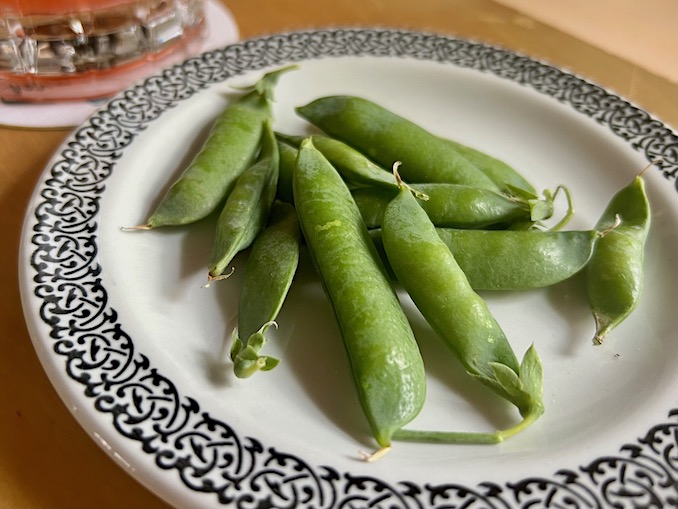 The restaurant was previously owned by the Isaiah Tubbs Resort and Conference centre. It was December in 2016 when Nicole and Nathan decided to purchase it and as soon as the snow began to melt they started renovating the space. "When we opened in July 2017, there were probably only six or seven places to go and eat," said Nicole. "Then, in 2018, we made the  Top 10 Best New Restaurants in Canada with enRoute Magazine and that changed everything. It was the best thing that could have ever happened to us."
Sand & Pearl has also become a destination for some fun events. Nicole mentioned there is a Yoga Fest that is happening in August 11 – 13, where yoga lovers of all levels can come and take in the multi-day event with several experienced yogis right on site. "It's the sixth annual festival and my favourite weekend of the summer," said Nicole. "It's a great time and there are DJs and everyone has fun."
We spotted a larger than life paella pan off to the side. Nicole mentioned they were collaborating with Bocado in Picton — Stuart Cameron's Spanish inspired resto. (He was previously Mira, Patria and Byblos in Toronto) for a Paella Party during the summer.
What are some of the favourites dishes here? Nicole mentioned many come far and wide for their Fish & Chips — it's fantastic! Tasty and not greasy.  The fresh Oyster Bar is also very popular as well as the Lobster Rolls (their twist — the bun is buttered with duck liver pate and stuffed with garlic butter poached Atlantic lobster).  Currently the oysters are from PEI, Washington State, and New Brunswick. Nicole tells us they will get oysters from Maine and the West Coast when they can. Nathan feels very strongly about getting the oysters out of the water within days of them being served so transportation logistics are always top of mind.
One of the dishes we didn't get around to trying this time around was their Caldosa — a dish they had discovered while travelling in Costa Rica. This Costa Rican street food style of serving ceviche is commonly enjoyed either on the beach or on the boulevards of the bustling towns. It's essentially fresh ceviche (Sand & Pearl serves it with Quebec scallops instead) served in a bag of crushed Doritos and eaten with a fork.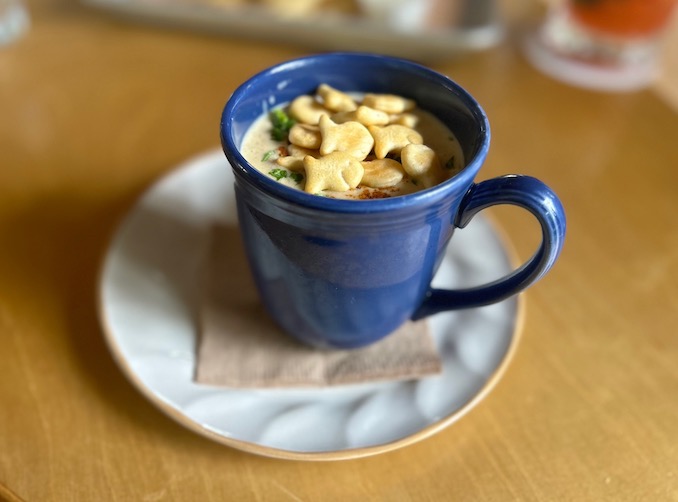 Often people will also get the Seafood Tower especially if they're here for a celebration. Their Campfire Clam Bake is a crowed pleaser. They also get their daily catch of Pickerel from local fishermen. Another favourite is their house-made New England style chowder served with Goldfish crackers — a whimsical nod to all the parents with kids.
They are great supporters of the local craft beer and wine scene and there are many in the area. But don't overlook their in-house concoctions. They made a delicious Hibiscus ice tea when we were there. Also worth trying their County Smash — refreshing with or without alcohol.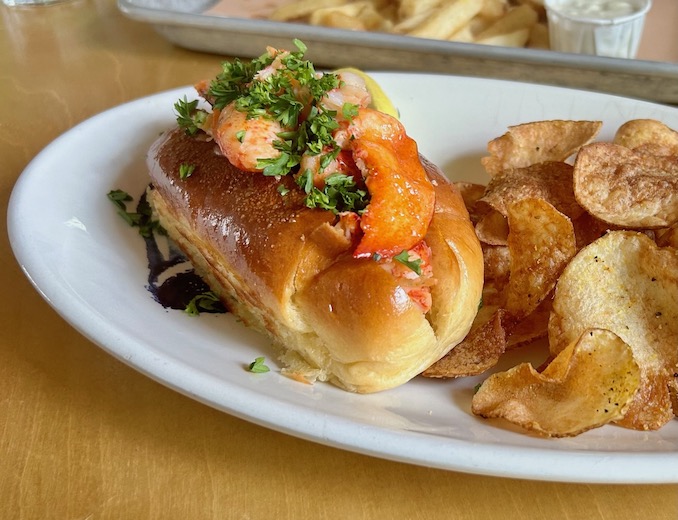 For those who are looking for something other than seafood, they do have several options including burgers but what caught my eye was the rotisserie out front. FireBird PEC offers juicy wood-fired rotisserie chickens on the spit daily. Enjoy there or take out to add to your picnic plans.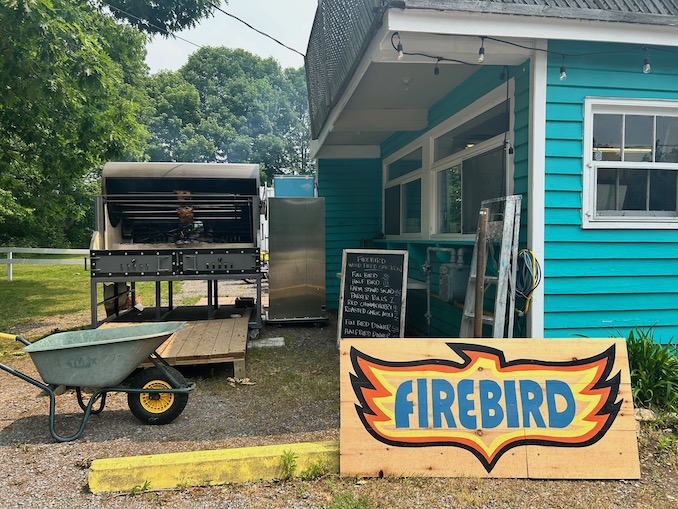 It's worth keeping an eye out also on their special offerings often announced also on their social media pages. In the fall, they will wrap up with their annual Oyster Fest (October 14) — we've heard it's an epic party. It's on our calendar.
Sand and Pearl is located at 1705 County Road 12 in Prince Edward County. Walk-ins service and take out available. Reservations encouraged especially during the bustling summer season.