Along with the sunshine and heat we have been experiencing, we have officially entered the best season for berries in Canada. With raspberries, blueberries, strawberries and cherries all in season, market-goers and pick-your-own visitors alike are looking for recipes to enjoy these flavourful gems at their prime. Bake Good shared with us this Deep Dish Cherry Pie recipe, perfect to serve to family and friends this summer. While this one originally calls for canned cherries, subbing in fresh will only make it better (just make sure to remove any pits first!)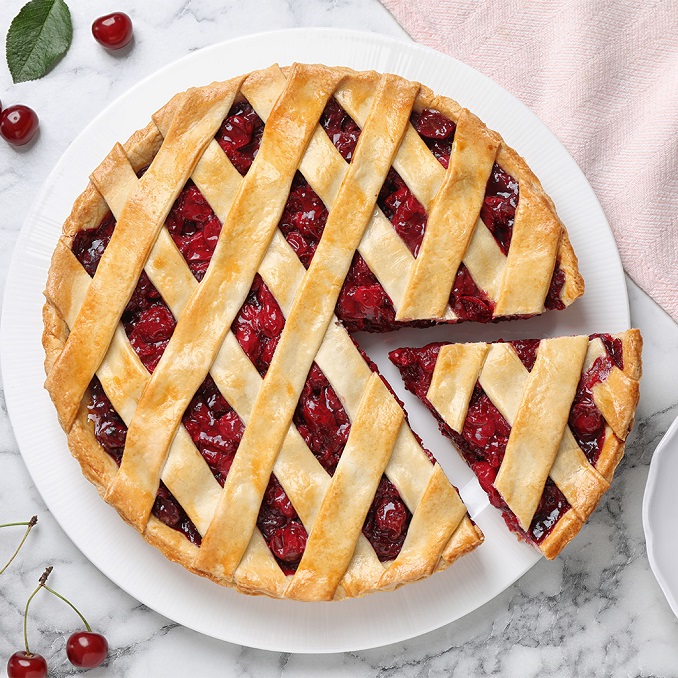 Deep Dish Cherry Pie
Ingredients:
2 cans (14.5 ounces each) tart red cherries
1/4 cup Fleischmann's® Corn Starch
1/2 cup sugar
1 teaspoon grated lemon peel
1/4 teaspoon salt
1 cup Crown® Lily White Corn Syrup
1 tablespoon butter OR margarine, melted
1/2 teaspoon almond extract
4 drops red food colouring
2 (23cm/9-inch) unbaked pie crusts
Vanilla ice cream, optional
Directions:
1. Preheat oven to 400°F/200°C.
2. Drain cherries and reserve juice. Combine 1/2 cup cherry juice with cornstarch. Add sugar, lemon peel, salt, corn syrup, butter, almond extract and food colouring; stir until combined. Stir in cherries.
3. Place one crust in pie pan. Pour in filling. Place remaining pie crust over filling. Flute edges and cut slits in top crust.
4. Place pie on a baking sheet or pizza pan (in case the pie bubbles over during baking). Bake for 10 minutes; reduce heat to 350°F/180°C and bake for 40 minutes longer or until lightly browned. Serve warm with vanilla ice cream, if desired.