Roald Dahl is a known for creating some of the most memorable characters in his books and screenplays. We've grown up on his classic tales like Charlie and the Chocolate Factory and Matilda. In total he wrote 19 children's books as well as stories for adults and scripts for television and film. But it was in 1961 that he was established as a children's author with James and the Giant Peach.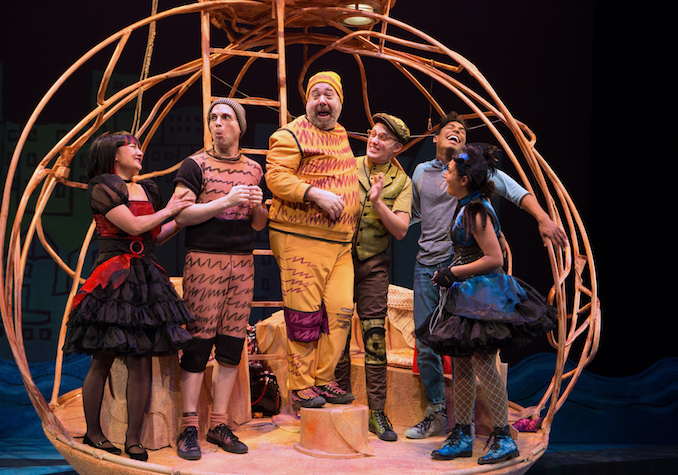 The story of James and the Giant Peach has been reimagined for film as well for the stage. A delightful 80-minute musical production is currently on stage at the Young People's Theatre in Toronto until March 18, 2017.
This highly entertaining, and well thought-out, production was created by Benj Hasek and Justin Paul, the Tony and Emmy nominated songwriting team behind the Broadway musicals A Christmas Story and Dogfight. They also worked on the film La La Land in which the duo recently won a Golden Globe Award and an Academy Award Nomination.  The musical score here is definitely something worth coming for alone.
James and the Giant Peach is full of fun for children and adults alike. In keeping with the YPT's season theme "no one is alone", the story follows the journey of a lonely orphan, James, and his unfortunate circumstances of  his care being handed over to his only living relatives — two sister aunts who only see him as a burden. The aunts tell him to chop down a useless tree but he soon discovers a magic potion that can changes his life forever. The tree accidentally grows a giant peach…and equally large insects. The crazy adventure of James and the misfit gang of bugs begins.
Matt Nethersole (James) in this production is someone the  little audience members  may recognize from the Kids' CBC weekday morning hit show The Moblees where he plays Sylvio Snake. However, Nethersole is no newbie to the theatre scene which is apparent as he absolutely embraces his role to the fullest in this production. Bruce Dow (Centipede, Buzz, Mysterious Man) is loveable in his roles – you may recognize him from The  Murdoch Mysteries, and he was the voice of "Max" in Total Drama: Pahkitew Island. Over-bearing aunts were played by Amy Lee (Sponge) and Amake Umeh (Spiker) play the comedic side-kick villains in the show with their silly schemes on how to take advantage of James.
The audience on opening day was filled with school age children as young as six and were glued to their seats – not a restless wandering eye that I could see. Fun witnessing their honest reactions throughout the play. When one of the aunts made a comment about seeing manly muscles, the kids bursted in giggles and "ews". When the timid earthworm gained more confidence they all happily cheered him on.  The musicians played off to the side of the stage and fully visible – a great way to show kids how the music interacts with the story telling and without being a distraction.
At the end of the show was  a Q&A session with the actors that is worth listening in on. Kids are given an opportunity to ask them anything about the production. At this particular show it was pretty interesting to hear questions about set design and wardrobe. Who said that kids don't pay attention? They absorb much more than we often think.
I couldn't help but dig again for this quote that was absolute proof that makes Roald Dahl a much loved storyteller.
"Children are…highly critical. And they lose interest so quickly. You have to keep things ticking along. And if you think a child is getting bored, you must think up something that jolts it back. Something that tickles. You have to know what children like." ~ Roald Dahl
James and the Giant Peach is now on stage at Young People's Theatre until March 18 , 2017. Additional programming happening during Family Day Weekend as well as March Break. Tickets: $10 to $41. For more information visit youngpeoplestheatre.ca.