Kaleidoscope Horse is a five-piece psychedelic art-rock band from Toronto, ON. Their sound is theatrical and dreamy – bouncing between highly melodic and rhythmic, groovy sections. Driven both by strong song-writing and abstract sound-play, the band creates dimensions that are often jarring in comparison to one another, playing on tension and release. The contrast between Desiree Das Gupta's powerful alto, and Sam Maloney's feathery vocal timbre creates a balance of light and heavy, backed by full band harmonies. Sean McDonnell's guitar playing is both classic and experimental, with Kyle McDonnell's bass lines blending often wandering guitar work with hard hitting but intuitive drumming by Taylor Barber.
The band is invested in creating an audio/visual experience that is fully immersive to their audience, and their live show is stacked with full costume, and mood-setting props. Their live energy invites the audience into their world, and is equal parts ceremony, carnival and family reunion.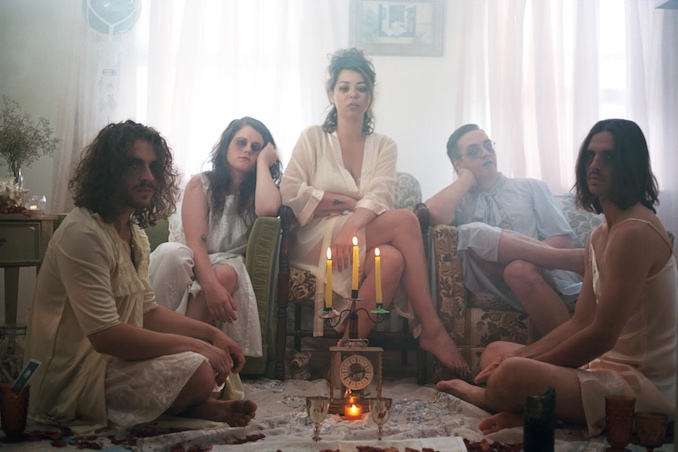 Name: Kaleidoscope Horse
Genre: Psych/Art Rock
Founded: October 2012
# of Albums: 1
Latest Release: "SLOW, SLOW" debut album
Latest Single: Behaviour
Latest Video: Day 3 (of Conscious Apathy Walking with my Darling)
Favourite Restaurant:
A nice, ramen place
Favourite band now:
CRUMB, Tibetan singing bowls, Arctic Monkeys, Ought
Guilty Pleasure Song:
Anything from 'School of Rock'
Live Show Ritual:
We wake up, put on our make up, add blood and sing a little bit.
Favourite local artist:
Hot Garbage, Possum, Mother Tongues, Luna Li, Bad Waitress, World News, Drago Dit Dragon
Sneaky Dees nachos, pasta from Terroni or a superfood salad from Fresh?
Sneaky Dees nachos are all we can afford.
Queen or College St?
All we can afford is College Street, but really Bloordale.
Trinity Bellwoods or Highpark, Riverdale or Kew Gardens?
High Park…
EP or LP?
LP
Early bird or night owl?
Sporadic crow
Road or studio?
Rodeo
Swiss Chalet or Roti?
Pam's Roti!
Where can we follow you?
Facebook | Spotify | Instagram | Website
Any shows or albums coming up?
Lee's Palace on February 8th with Teke Teke, Gloin and World News! Currently in developing stages for our second album and planning an East Coast tour for the summer.