Thursday night saw local up-and-comers, Kaleidoscope Horse, celebrate the release of their debut album 'Slow, Slow' at the Super Wonder Gallery.
The band have gained a golden reputation for their unique blend of vocal-centric psych rock, zany dress sense and lively performances. Upon arrival, guests were handed a program outlining the evening's entertainment. This was unlikely to be a normal music show, and indeed there was also a well-dressed, good-looking compare who introduced all the acts and had a few surprises up his sleeve.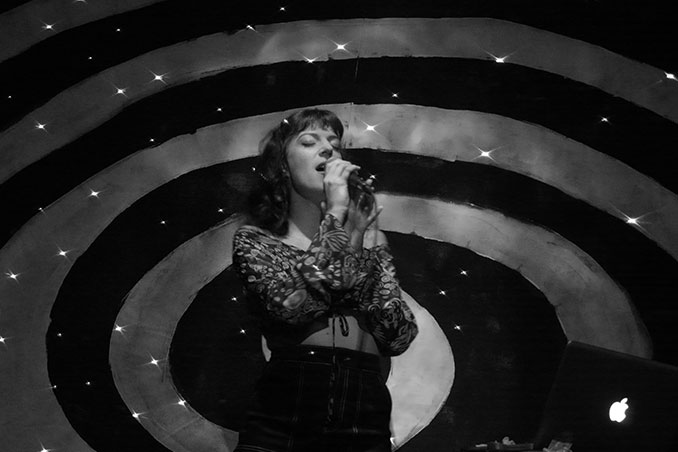 First to be introduced was Trinity, a vocalist from Montreal who purred soulfully over well produced backing tracks. With a lounge style and performing in front of a huge black and white spiral, it was a nicely chilled yet psychedelic start to the evening.
The walls of the Super Wonder Gallery were dressed beautifully with velvet curtains, except for a fantastic mustard segment that Johnny De Courcy performed in front of. Yes, over the course of the evening there were to be three different stage areas, which elevated the night, making it grander and more experiential.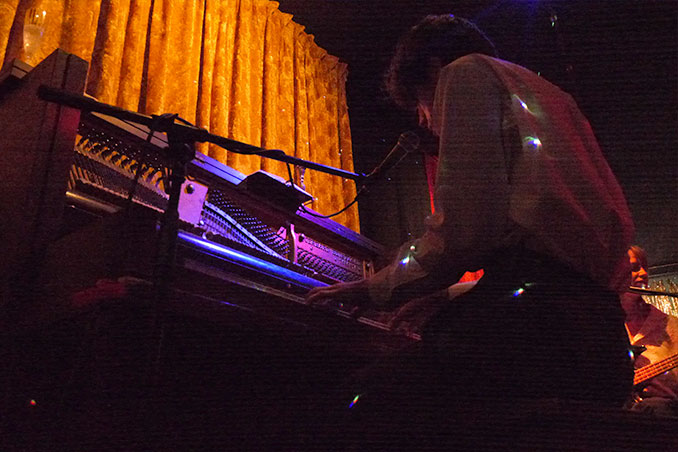 Performing on an upright piano accompanied by bass guitar, Johnny urged the audience for quiet as he rocked through a set of touching songs. His piano playing was enchanting and he had the closely surrounding audience in the palm of his hands. Instrumental track 'Constellations' will stay with me long after this evening had passed.
After being wooed by the rich dulcet tones of a piano, the audience was then ushered once again through a set of shining curtains to reveal the final area where Rhe Litch had already begun to perform.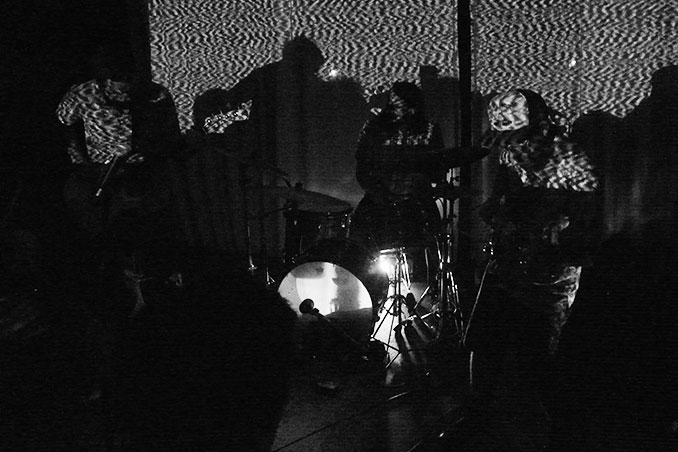 The Litch raised the stakes in terms of volume and intensity. Perhaps intentionally we had gone from a solo, to a duo, to a three-piece. Things were ramping up somewhat. I would describe The Litch as having some serious doom desert vibes. It was heavy and slow, leading me to curl the corners of my mouth as low as they could go as I bobbed my head both slowly and surely to the beat. Whilst doing so, I imagined writhing around in the sand with an orgy of snakes.
Kaleidoscope Horse, having waited so patiently, then arrived to face a crowd awash with anticipation. Fronted by the broody vocals of Desiree Das Gupta, the band chose to perform their new record from start to finish. A gutsy decision.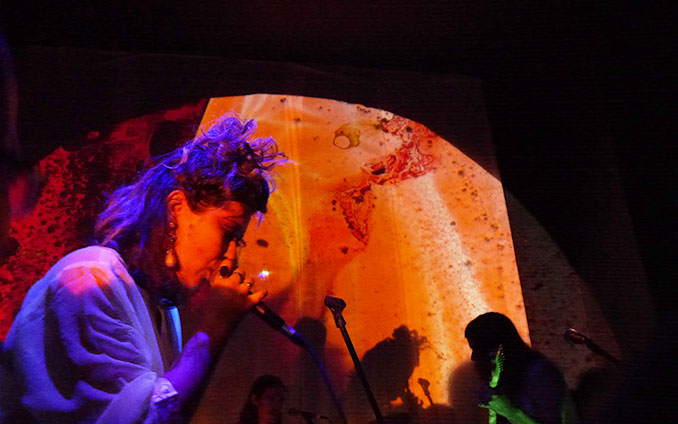 Opener, Honey I'm On a Trip, is one of, if not my favourite track from the record. Executed with confidence, the band continued to flow from song to song like a piece of cake… black forest gateaux. Spookily dressed, Sam Maloney fluttered on the wind, providing control and finesse on guitar.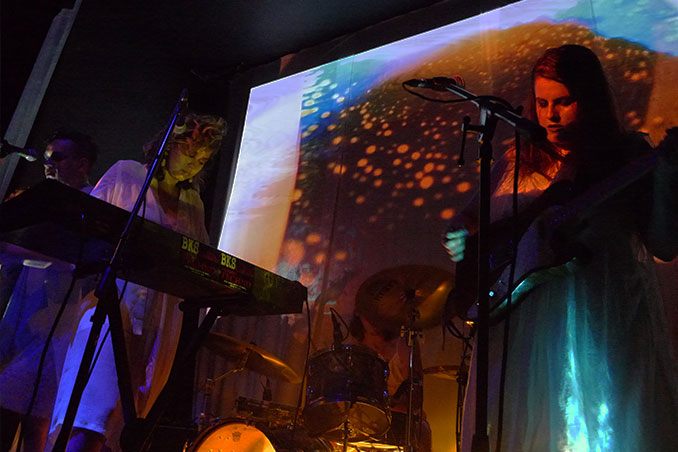 There's a real camaraderie that exudes Kaleidoscope Horse. Brothers Sean and Kyle Mcdonnell playing lead guitar and bass guitar respectively, looked and sounded the part.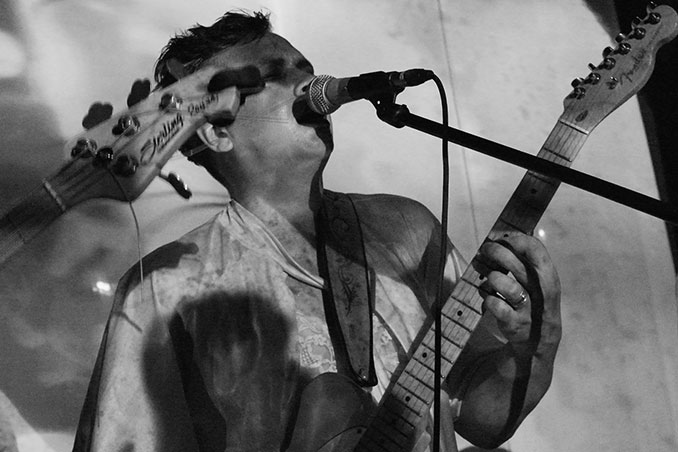 The pair each had their own individual moments to shine over the course of the evening, but also the occasional brotherly moment where they crooned together as one.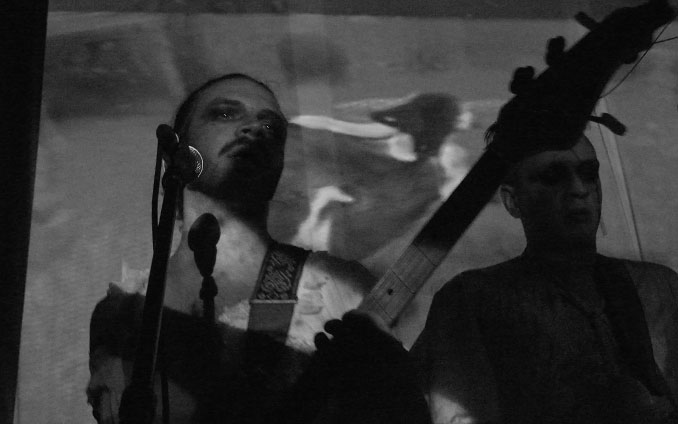 Completing the lineup is the solid drumming of Taylor Barber, who holds the group together and consistently looks like he's having the time of his life.
I am yet to mention the excellent visuals, which you will no doubt have already seen from the photos so far. The light show was executed by The Oscillitatium, incidentally the same group of people who recorded 'Slow, Slow'.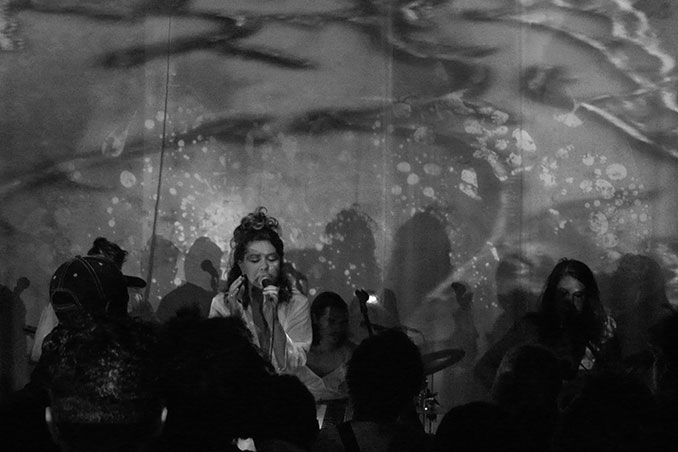 Maps, a track that was recently premiered on Mar on Music's CIUT radio show, was another highlight from the set. It showcases Kaleidoscope Horse's dynamics and their ability to pull back so that the listener can appreciate the finer detail in the sound… it's something that many should take a leaf out of their book with.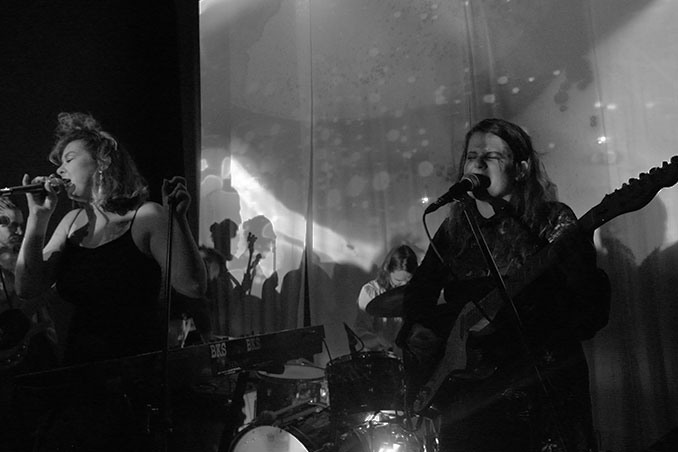 I reviewed Kaleidoscope Horse once before in September and commented that "this androgynous bunch have got the bravado, the quality and most importantly, the songs, to go as far as they want to."
I would stand by that statement – the 'Slow, Slow' release party felt like a small but important step for a band which has the world at its feet.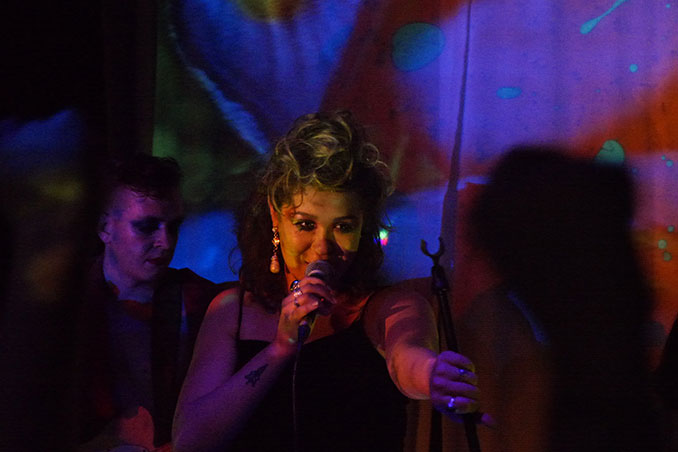 Kaleidoscope Horse are going on tour in various Canadian cities throughout September. 'Slow, Slow' is available via all good digital outlets and on cassette. More information on everything Kaleidoscope Horse can be found on their website, www.kaleidoscopehorse.com.
For more unbiased reviews, check out my other posts.