Just Vertical manufactures and sells beautiful indoor gardens for residential, office, and commercial settings. It was co-founded by long-time friends Conner Tidd and Kevin Jakiela who were both masters students at U of T when they began this endeavour. We got to speak to the company's Head of Marketing and Growth, Christopher Di Grazia, to find out more about them.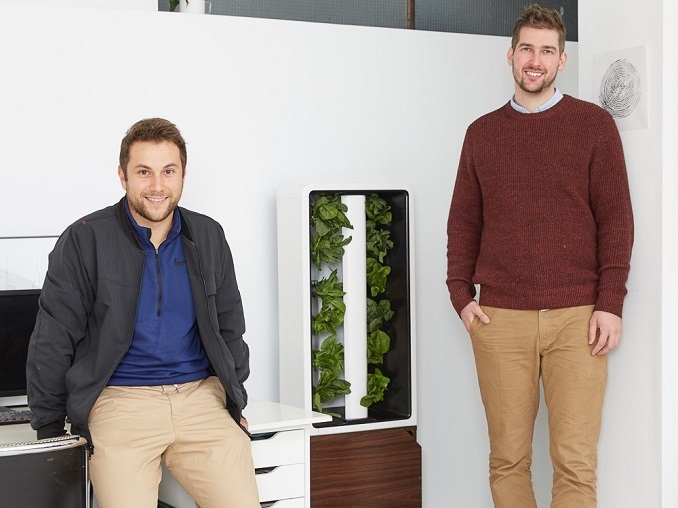 What is your business called and what does it do?
At Just Vertical, we manufacture and sell breathtaking indoor gardens for residential, office, and commercial settings. Our gardens enable year-round cultivation of herbs, leafy greens, and vegetables in any indoor space.
What made you want to do this work?
Just Vertical started when co-founders and long-time friends Conner Tidd and Kevin Jakiela were Masters of Science students at the University of Toronto. Conner had been working in 'Big Ag' gaining a real perspective on the food problems faced by people around the world.
Meanwhile, Kevin had just come back from pioneering indoor growing research in the Canadian Arctic, as well as teaching indigenous youth in remote arctic communities, and saw firsthand how cutting-edge plant science and hardware (like vertical farming) could be used to grow in any environment.
Over lunch in 2017 the two friends were catching up and sharing their work experiences. They decided that to make a real impact on the world, and truly help to eradicate food insecurity, they needed to think of a way to enable folks to grow their own food at home. The idea was to provide vertical hydroponic growing systems that fit seamlessly into urban living spaces. They applied their combined knowledge of plant science, engineering, manufacturing and business development and thus, Just Vertical was born.
What problem did you want to solve with the business?
We established our business with the following goals in mind:
– Providing Access to Year-round, Pesticide-free Produce – In many regions, weather conditions limit the ability to cultivate fresh produce year-round without the use of harmful pesticides. Our indoor gardens allow growers to bypass this issue and produce healthy, pesticide-free crops throughout the year.
– Empowering Individuals to Make Independent Food Choices – We believe that people should have the power to make independent food decisions that are not subject to the fluctuations of the market. Our gardens enable our growers to exercise greater control over the food they consume, free from the vagaries of inflation and other economic factors.
– Reducing Food Miles – The average distance between where food is grown and where it is consumed is approximately 24 hours. With our indoor gardens, food production is 24 steps away, reducing transportation time and helping to reduce carbon emissions.
– Integrating Hydroponic Technology with Aesthetic Design – While hydroponic growing technology is not new, traditional hydroponic systems are often unsightly and confined to basements or other hidden areas. Our gardens bring hydroponic growing into the home, combining efficient growing technology with aesthetically pleasing design.
Who are your clientele/demographics?
Our demographic spectrum spans a diverse array of individuals, including young urban singles, rural families, and seniors in assisted living facilities. However, our primary demographic focuses on women aged 27 to 47 residing in urban environments.
How does your business make money? How does it work?
Our revenue stems from the sale of our hydroponic garden systems and the associated supplies purchased by our clients. The success of our business model hinges on the performance of these gardens and the value they offer to our customers.
Our gardens use hydroponic (soil-less) technology to cultivate fresh produce. The steps for successful growth are:
1. Unpack the garden
2. Begin growing desired plants using our seed starter kit
3. When seedlings reach 3-4 inches in height:
a. Fill the bottom reservoir with water.
b. Plug it in to set the light & pump in the reservoir
c. Move the seedlings into the garden.
d. Allow plants to mature and harvest when ready.
For more detailed instructions, please refer to our comprehensive guide available here.
Where in the city can we find your profession?
We primarily offer our gardens for sale via our online platform. They are manufactured in Etobicoke and showcased at various locations in Toronto, including:
1. Evergreen Brickworks
2. Brightworks Energy in Markham
3. Village Juicery in Roncesvalles
For a complete list of our physical display locations, please visit this link here.
What is the best question a prospective customer could ask a member of your profession when comparing services? Give the answer as well.
What sets Just Vertical gardens apart? Our approach uniquely combines hydroponic growing technology with elegant furniture design. We believe this technology deserves a prominent place in homes and those growing their own food should take pride in it. Our gardens are meticulously designed to seamlessly blend into any home environment, becoming an integral part of the household. They epitomize a perfect balance of beauty, practicality, and functionality.
What is the best part about what you do? What is the worst part?
We take immense pride in our work at Just Vertical, firmly believing our gardens are contributing to global change. The world faces a significant environmental challenge, underscored by the overuse of agricultural chemicals, rapid degradation of farmland, extensive food transportation, and disconnection from food sources.
Our product empowers individuals to cultivate their own food, fostering environmental consciousness through innovative technology. This further encourages a dialogue about the importance of caring for our planet, our health, and our food.
The worst part about our work lies in raising immediate awareness about the significance of autonomous food choices. The prevailing agricultural system thrives on indifference, and advocating change through products like ours can be a considerable task.
What is your favourite joke about your own profession?
This is probably a little less of a joke and more of a statement we love, but we've used the line before with our gardens that if you buy one, you can Netflix and Dill.
Where can we follow you?
Website | Facebook | Instagram | Twitter | Tiktok | Linkedin | Email
PAY IT FORWARD: What is another local business that you love?
Evergreen Brickworks