Canada's winter season brings picturesque snow-covered landscapes and a host of exciting activities. To fully enjoy this magical time of year, it's essential to dress appropriately. From layering to stylish winter wear, this article will guide you through the must-have clothing items for a comfortable and enjoyable winter experience in Canada.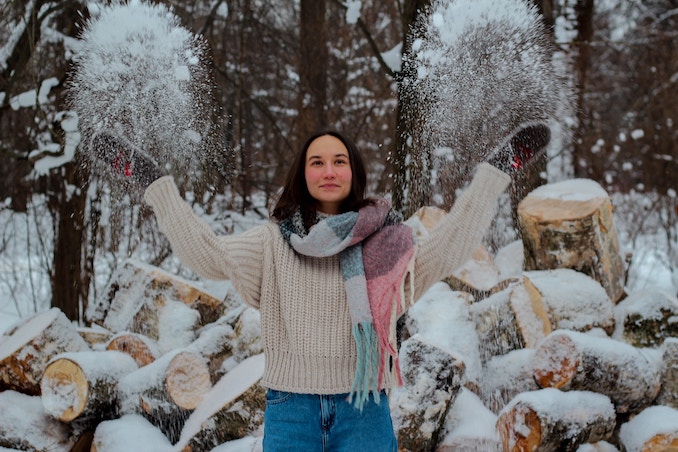 Women's Snow Pants: Your Winter Saviour
When temperatures plummet, ordinary pants won't suffice. Instead, invest in insulated women's snow pants to keep yourself warm during outdoor adventures. These specially designed pants offer exceptional insulation, allowing you to explore the winter wonderland comfortably.
Layering for Optimal Warmth
Before we delve into specific clothing items, let's discuss the importance of layering. Canada's winter demands a smart layering strategy to combat the cold effectively. Begin with a moisture-wicking base layer to keep sweat away from your skin. Add an insulating middle layer, and finish with a waterproof and windproof outer layer to shield yourself from the elements.
The Perfect Fit Matters
Finding the right fit is crucial when shopping for women's winter clothing. Look for a pair that comfortably accommodates your base layers without feeling too restrictive. Properly fitted snow pants enable freedom of movement and provide better insulation. Check for adjustable waistbands and snow gaiters to keep snow at bay.
Winter Fashion Meets Functionality
Who says you can't be stylish in the snow? With the plethora of designs and colors available, insulated women's snow pants offer both fashion and functionality. Pair them with a chic winter jacket, cozy knit sweater, and fashionable winter boots to create a winter ensemble that keeps you warm and looking fabulous.
Versatility for Everyday Wear
Insulated women's snow pants aren't solely for outdoor adventures. They make excellent additions to your everyday winter wardrobe. Whether you're running errands or enjoying time with the family, snow pants provide unmatched versatility and comfort. Embrace the cold with confidence and stay cozy and stylish all winter long!
Must-Have Winter Staples
Invest in a high-quality down-filled parka, thermal socks, waterproof gloves, and a cozy beanie or hat to stay warm and cozy throughout the season. With these must-have items, you'll be fully prepared to embrace the winter chill in style and comfort!
The Right Footwear: Winter-Ready Boots
Apart from snow pants, choosing the right winter boots is paramount. Look for insulated, waterproof, and slip-resistant boots to keep your feet warm and secure on icy surfaces. Proper ankle support is a bonus for added comfort. Don't compromise on style either – find a pair that complements your winter outfits while ensuring you're ready to take on any snowy adventure with confidence. Step into comfort and safety this winter with the perfect pair of winter-ready boots!
As you prepare for winter in Canada, dressing appropriately is key to embracing the beauty and excitement of the season. While insulated women's snow pants are a game-changer for outdoor activities, remember to incorporate other winter essentials like thermal layers, sturdy boots, and stylish outerwear. Layer up, stay warm, and venture out to experience the charm of Canada's winter wonderland to the fullest. Enjoy the snow, embrace the cold, and make unforgettable memories during this enchanting time of year!