The Chinese Canadian Youth Athletic Association (CCYAA) launched their latest collaboration with the Toronto Raptors and sports apparel company Mitchell & Ness. Designed by local graphic artist Ryan Wayne this year's illustration incorporates the iconic Lucky Cat familiar to several asian cultures as a symbol of good luck and fortune. The capsule collection was unveiled during the Lunar New Year at Superfresh in the Annex with friends, families, and supporters over great food and bubble tea (thank you The Alley!).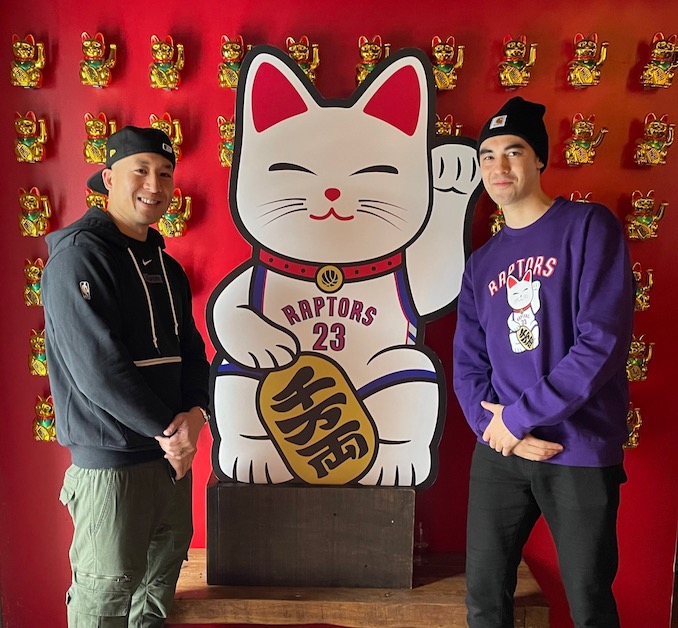 The non-profit organization began in 1995 when founder Clement Chu had the idea of creating a space for Chinese youth where they could learn and foster a love for sports while building a sense of community.  Today, the organization continues to serve over 2000 participants through their leagues, programs and events. They also have partnerships with the Toronto Raptors, Raptors 905, Canada Basketball, NBA, and Toronto Maple Leafs.
CCYAA offers coaching and training to kids through basketball programs such as Rising Stars and the Jr. NBA program. They are also involved with the Jeremy Lin Basketball School that offers a series of programming for kids between the ages of 3 to 18. Participants have the opportunity to learn the fundamentals of the game, hone their skills, play in tournaments and advance to leadership training. They also benefit from learning life-long developmental skills.
Amongst their fundraising and awareness events, CCYAA has hosted celebrity basketball tournaments. Last year's sold out stadium event held at the University of Toronto saw high profile names on and off the courts. Basketball pro Jeremy Lin and actor Simu Liu led their respective dream teams to a friendly and entertaining competitive afternoon. Ronny Chieng, Hasan Minhaj, Meng'er Zhang, Tesher, and Kim Lee (Netflix's Bling Empire) were just a few names that either played  in the tournament or were amongst the crowd enjoying the game…and yes, another one is in the works!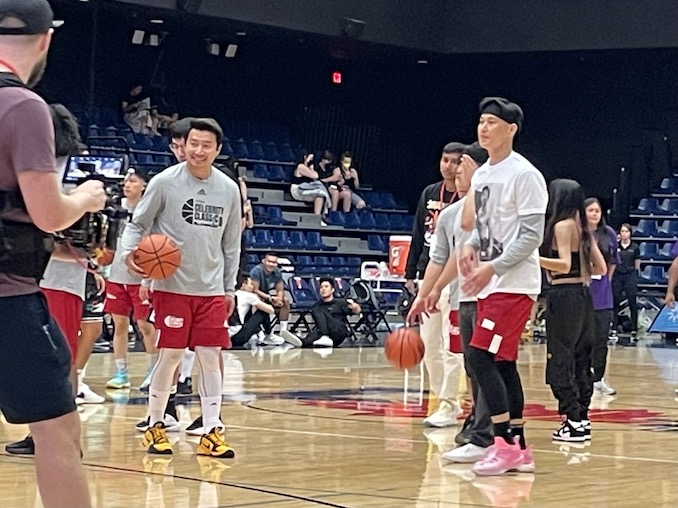 The organization started because it was an opportunity to give youth within the Chinese community a space to play organized basketball. "Today, basketball has become such a popular sport and there are now more places for our youth to play," says Chu. But he also mentioned they are now facing new challenges like getting people to enjoy being physically active. The organization  also wants to continue to promote and encourage representation. "We want people to be not only proud of who they are but to embrace other cultures,' said Chu. "These types of collaborations are exactly the type of celebration which shows that.  Now, we see people from outside of our community embracing things like lucky cats and bubble tea. To see others embracing parts of our culture and diversity is exciting."
His organization has progressed a lot over the years and continues to evolve. Chu believes there are greater opportunities to do even more work with the community. "To have so many people embrace what we're doing and to put their time into volunteering, that's very encouraging. I think that is the sign of the times where people are really celebrating the diversity and helps us push our mandate forward."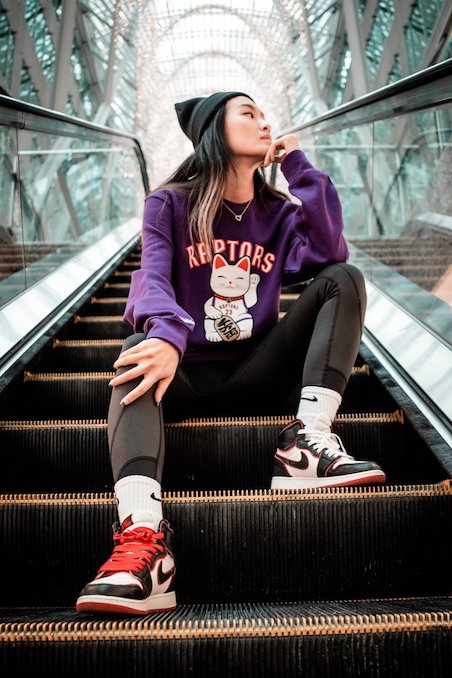 The organization has been busy. Recently,  they ran a Raptors Lunar New Year event to help raise funds for CCYAA and KultureCity –a charity based out of Atlanta. "What they try to do is to create inclusive environments for people at events including those with autism and PTSD," said Chu.  "The organization helps to create safe rooms and apparatus to give them a more enjoyable experience."
CCYAA is also currently working on updating their Athletic Performance Centre in Markham. All of the current fundraising efforts with the capsule collection will go towards the expansion of community space  where young people can go to gather, train and learn. Chu also tells us there are plans to include a work out/gym studio where adults and seniors can join in activities such as Tai Chi and Line Dancing.
Here's where you can order the Lucky Cat capsule collection: www.ccyaa.org.