Last weekend, up-and-coming English cellist Sheku Kanneh-Mason joined the Toronto Symphony Orchestra for an impeccably-programmed (and nearly impeccably-performed) evening of Elgar, Vaughan Williams, and Gary Kulesha's brand-new Symphony No. 4.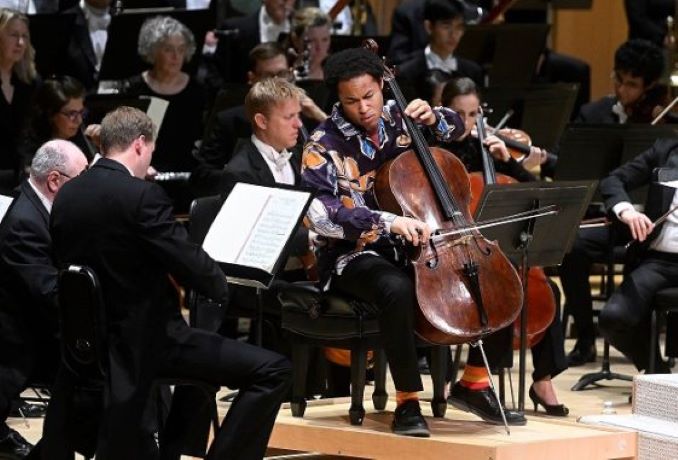 The highlight, highlight, highlight of the evening was 23-year-old Kanneh-Mason's rendition of Elgar's Cello Concerto (1919). Dvořák might have the slight edge, but Elgar's masterpiece is undoubtedly the other great cello concerto. From its dramatic opening adagio, through to its breathtaking finale, it ranks among the best works of classical music ever written.
And one that demands only the best musician to bring it to life. Only a few short years ago, Sheku Kanneh-Mason became the first Black musician to win the BBC's Young Musician Award – an accomplishment which shot him to fame within the classical music world, and beyond. Judging by last week's performance, Kanneh-Mason is a fine musician, albeit one prone to the occasional hiccup as he allows his exuberant style to get away from himself. Once or twice in the quicker passages, Kanneh-Mason got noticeably ahead of the orchestra, with Conductor Emeritus Peter Oundjian doing his best to rein him in. Youthful exuberance can hardly be faulted, and aside from that minor quibble the guest cellist was more than up to the task. His wonderful encore of the traditional Welsh tune "Myfanwy", during which he played cello and whistled(!), added an unusual and highly welcome dynamic to the evening.
The relatively short programme also featured Ralph Vaughan Williams's devastatingly beautiful Variations on a Theme By Thomas Tallis (1910). Easily one of the most popular works of classical music ever written – last year, it ranked third in Classic FM's Hall of Fame audience poll – and deservedly so. With its remarkable orchestration, combining a full string orchestra, string quartet, and a string ensemble, Vaughan Williams transforms Tallis's original 16th century theme in a lush, expressive work of deep harmonies. The soaring string lines – especially, and not coincidentally, in the cello section – combine perfectly with the smaller, more intimate solos of the quartet. Oundjian, who led the TSO from 2004 to 2018, conducted the orchestra with the skill and emotion he is known for.
Rounding out the evening was a world premiere, the latest from renowned Toronto-born composer Gary Kulesha, who also serves as Composer Advisor to the TSO and previously was Composer-in-Residence for the Canadian Opera Company. His Fourth Symphony (2023) was trademark Kulesha: exciting, occasionally discombobulating, and only somewhat derivative. The first movement, with its shades of Stravinsky and of R. Strauss, was probably the least interesting part of the composition, but it all came together in a satisfying finale that contained a few good jolts for the audience. Kulesha's long-overdue fourth symphony – No. 3 debuted all the way back in 2007 – felt surprisingly at home next to the English masterpieces of the 20th century that graced the programme.