Jay Hung honoured his late mother by establishing a non-profit student-led volunteering organization called 1Yard, which dispatched more than 40 volunteers to perform labour-intensive household tasks for hospital patients. We spoke with him to find out more about what they do.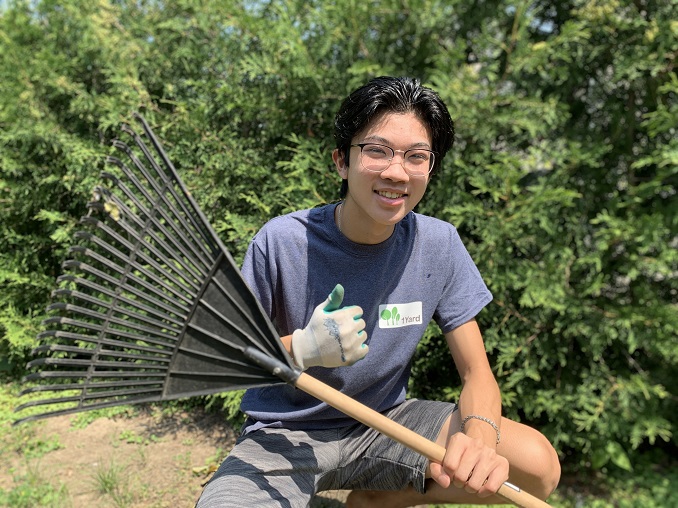 Describe your charity/non-profit/volunteer work in a few sentences.
1Yard is a not-for-profit organization dedicated to supporting those in need within our local communities. Our primary focus is to provide heavily discounted/free yard services to seniors and individuals with physical limitations. Also, instead of paying us directly, our clients donate directly to the Princess Margaret Cancer Foundation in exchange for our services. This ensures that no money passes through our organization, allowing transparency with clients and for the funds to go directly towards supporting cancer research and treatment.
What made you want to get involved?
In March 2019, my mother received a devastating diagnosis of late-stage lung cancer. As her condition worsened, I witnessed firsthand the decline in her physical abilities and the mounting challenges she encountered in performing everyday tasks. When she had overnight hospital visits, I would often get the opportunity to meet seniors and others in similar positions as my mom – I realized the true effect physical deterioration has on the individual and their loved ones.
When did you start? What problem does it aim to solve? 
Motivated by this realization, in the Spring of 2020, I started by offering free yard services to seniors and individuals with physical limitations – with the hopes of lessening the burden on the individuals and their families. Over time, as our demand increased, I shared this concept with friends and neighbours. As the initiative continued to expand, I realized that there are many people out there who require our services and volunteers who are passionate about taking part. I gave the initiative a name: 1Yard, we also accepted payments and donations to the Princess Margaret Cancer Research Center – the same hospital where Jay's mom underwent treatment (again no money goes through us).
Up to now, 1Yard has continued to expand far surpassing our fundraising goal of $5000. With the support of an enlarged volunteer team and an increasing number of clients seeking our assistance, we became confident in our ability to effect great change. We continue to stay dedicated to ensuring that our services remain easily accessible to those who require them.
What was the situation like when you started?
I initiated 1Yard by offering free yard care services to individuals in need through the Nextdoor app (a social media platform for neighbourhoods). My very first client involved tending a garden and bagging leaves for an elderly lady who recently underwent hip surgery.
How has it changed since?
As the demand for assistance grew steadily, I started enlisting the support of my friends, who willingly joined me in this initiative. Thanks to the collective efforts of our dedicated volunteers, I am proud to share that we have successfully raised over $15,000 for the Princess Margaret Cancer Foundation to date. This achievement stands as a testament to the compassion and dedication of our team in making a positive impact in the lives of others.
What more needs to be done?
What I am currently focusing on is exploring ways to expand 1Yard to different communities through a chapter system. I am in the process of launching our very first chapter at Holy Trinity School as I embark on my post secondary journey. Eventually, I hope to open up chapters in a number of different areas, involving more volunteers and extending our assistance to a larger number of people.
How can our readers help?
If you possess the time and willingness to contribute as a volunteer or even contemplate taking on the role of a local chapter leader, please let me know! You can reach out by email.
Where can we follow you?
PAY IT FORWARD: What is an awesome local charity that you love?
"Le Québec en mouvement pour l'Afrique" – an organization founded by one of my good friends and fellow 2022-23 TD scholar. He and his co-founder have to work to fundraise scholarships for seven refugee students at a Rwamwanja camp operated by the United Nations High Commissioner for Refugees.