In honour of Asian Heritage month Thai Trade Toronto sent us this recipe for 'Arroz Caldo' by Chef Wesley of Bawang Toronto. This dish features Thai Hom Mali Rice which the Government of Thailand certifies using its official seal to ensure the rice's authenticity and promise exceptional quality. Thai Hom Mali rice is most commonly referred to as "Jasmine rice" because its stark white colour resembles the delicate Jasmine flower. Thai Hom Mali Rice is known for its high quality, distinct aroma of exotic flowers and buttered popcorn and nutritional properties including being a source of vitamin B1, B2, Niacin and minerals such as Iron, Calcium, and Phosphorus.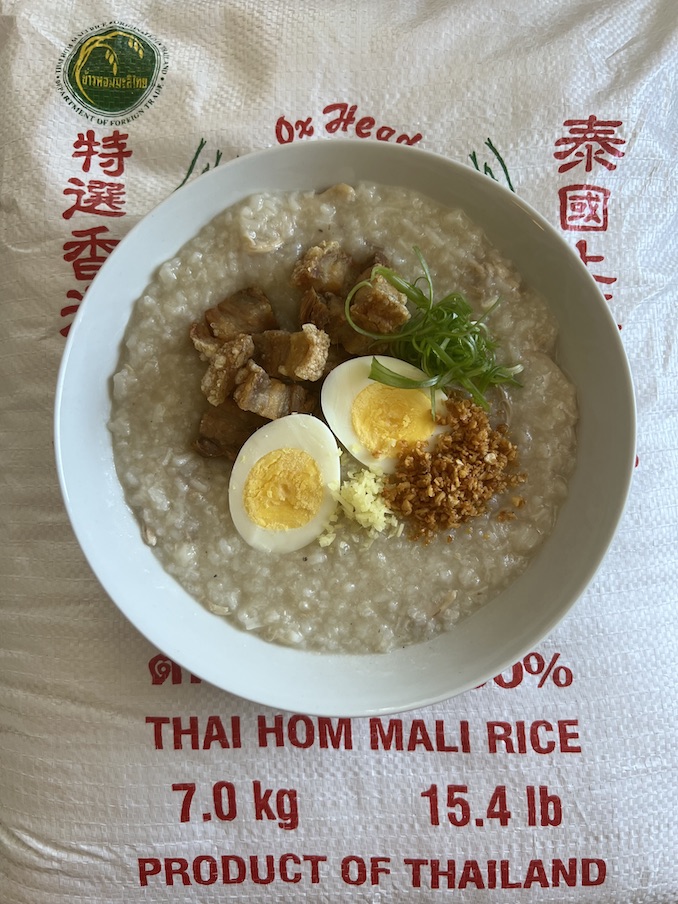 Arroz Caldo
Ingredients:
3 cloves garlic minced
1 ½ inch piece of ginger peeled, sliced into strips and chunks
1 medium white onion or shallot chopped
4 scallions finely sliced
2 whole chicken legs (thigh + drum)
1 cup of jasmine rice (my go-to is Ox Head Jasmine Scented Thai Hom Mali Rice)
1 chicken bouillon cube
2-3 tablespoons of fish sauce
6-8cups of water
freshly ground pepper and salt to taste
Directions:
1. Heat a large stock pot over medium-low heat and add onion, garlic, and ginger. Sauté until the onion starts to become transparent, which should take about 3-5 minutes.
2. Add chicken, fish sauce, and ground pepper. Stir to combine and cook for another 5 minutes, or until the chicken is nearly all cooked.
3. Pour in the chicken stock and rice and increase the heat to high until it comes to a boil.
4. Reduce the heat to low and let the pot simmer. Let it cook for about 20 minutes, stirring frequently until the chicken is tender and the rice is fluffy and cooked.
5. Remove the chicken from the pot, strip the meat off the bone then place the chicken back in the pot. Continue to simmer for another 15-20mins before it's ready to serve.
6. Garnish with fresh scallions, minced ginger and fried garlic (if you have it). Add some fried tofu if you like or whatever other protein you want. Top it with a boiled egg and squeeze of lime, and you're good to go!