Jane's Walk is an annual festival of free community-led walking events that takes place the first weekend of May each year.  Inspired by Jane Jacobs – the Toronto journalist, author, theorist, and activist, the walks take place across the globe. Launched in 2007, the volunteer-run and donation funded festival encourages people to share stories about their communities, connect with others and engage in conversations. Maybe even discover and learn something new to them!
One that caught my attention was a Ghost Signs of Toronto walk led by born and raised Torontonian, Stephan Petar. I've been following his Instagram page for a while and have read a few of  his fascinating write-ups in various publications. He actually won a 2016 Heritage Toronto Award for his essay on Ghost Signs which educated and advocated for their preservation.
Aside from the fun side of discovering ghost stories, Stephan feels heritage is important. " The advocacy, preservation and heritage profiles you read are largely written and led by a small group of advocates. We're slowly losing our heritage, which is a shame because when it disappears we will lose our connection to the past."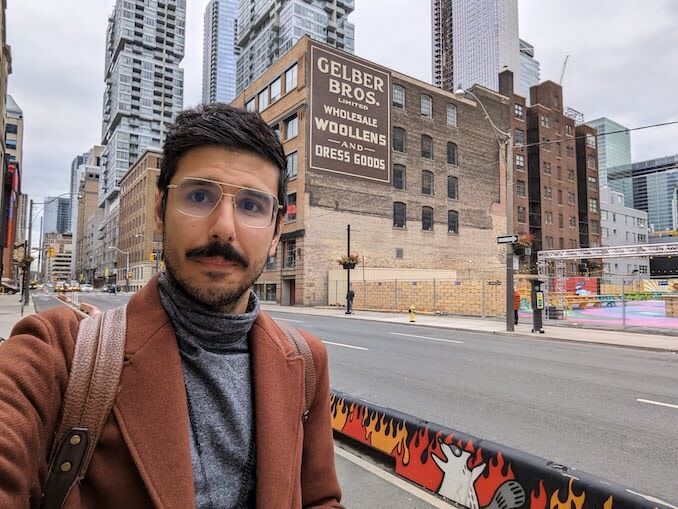 What inspired your interest in these ghost signs?
Stephan: I was introduced to ghost signs at a Doors Open Toronto event when The Dineen Building, at Temperance Street and Yonge Street, was doing tours. On the third floor of the building there were these big black letters and numbers that read "JEWELLERS" and "144." At first I thought it was an unfinished mural for the newly renovated space, but the tour guide explained the concept of ghost signs. He said, the sign was revealed after drywall was removed and that to save costs during construction the building attached itself to the neighbouring one instead of erecting a fourth wall. I've never been to floor above, but I assume it was for Kent Jewellers, which was at 144 Yonge Street at the time. The guide said we'd start noticing ghost signs everywhere and I did. I started documenting them every time I saw one in Toronto, across Canada, the U.S. and Europe.
My interest in them is a mixture of my passion for history and my marketing/communications education. From a historical perspective, some signs have survived over a century, representing businesses that fueled the Canadian economy, that were owned by influential Canadians and live on buildings by famed architects. If you examine the history deeper, you'll likely learn the stories of the Canadian worker as well.
From a marketing and communications perspective, I find the messaging and design choices fascinating. Every font, colour and positioning choice has a different intention on how it wanted to communicate to consumers. We'll never know the true objective of these design elements, but we can surely assume.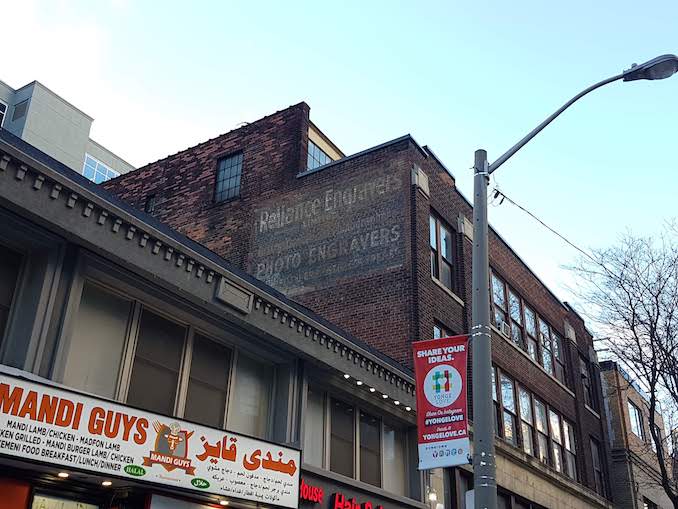 Can you tell us about some of your favourite ghost signs in Toronto?
Stephan: The Clifton Company Limited on Brock Avenue is one I have to mention because as I was researching it, I found an obituary for the president of the company and the names of his children. I cold messaged one of them on Facebook asking for a conversation about the company and got a "yes" reply. I enjoyed how this family member I spoke to was able to use her words in a way that transported me into the building when it was a factory for the company.
The Gelber Brothers and Tip Top Tailor signs on Richmond Street just east of John Street are located right across from each other. The signs are a tale of two different approaches to ghost signs. The Gelber Brothers sign was beautifully restored during the pandemic, while the Tip Top Tailor sign, on the Bell Media complex, is getting harder to read every year. It's a beautiful and heartbreaking juxtaposition.
Do you go elsewhere to seek them out?
Stephan: Yes, sometimes purposefully and other times by accident! In Canadian cities specifically, I do research to see where I can find these signs by looking on Instagram and Flickr accounts as well as Google Maps. Other times, I'll just stumble across them!
If you go to cities in the United States (New York, Chicago, New Orleans, Buffalo) or visit the UK, these signs are everywhere. Montreal has its fair share of signs, most in English, which tell a fascinating story about language in the province.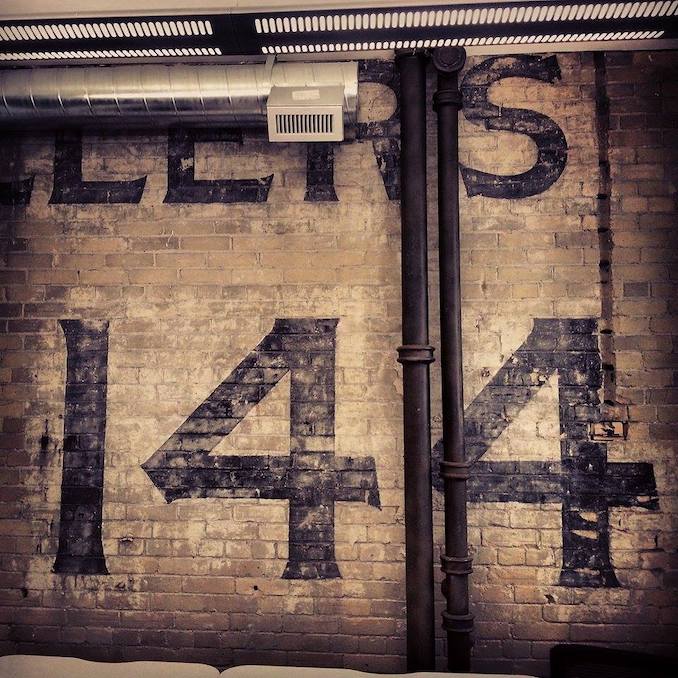 Can you tell us about how your Jane's Walk submission came about?
Stephan: My friend thinks my calling is to be a guide for a free walking tours in a European city. However, every time her and I cycle and we come upon a ghost sign I cannot help, but give her my spiel on them. She sent me the application form and I thought this would be a great opportunity share my passion for these signs and really advocate for their preservation and the city's heritage.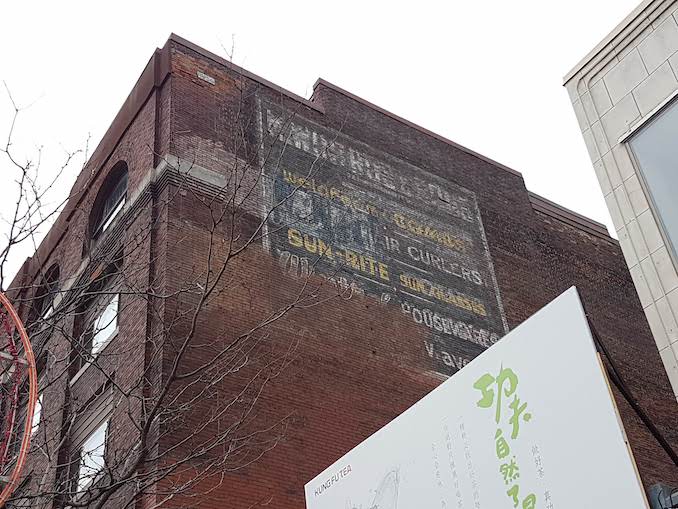 What should people know before heading out for this walk?
Stephan: There will be no spooky ghost stories! Nothing about disgruntled spirits with unfinished business trapping people in rooms or flickering lights. The only ghost stories you'll hear are inspiring ones featuring the stories of entrepreneurs and communities.
It's a family friendly and pet friendly walk. We start at Sorauren Park (corner of Sorauren Avenue and Wabash Avenue) and will end at Henderson Brewing Co. It will happen rain or shine or snow! Also, all walks for the festival are completely free and there are some great ones happening from May 5 to 7.
Where can we sign up?
Stephan: No sign up required, just show up! However, if you're bad at remembering things like I am, I created a Facebook event. Also follow @ghostsofcanada on Instagram for reminders!
You also have an interest in historical places (with or without ghosts) and have revealed some interesting stories. Can you tell us more or any surprises for you?
It's amazing to walk around the city and look at century old homes and wonder who lived there. These are the stories that surprise me the most, because they're hidden in plain sight.
There is house by Withrow Park in Riverdale, where gay activist Jim Egan lived in his youth. When I told the couple who owned the property of his legacy they were amazed and asked "why he isn't recognized more publicly."
There is a frat house in the Annex, where you'll sometimes see a table with red solo cups after a match of beer pong on the lawn. Little do most people know Timothy Eaton's son lived there. I doubt the frat brothers living there even know what Eaton's was given it closed in 1999.
Lastly, on Markham Street, there is a home where you'll likely see a lovely elderly couple sitting on their porch. They'll be happy to tell you about how Fanny "Bobbie" Rosenfeld, Olympic gold medalist and Canada's Female Athlete of the First-Half of the 20th Century, lived there as a child.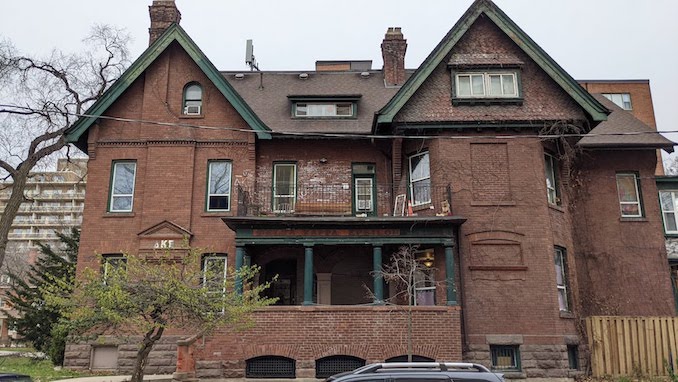 Ontario has quite a number of ghosty-feeling places to explore. Any on your bucket list to visit?
Stephan: I have always wanted to go to the Screaming Tunnel in Niagara Falls. As a kid my uncles told me the chilling legend associated with it and I remember not sleeping that whole night. It's on my bucket list because I need to confront my childhood fear.
Kingston Penitentiary is on my list and I'd love to stay the HI Ottawa Jail Hostel, which apparently is haunted!
If you'd like more info on his walk or any other Jane's Walk events happening May 5 to 7 2023, visit www.janeswalkfestivalTO.com
More About Stephan Petar…
Stephan was born and raised in Toronto. He's an award-winning writer with numerous stories about Toronto's history in various publications. He won a 2016 Heritage Toronto Award for his essay on Ghost Signs which educated and advocated for their preservation. Stephan is also part of the 2SLGBTQ+ community in the city. He is often wandering the streets of any destination he visits and tells me he will always discover something new or meet someone that will inspire his next story. But one cannot live on ghost stories alone. Stephan's day job is working in Public Relations in Toronto. He is also an avid cyclist, urban explorer and fan of Pedro Pascal.