For this week, Chef Amy Rosen, judge at "Wall of Bakers", shared this Perfect Pecan Buns recipe with us to try at home.
She is a James Beard-nominated, award-winning freelance journalist and cookbook author. She was the editor-in-chief of Modern Farmer, food editor at Chatelaine and food editor at House & Home. She also launched EnRoute's Best New Restaurants in Canada feature as its first restaurant critic and regularly contributes to The Globe and Mail. Armed with a BA in English from McGill University, a Bachelor of Journalism from the University of King's College and a certificate in Basic Cuisine from Le Cordon Bleu, she published her first cookbook, Generation Eats. She then went on to release four more cookbooks, her latest called Kosher Style, which is filled with Jewish-based recipes.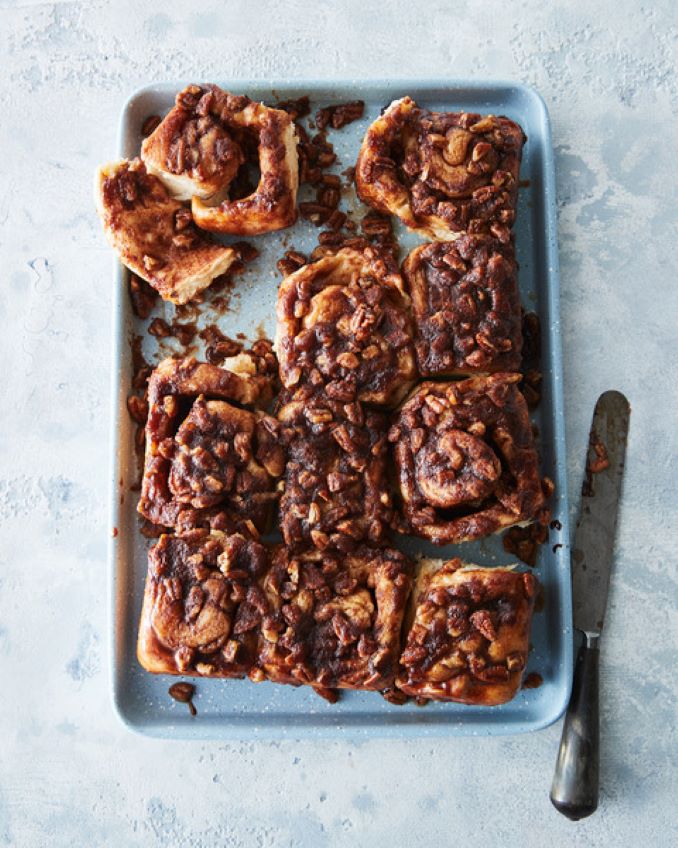 Perfect Pecan Buns
Dough
-1 cup milk
-5 tbsp butter
-1 1/4 oz. package active dry yeast
-3 tbsp sugar
-1 tsp sea salt
-4¾ cups flour, divided
-3 eggs
Drizzle of vegetable oil
In a small saucepan over low heat (or carefully in the microwave), warm the milk and butter until the butter has melted and the temperature is hot but not scalding (you're looking for 105°F on a thermometer). Pour the mixture into the bowl of a stand mixer fitted with the dough hook, and sprinkle the yeast and sugar overtop. Do not stir. Let sit until it foams, about 8–10 minutes. Stir in the salt.
Add 2¼ cups flour and mix until just combined. Add the eggs and mix until incorporated. Knead the dough on medium-high speed until a smooth batter forms, about 2–3 minutes.
Add the remaining 2½ cups flour and knead on medium until the dough comes together and forms a smooth, elastic ball, about 6–8 minutes. Add a bit more flour if needed.
Add a drizzle of oil to a large bowl and turn the ball of dough around in it so it's got a light sheen all over. Cover the bowl with plastic wrap and let the dough rise until it doubles in size, about 1 hour.
Topping
-3/4 cup butter
-3/4 cup packed brown sugar
-2 tsp ground cinnamon
-1/2 cup chopped pecans
-1 pinch kosher salt
While the dough is rising, make the topping. Grease a 9 × 13-inch baking pan with a bit of butter. Melt ¾ cup butter in a small saucepan over medium heat. Stir in the brown sugar and cinnamon, whisking until smooth. Pour into the greased baking pan. Sprinkle the bottom of the pan with chopped pecans and a pinch of salt. Set aside.
Filling
-3/4 cup brown sugar
-1/2 cup chopped pecans
-2 tsp ground cinnamon
-1/4 cup butter, softened
Combine the brown sugar, chopped pecans and cinnamon in a bowl. Set aside.
When the dough is ready, punch it down and roll it out on a floured surface into a 12 × 18-inch rectangle. Spread the softened butter over the dough with an offset spatula, leaving a ¾-inch border along the sides. Sprinkle evenly with the brown sugar, cinnamon and pecan filling mixture.
Assembly
Starting at one long end, roll the dough into a log and pinch to seal the seam. With the seam side down, slice the log into 12 fat rounds; each one should be just over three fingers thick. Place in the prepared pan, cut side up and slightly spaced apart. Loosely cover with plastic wrap and let rise until puffy, about 20–25 minutes.
During this second rise, place a rack in the center of the oven and preheat to 375°F. Once the buns have risen, remove the plastic wrap and bake the buns until golden brown, about 18–22 minutes.
Let cool in the pan for 3 minutes, then invert onto a serving platter. Scrape any remaining filling from the pan onto the buns. Serve at once.
If you don't eat them all in one sitting, they also freeze well.