Indulge in a decadent dessert that combines two classic flavours – chocolate and vanilla. Presenting the mouth-watering Chocolate Bread Pudding with Vanilla Custard Sauce, an irresistible treat that is both rich and satisfying. This simple yet elegant recipe, courtesy of BakeGood, is made with ingredients like semisweet chocolate, bread cubes, nuts, and a perfect blend of spices. Topped with a silky smooth Vanilla Custard Sauce, this dessert is sure to leave you craving for more. The recipe is easy to follow and can be prepared in just a few simple steps. Preheat your oven, combine ingredients, pour into a casserole dish, bake, and serve warm with the Vanilla Custard Sauce. Enjoy the ultimate comfort dessert today!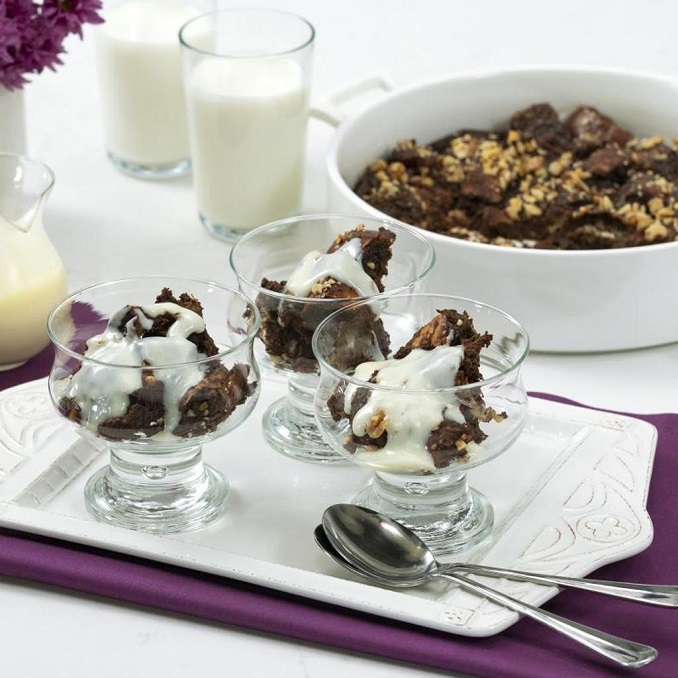 Chocolate Bread Pudding with Vanilla Custard Sauce
Ingredients:
● 4 ounces semisweet chocolate
● 1/2 cup Crown® Lily White® Corn Syrup OR 1/2 cup Beehive® OR Crown® Golden Syrup
● 1/4 cup sugar
● 1/4 teaspoon ground cinnamon
● 1/4 teaspoon salt
● 1 cup milk
● 2 eggs, lightly beaten
● 3 cups firm (day old) bread OR bagel cubes
● 1/4 cup chopped walnuts OR pecans
For Vanilla Custard Sauce:
● 2 tablespoons sugar
● 1 tablespoon Fleischmann's® Corn Starch
● 1-1/2 cups milk
● 1/4 cup Crown® Lily White® Corn Syrup
● 1 egg yolk, slightly beaten
● 1/2 teaspoon pure vanilla extract
Directions:
1. Preheat oven to 375°F.
2. Combine chocolate, corn syrup, sugar, cinnamon and salt in a large, heavy saucepan. Cook and stir over low heat until chocolate is melted. Remove from heat and stir in milk. Add eggs and bread cubes; let stand 5 minutes.
3. Pour mixture into greased 1-1/2-quart casserole dish. Sprinkle with nuts. Bake 30 to 35 minutes or until knife inserted in center comes out clean. Serve warm with Vanilla Custard Sauce.
For Vanilla Custard Sauce
1. Combine sugar and corn starch in a 2-quart saucepan. Gradually stir in milk until smooth. Stir in corn syrup and egg yolk. Stirring constantly, bring to a boil over medium-low heat and boil 1 minute. Remove from heat. Stir in vanilla.
2. Serve and enjoy!