For our latest local chef recipe, Cynthia Beretta over at Beretta Farms in Etobicoke sent us this delicious Oven Roast Chicken Recipe with a Spiced Cranberry Glaze. Enjoy!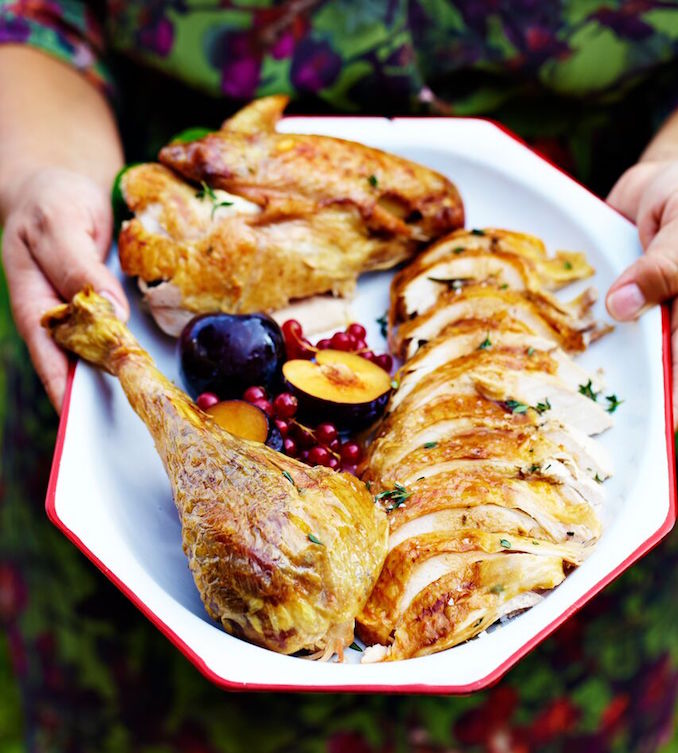 Oven Roast Chicken Recipe with a Spiced Cranberry Glaze
Ingredients
· 1 (4-5 lb Chicken)
· 2 medium onions peeled and cut into wedges
· 2 carrots peeled and cut into med chunks
· 2 sticks celery washed and cut into chunks
· 1 bulb garlic
· olive oil
· 1 lemon, cut in half
· 1 tbsp thyme
· 1 tbsp rosemary
· 3 bay leaves
· 3 sage leaves
· 2 tbsp Olive Oil
Directions
1. Preheat Oven to 400F.
2. Remove giblets from chicken and rinse.
3. Brush the chicken with 1tbsp of olive oil then liberally salt and pepper the chicken inside and out. Stuff the cavity with the fresh herbs and 1⁄2 the whole lemon (thyme, bay leaves, sage, rosemary and garlic)
4. Place the celery, carrots and onions into a roasting pan with the olive oil and coat vegetables then place chicken on top.
5. Roast the chicken for 1 1⁄2 hours. For the last 1⁄2 hour brush the chicken with the Spiced Cranberry Glaze, when fully cooked take out of oven and cover for 15-20 minutes with aluminum foil.
6. Remove chicken from pan, glaze again with Spiced Cranberry Glaze, Slice chicken and Enjoy.
Spiced Cranberry Glaze
Ingredients
-1⁄2 cups pure maple syrup
-1⁄4 cup orange juice
-1⁄4 cup cranberry juice
-3⁄4 cup apple cider
-3 tablespoons butter
-1 cup fresh cranberries
-1⁄4 cup brown sugar
-2 teaspoons apple cider vinegar
-1⁄2 teaspoon orange zest
-1⁄4 teaspoon ground sage
-1⁄4 teaspoon dried thyme
-2 teaspoon Dijon mustard
-1 teaspoon kosher salt
-1 teaspoon freshly ground pepper
Directions
-Combine all ingredients into small pot and bring to a simmer for 8-10 minutes or until cranberries have broken down and mixture has thickened.
-Remove from heat and allow to cool to room temp before glazing turkey
or chicken.
Learn more about Beretta Farms from their website.