Just in time for the holiday season comes a fun podcast series created for the entire family. Think old school radio drama to bring back the lost art of just listening and using the imagination. Created by Emmy Award-nominated artist Rob Tinkler, 8 Tiny Reindeer is a refreshing alternative to today's entertainment devices with hopes in bringing families together with a modern storyline.
The fantastic 24- chapter series 8 Tiny Reindeers is available for free on iTunes, Google Play and Spotify. There is also a book for sale with proceeds going to charity.
In this series, Santa needs to find his missing 8 Tiny Reindeer to deliver the magic of Xmas! We had a chance to ask Tinkler a few questions about this new podcast series.
Why did you choose to tell this story via podcast?
RT: This podcast came at the behest of my 7-year-old twins. They like having stories told to them, and whenever I read them a chapter book without pictures, they say things like "I can see the pictures in my head when I listen, Daddy!" Which is exactly what I remembered about listening to my grandparent's old-timey serial radio shows when I was young. I think that podcasts are very much like that and are an under-utilized media for children – especially for parents that are worried about excessive 'screen time'. My kids' minds shut off in front of a screen, but a podcast story engages the kid's imaginations as they listen and picture what is going on. The sound design done by the Super Sonics post-production team really helps to create vivid theatre of the mind with amazing sound effects and music. It feels like a Pixar movie in a podcast.
What's the story about?
RT: Santa starts to use modern technology to build his toys so has let most of his elves go and he has drones ready to deliver everything so he has released all his reindeer back into the wild. But Quickbuck, the evil character who gave Santa all of this toy technology, decides he wants to take over Christmas and shuts the entire operation down, cancelling Christmas! Santa has to track down his missing 8 tiny reindeer before Christmas Eve to make the holiday happen. But most importantly, he must remember that the holiday needs heart – something that the technology never provided!
The reindeer all have different personalities, tell us about a few of them?
RT: The original concept for the story is a picture book I made for my kids. In it, the reindeer's unique names reflect each of their different personalities. So, Dasher likes to dash and runs around everywhere like a super energetic kid; Dancer and Prancer dance and prance at will; and Blitzen… well, I guess you could say Blitzen likes to blitz things like a mischievous kid. I don't want to give anything away, but he is certainly a fun action character who my kids look forward to hearing about every time. Another fun reindeer is Rudolph, who is feeling rather hurt that Santa let him go. First, he was made fun of by all of the other reindeer, and now he loses his job?! He ends up unintentionally working for the bad guy and must come around to the good side again.
We understand there are some voices that may sound familiar to us?
RT: We have THE best and most versatile voiceover talent in North America on this project. You may not know their names, but I can guarantee you have heard their multifaceted voices on many different projects over the years. Toronto is an animation mecca that has cultivated incredible talent. Ron Pardo is on Paw Patrol and Inspector Gadget; Carlos Diaz is on Daniel Tiger and Total Drama Island; Julie Lemieux is on Hotel Transylvania and Rusty Rivets; Steph Seki is on The Zhu Zhu's and Wishfart; I'm in both Nut Job movies and Cat in the Hat Knows a Lot About That. This story is all about heart, but there was definitely a lot of real heart put into the project by this all Canadian cast.
We love podcastS and this time of year, this sounds perfect for that long road trip drive up to grandma's. But any tips on bringing this simple pleasure back to our family time for parents who struggle with defaulting with screen time?
RT: This podcast is definitely a great way to spend a long drive or pass some time while parents finish the Christmas shopping, or even as a bedtime story. It's designed like an advent calendar so that every chapter falls on each day of December leading up Christmas Eve so the kids have something to look forward to every day (but we are releasing it all at once if you want to binge-listen). It's definitely hard for parents to keep their kids entertained during the mundane-ness of life sometimes. My family does a lot of singing or coming up with games to play. I want to raise my kids to be creators and not just consumers who only buy things to occupy them, so I have shown them the creative process on many of my projects as well as this podcast in hopes of inspiring their creativity. Creativity – be it inventing a game or sport, or doing art, or telling stories, or building with Lego – seems to be the best way to occupy my kids, because it helps them learn to occupy themselves while cultivating their minds.
What's your favourite Christmas family tradition?
RT: I would have to say my fave family tradition is decorating the house. I love pulling out the decorations from the old boxes (I have decorations from when I was a kid) and showing my kids the decorations they made when they were younger. It's always a fun time. Perhaps it was this podcast getting me into the holiday spirit early this year, but I actually got my tree up before December for the first time ever. Take that malls!
Age that this is recommended for?
RT: Ideal listening for 8 Tiny Reindeer is ages 4 to 10. But my teenage nieces got into it and totally binge-listened. It has jokes for older kids and a lot for adults too. It's really for anyone who wants to get into the holiday spirit. OH! I should mention, a big aspect of our plot explores elf culture. They have their own separate holidays other than Christmas, so it's a multicultural story that can be appreciated even if you don't celebrate Christmas. My family is multi-faithed and that's part of what inspired this story. Not that it's 'messagey' like an after-school special – It isn't at all! It's mostly just fun and funny. In that order.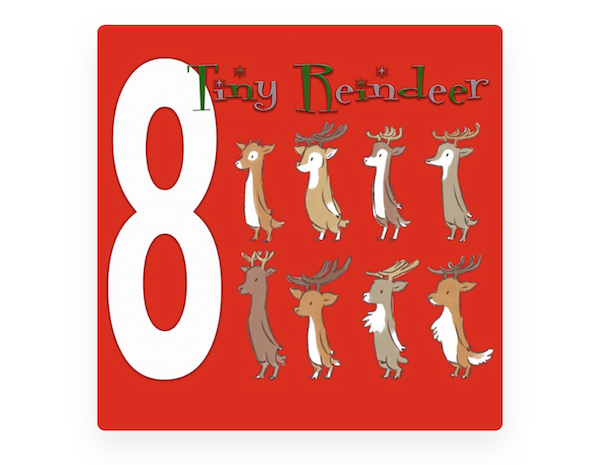 Tinkler has worked in the American and Canadian entertainment industry for over 20 years as an actor, writer and director. Among his vast body of work, he had the memorable opportunity to work with animation giant Seth MacFarlane (American Dad) and has had his performances and creations broadcast on every major network (Fox, ABC, CBS, NBC, CBC, CTV) performing literally hundreds of different characters. He has been nominated for Best Voice Performer by the ACTRA Awards, Canadian Screen Awards as well as Canadian Comedy Award for his work on a sketch comedy series he created (The Bobroom). He is a loving father who continuously tries to cultivate his children to become creators and not just consumers. His recently started the media company Hero Complex, which has a mandate to combine creativity with charity to make impactful entertainment.