This is straight from the cookbook of Luigi Orgera, the founder of La Fenice restaurant, which is now owned and managed by his daughter Rita, and her husband, Chef Rocco.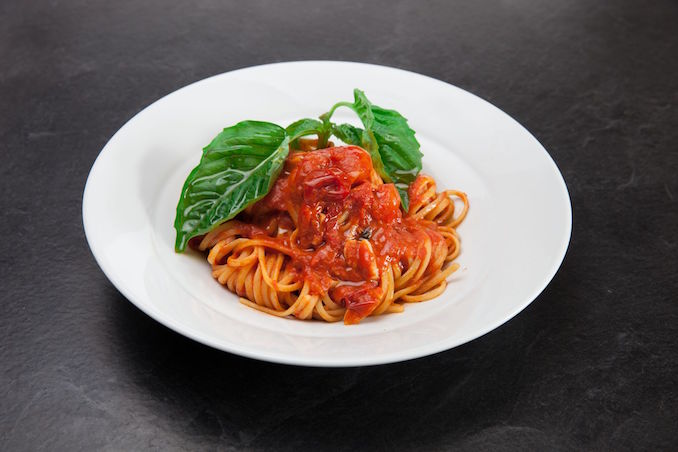 Neapolitan Tomato Sauce / Salsa Di Pomodoro Alla Napoletana.
Ingredients:
1/3 cup extra virgin olive oil
1 onion, chopped
3 large cloves garlic, crushed
2 ¼ lbs tomatoes, chopped
2 tbsp pine nuts
12 fresh basil leaves
Salt and pepper
1 ¼ lbs dried spaghetti or fettucine
Directions: 
1. In a large skillet, heat the olive oil and saute the onion and garlic until the onion is transparent.
2. Add the tomatoes, pine nuts, basil, salt and pepper.
3. Cook slowly, uncovered, for approximately 15 minutes, or until the water has evaporated and the oil floats free from the tomato.
4. Meanwhile, cook the pasta in a large pot of boiling salted water until al dente. Drain, toss with the sauce and serve
5. This is a simple but versatile sauce. You can even add green pepper, black beans and corn to create a delicious salsa that can be served with blue corn chips and scrambled eggs.
***
Located right in the heart of the King Street corridor,  La Fenice has been a staple to the neighbourhood for 34 years. Since 1984, La Fenice has only served the highest quality ingredients in all their dishes. To this day, Chef Rocco continues to create classic Italian fare using only the purest ingredients from local Ontario farmers or imported directly from Italy.