The Mele Group's Oretta restaurant celebrates the best of Southern Italian Cuisine, now under the guidance of their new head chef, Gabriele Di Marco. They have sent us this pasta recipe so that our readers can try one of his dishes at home.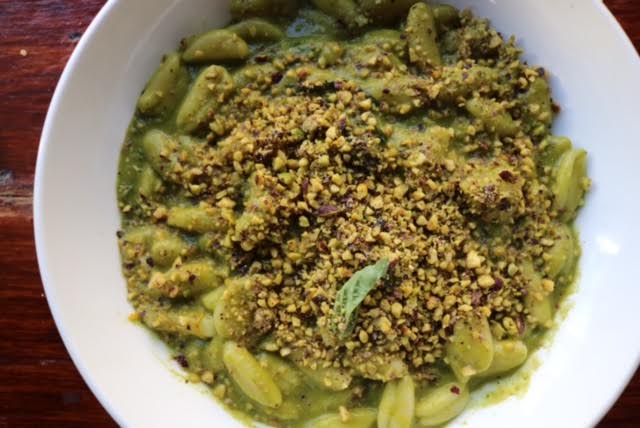 Farfalle Pasta with Zucchini & Pistachio
For sugo
-6 pcs Green zucchini, sliced
-1 pcs Large onion, finely diced
-1 pcs Garlic cloves, thinly sliced
-1 sprig Fresh rosemary, finely chopped
-1 tsp Chili flakes
-1⁄2 bunch Italian basil
-3 cups Water
-A pinch Kosher salt and freshly ground black pepper (for taste)
-2 tbsp Olive oil
For pasta
-400g Farfalle pasta (Can be replaced with other types of pasta)
-A pinch Kosher salt
-1 pot Water
For finishing
-1 pcs Orange
-1⁄2 cup Pistachio, roasted and ground
-1⁄2 bunch Italian basil
Directions
1. Heat up olive oil and garlic in a cooking pot over medium heat. Add the diced onion
and ​sauté​ until translucent with rosemary and chili flakes.
2. Add sliced zucchini in the pot and cook about 4 mins, then add 3 cups of water into
the pot and cover with lid. Cook for another 8-10 mins with medium heat until tender.
3. Once everything is cooked, add Italian basil and blend the zucchini sauce until smooth and glossy with a hand blender.
4. Meanwhile, cook Farfalle pasta in a pan of boiling seasoned water until al dente, and reserve some of the starchy pasta water.
5. Heat up the zucchini sauce in a skillet pan and toss in the drained pasta, add some reserved pasta water as needed. Finish with freshly grated orange zest, ground pistachio, and garnish with some fresh basil, then serve right away.
Come by Oretta and sample some of Gabriele Di Marco's creations.