Dowling is super cheesed about all the cute little kittens posted up nearby. "Why's my room gotta be RIGHT next to the kittens?! Come on! That's not even fair.". She's now trying to grab people's attention in more unique ways. Ways that'll make her stand out. Whenever a human walks in, she pretends she's having a really pleasant conversation with her neighbours, just to show people to see how friendly and social she is. So far it hasn't been working because, well, her neighbours don't exactly engage…
But really, Dowling doesn't need to do that to stand out. She stands out by being SUCH a sweetheart despite all the bad luck she's had in her life. Overcoming one obstacle after another, the little star inside her has never faded. She's a sweet and sensitive girl who loves people. It just takes her a little more time than most cats to warm up and come out of her shell.
Once she does, she's all about the purrs and the scratches. She loves playing with her wand toy and curling into a ball with her humans.
No. Dowling's no kitten. She knows that. But she also knows how special she is and knows there's a family out there who's just as special. They're her special people! People who are looking for a gal who's knows what's what. A gal who's had her fair share of experiences and has lived to tell about it! She's ready for them to come to get her now!
A shy one at first, Dowling will need her own special sanctuary room where she can hang out while she adjusts to her new home. She loves people because they give her snacks and love. But because she can get a little sassy when she's anxious, she hopes all her humans — big or small — respect her space!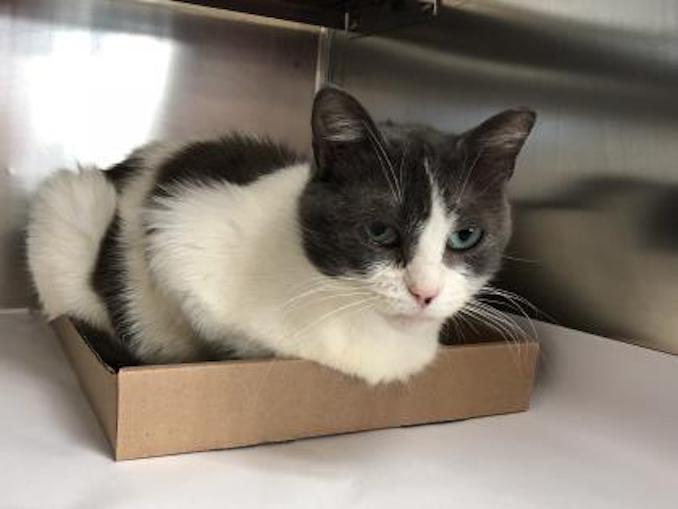 Dowling
Age: 6 years 1 months
Sex: Female
Size: Small
Colour: Grey/White
Spayed/Neutered: Yes
Declawed: No
In order to ensure a smooth and successful adoption, please remember to check all the basic requirements for adopting before coming in to the shelter.
About this column:
Each week we feature animals available for adoption from local shelters in the Toronto area with the hopes that our readers will assist in finding good homes for them. If you, or someone you know, has the resources to take care of one of these animals, please do get in touch with the appropriate shelter via the links provided.