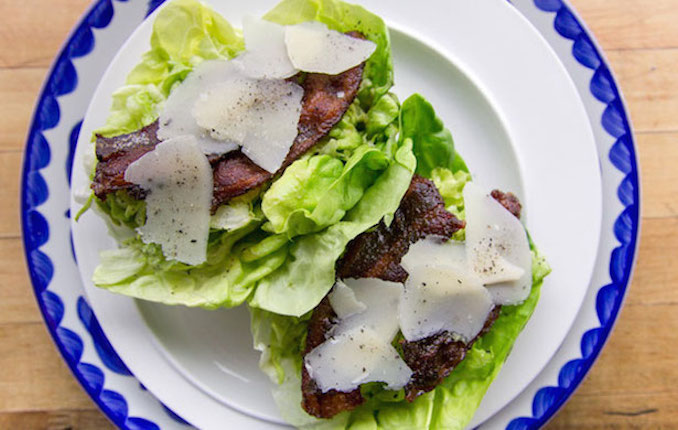 Fonda Lola's Signature Handheld Caesar Salad (Yes, the Caesar originated in Mexico!)
Jalapeno Candied Bacon:
-3 jalapenos, cut in half (without the stems)
-1/2 cup maple syrup (the real stuff!)
-About 15 slices of bacon
How to:
-Blend maple syrup and jalapenos in a food processor for about a minute. Lay bacon slices on baking pans and pour the jalapeno syrup mixture over them. Bake at 275F for an hour, then flip the bacon and bake for two more hours. Remove the bacon and cool it on paper towel. Once cool, break bacon up into half-strips.
Avocado Mousse:
-3 cloves minced garlic
-3 ripe, peeled avocados
-1/4 cup grated Parmesan
-1/4 cup olive oil
-Juice of 2- 3 lemons
-Salt + black pepper
How to:
-Blend garlic, avocados (without the pits!), Parmesan, lemon juice and oil in a food processor, then add salt and pepper to taste.
Salad:
-8 cups shredded romaine
-Avocado mousse
How to:
Toss shredded romaine in a bowl with about 1/2 cup of the avocado mousse.
To Finish:
-Lay out Boston lettuce leaves (wash, dry and separate them first)
-Place a big spoonful of the salad, a couple of strips of bacon and some Parmesan cheese shavings on each leaf.
-Roll them up and devour!
Fonda Lola is open daily for lunch and dinner and on Sundays for brunch.