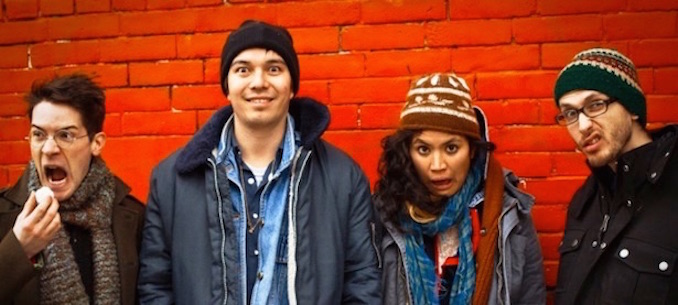 This four-piece band pictured above has been getting a lot of hype lately and they go by the name of Hooded Fang. Almost a year and a half since the last album, the Toronto-based band is working on the new record and fine-tuning the songs at current shows and for their upcoming tour. Four distinct personalities combined with upbeat party tracks to cut a rug to makes this one live show you won't want to miss. I had the chance to chat with drummer D. Alex Meeks about Hooded Fang's tunes and the things they love about Toronto.
Who does the songwriting in the band?
Dan comes up with the seed of a tune. He finds a beating heart, then we all rush in with limbs and the thing is born. Then we train it to be nice…or mean.
Do you split the duties when it comes to arranging and writing individual parts for live shows?
More or less. We've worked out a quick collaborative method. It's more efficient to start with less and end up with more from everyone's parts. Everything we record we like to be able to achieve live.
How long have you been a band?
Since 2008. There were a few variations of the band. It's now a four piece which has been much easier.
Do you incorporate any covers in your current live set?
"Tourettes" by Nirvana. We were asked to record it as part of a Nirvana compilation. We were playing it last year during tour but it's not something we usually do. 
Does your tour vehicle have a name?
Our previous van was called 'Big Blue.' It was a Toyota Sienna and broke down earlier this year. It's been converted to a pizza oven in Sudbury in association with the River and Sky Fesival. We're going to buy a new van and it will be called 'Cherry Blaze.' It's a red Caravan from the 80's!
If you had to collaborate with one toronto band, who would it be and why?
Mark from Thighs
Top 3 artists that have inspired you?
Can, U.S. Maple, Andy Stott
Favourite place to eat in Toronto?
The Shipping Containers near Kensington. Amazing Roti there.
Canada has a great music scene, but how important do you think it is to break into the US market as a band?
You can exist in Canada and still have a successful career. There will be a a lot of driving involved though.
What is one thing people of each member that people don't know about you that they wouldn't expect?
Lane is going to a certified accountant. April posses 2-3 blackbelts. Dan is the arbiter of secret knowledge and an incredible dancer. D. Alex is a watchmaker by day.
Rapid fire:
Sneaky Dees nachos, Hey Meatball spaghetti or a superfood salad from Fresh?
Sneaky Dee's Nachos
Queen or College St? College St
Trinity Bellwoods or Highpark? High Park
EP or LP? A full length preferably.
Early bird or night owl? Early Birds
Road or studio? At the moment – road
What's next for the Hooded Fang?
We're playing the Toronto show this Saturday and then a string of Western Canada tour dates. We just finished recording the new record and it'll be hopefully be out next spring.
Hooded Fang performs this Saturday at The Silver Dollar.  (486 Spadina) @ 9 pm. $8
Check out their website.