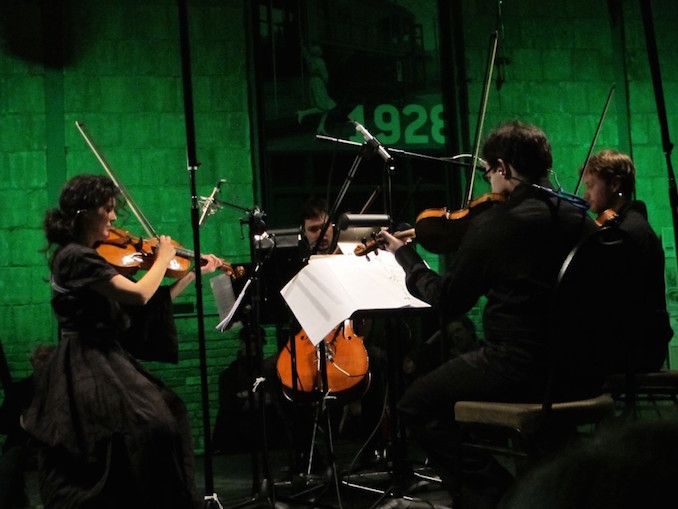 Carol Gimbel's series, Music in the Barns, is the result of 8-9 years of brainstorming and seeing ideas evolve. Prior to her move to Toronto, Carol spent several years in New York City, where she partook in an artist collective. This experience served as the basis for creating something extraordinary in Toronto.
Carol's keen interest in chamber music and music of our time has led the ensemble to some very memorable collaborations including giving the Toronto premiere of a string quartet written by Richard Reed Parry of Arcade Fire, which they will be performing again on March 1st at the Academy of Lions as part of the Canadian Music Centre's New Music in New Places Festival.
The series has some honest grassroots beginnings with the first concert having been enabled by a private sponsor for a private concert, and the rest snowballing from that. They advanced rather quickly, receiving a Canada Council grant for their final concert last season.
Only in its second season, Music in the Barns opens its series with a thought-provoking program that ties together otherwise unrelated aspects of the world we live in.
Carol uses the date of the concert, December 8th, as inspiration for her programming. December 8th marks the first day of Hanukkah, as well as the anniversary of John Lennon's death. John Lennon's death is commemorated by the Imagine Peace Tower, consisting of 15 searchlights, created for him by Yoko Ono.
Entitled "Light," the program explores presence and absence of light (because one is indistinguishable without the other), featuring works by Stravinsky, Arvo Pärt, Xenakis and Crumb.
Joining the Music in the Barns Chamber Ensemble is percussionist David Schotzko, who will enjoy a separate stage for a number where the audience is welcome to get out of their seats and swarm him. The percussion set-up serves as an art instillation when not being performed.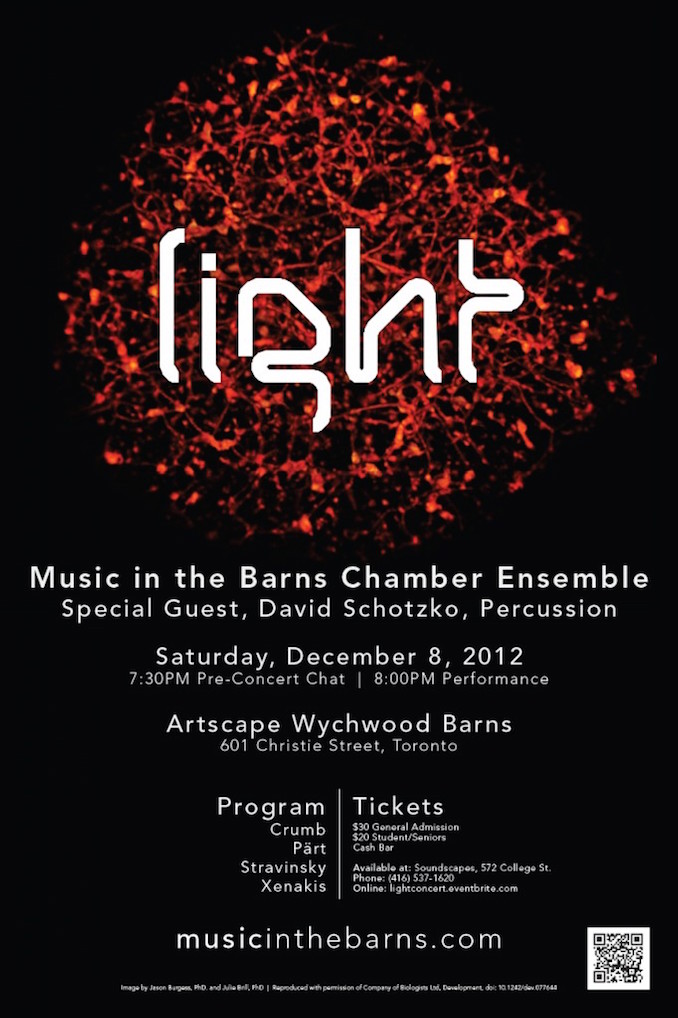 While planning the program, Carol took a trip to NYC where she caught the 'Creatures of Light' exhibition, which explores the world of bioluminescence at the Museum of Natural History. Projected images bioluminescent creatures, such as jellyfish and fireflies, will accompany the performance on December 8th. Cash bar on site.
Keep up to date on concerts via their website.