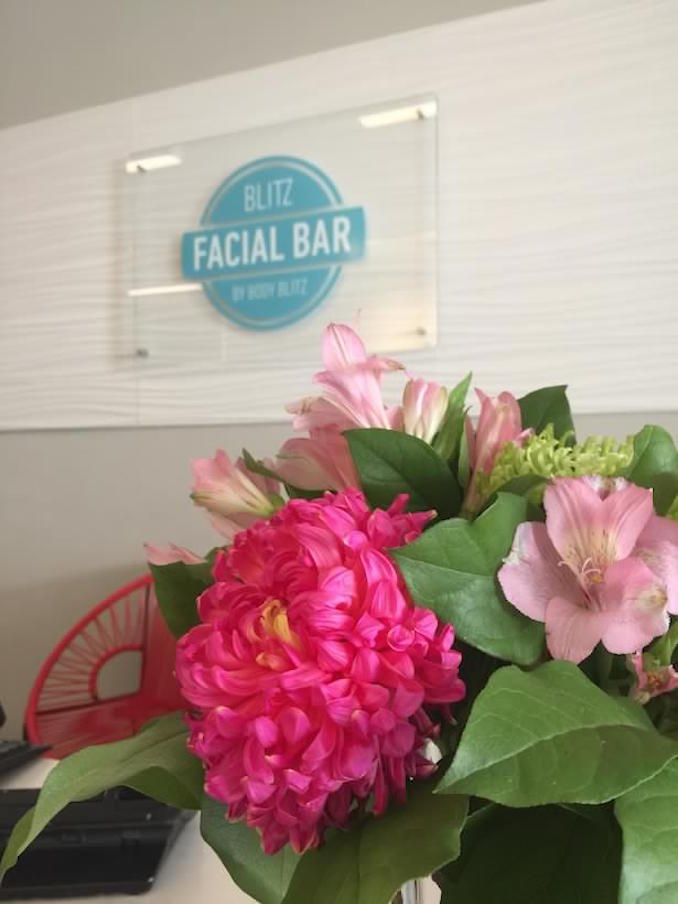 You're a busy person but that's no excuse to take care of yourself, right? From head-to-toe our city is full of fast and speedy services from wax bars to nail salons and our gyms are just around the corner from the office these days. Now say hello to Toronto's first facial bar! Blitz Facial Bar (from the owners of the successful Body Blitz Spa) has opened up two shiny locations to cater to our busy lifestyles and we took notice!
I had recently returned from soaking up the sun on vacation and felt I needed a good facial when I had returned to the city. After all, the sun, surf and sand wreak havoc on my skin. However, I knew timing would be a challenge as I transitioned back into the reality of life. As much as I would love to spend several hours in a serene spa, I knew I couldn't fit that in right now. A facial at my usual spa meant taking more time and the desire to linger in a lounge where I could peacefully nosh on some goodies and sip some zen tea while catching up on the latest tabloid trash. There's a time and a place for that.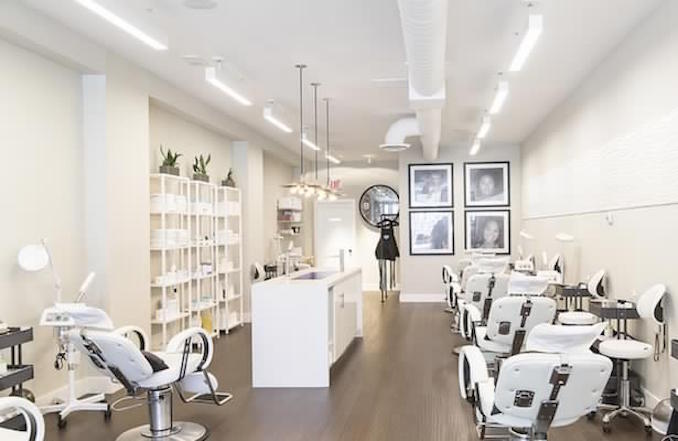 I had a couple of meetings downtown and knew that Blitz Facial Bar locations were accessible (Leslieville and Trinity-Bellwood). I wanted to give it a try so I checked myself in. By the way, walk-ins are also welcomed. They've had a steady business since they've opened in May this year and it's no surprise since they already have a loyal following with their Body Blitz Spas.
When you walk in to the Blitz Facial Bar space you'll notice that there are open-air facial stations for the treatments so you can get right to your service without having to change into a robe. The most popular service is the Express Facial #BlitzandGlow ($48) — a half-hour service that is ideal for ongoing maintenance. This facial takes care of all the essentials including cleanse, exfoliation, toning, serum massage on face, arms and neck area. There are other signature express facials (and yes, they do extractions) and the qualified esthetician can help you figure out what your personal skincare needs are. If you have discolouration and want to smooth skin out evenly you'll be happy to know that they also do microdermabrasion. My esthetician  told me that the products they use are created by the Blitz owners and exclusive to them. I was pleased to hear this as I've enjoyed their body products (hello, Mint Lime Body Lotion & Wash). The skin care products are made with natural ingredients sourced in Canada.
My aesthetician noticed that my skin was pretty dehydrated and had recommended a Vitamin C Boost which I agreed whole-heartedly and glad I did. Even a few days after my facial I've noticed a difference in texture. Other "Booster Shots" sounded pretty awesome but I didn't need them this time around. A few other examples; A Skin Renewal Boost is a penetrating mask and rescue serum to help calm rosacea and sensitive skin; Plump It Up offers plumping without filler and uses a deep moisturizing mask and plumping serum; Cold Plunge is a cold jade stone massage that instantly calms redness and close pores.  There's even a beard oil treatment for the guys. Boosts are add-ons to your facial ($10 each).
The service was great and ideal for us who want a high quality facial but don't have the time to linger. Staff were friendly, knowledgeable and didn't rush. Sounds funny right?  I'm happy to find this spot that will offer a great facial and met my needs of rehydrating my skin. And yes, I'm glowing!
Blitz Facial Bar Locations:
1133 Queen Street East
803 Queen Street West
Website for up to date information.